I want to share with you my collection of mushrooms, good and bad, that I have found this Summer at my own countryside house. Well, not exactly in the house - they were growing hiding at the distance of 15-30 metres ... but still.
---
I provide this for my favourite #FungiFriday challenge by @EwkaW,
and for #AmazingNature contest by @adalger (apply here)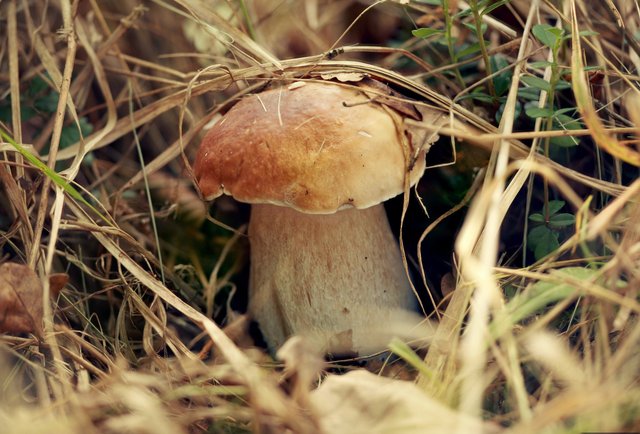 taken with Canon 5D +Sigma 150mm, x2 focus stake
Как вы наверное знаете, грибы вступают в симбиоз с корнями деревьев (образуют вместе с ними микоризу), причем разные грибы предпочитают разные породы деревьев. Вот почему грибы растут обычно в лесу (т.е. там где есть деревья), а некоторые виды чаще встречаются рядом с определенными деревьями, и нигде больше...
As you probably know, mushrooms come into symbiosis with the roots of trees (they build mycorrhiza with them), and different mushrooms prefer different species of trees! This is why mushrooms usually grow in the forest, (i.e. where there are trees), and some species are more often found next to certain trees, and nowhere else ...
---
Вы удивитесь, но мой загородный участок совсем не похож на фруктовый сад или грядки с овощами, или цветник (я сделал исключение для ирисов). Мы выращиваем мох, вереск, ели, березы и прочие деревья.... и, разумеется, грибы! Очень приятно выйти из дома и собрать урожай на собственном участке, без того чтобы идти в далекий лес.
You may be surprised to know that my countyside location does not look like an orchard garden or beds with vegetables, or a flower garden (we made an exception for the irises). We grow moss, heather, spruce, birches and other trees .... and, of course, mushrooms! It is a pleasure to go out of the house and harvest a crop at your own place, without going hunting in the forest.
---
Этот прекрасный боровик вырос под нашим старым дубом. Он очень хорошо прятался в увядшей прошлогодней траве, но все равно мы нашли его -- раньше, чем червяки (тоже большие любители вкусных грибов).
This beautiful Boleto grew up under an old oak tree. He hid very well in last year's wilted grass, but we still found it - earlier than worms (which are also a great lovers of delicious mushrooms).
---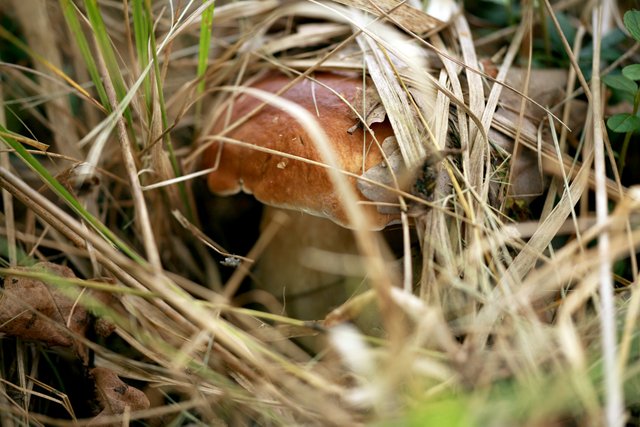 ---
I dont have a lot of pictures for this certain mushroom, or its other editions. Unfortunately it happens in my life not as often, as other shrooms. So I will add a few other nice edible fellas to my post.
Happy Fungi Friday to you!
---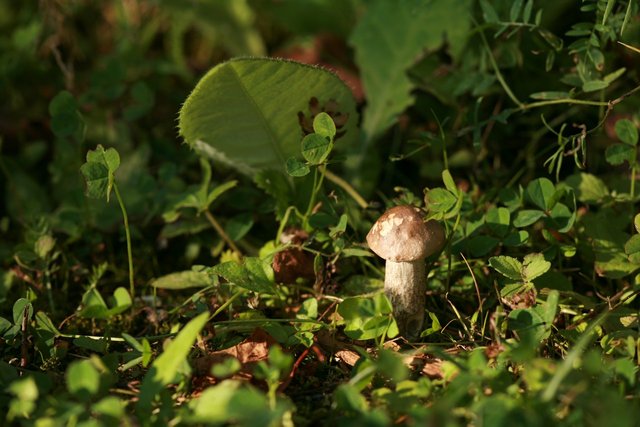 A little Leccinus, I spotted in the clover bush.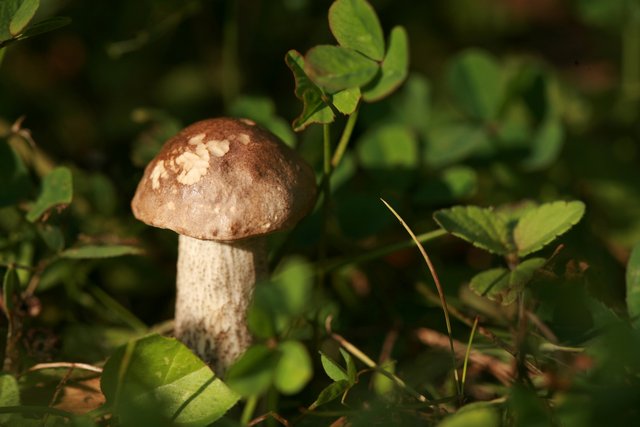 A more adult, group-up Leccinus: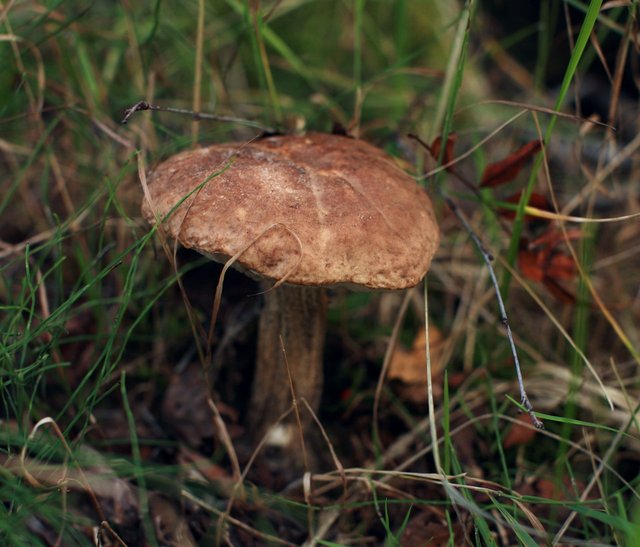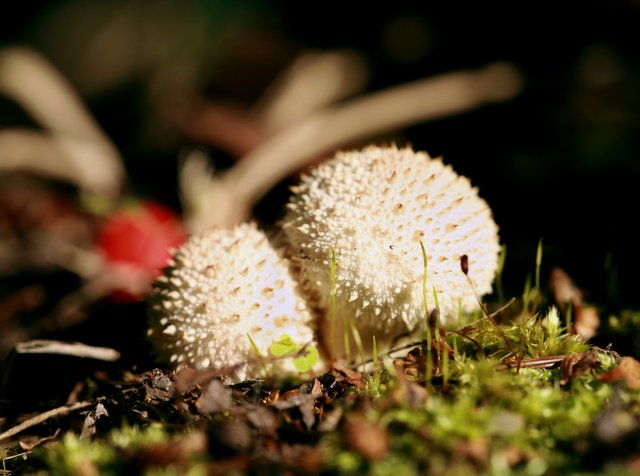 Fresh little puff-balls. They are edible, too!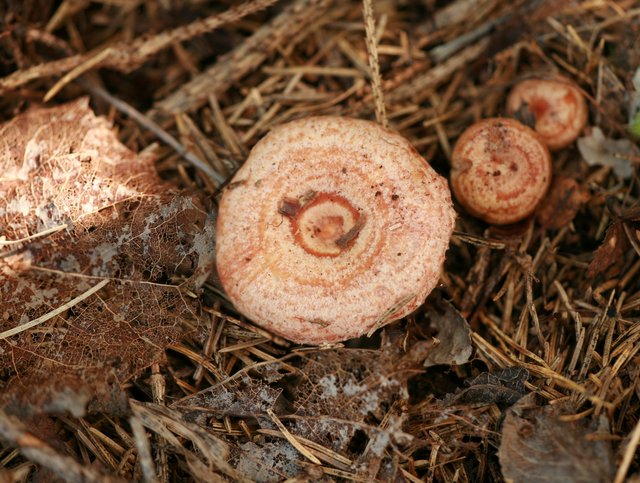 Lactarius deliciosus, or Рыжик сосновый (боровой). Ideal for pickling!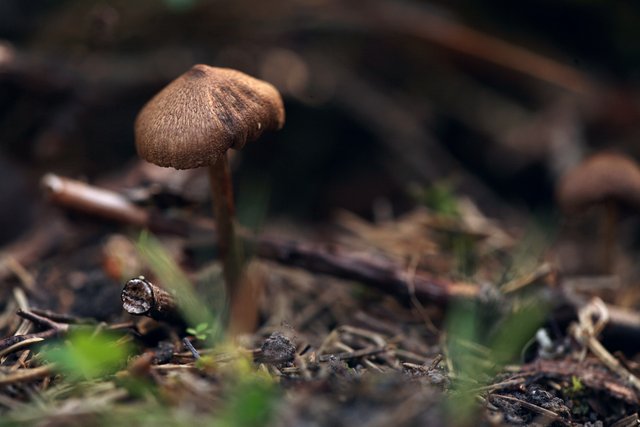 Noname and probably non-edible one. But so awesome outlook! A silky fluffy cap. He's a mod!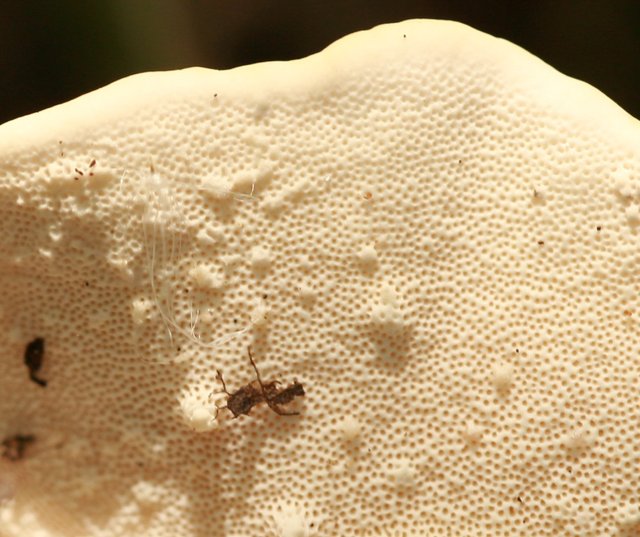 Some unedible polymorph.. Definitely I prefer this sort of mushrooms to edible ones! Well, at least, my camera does...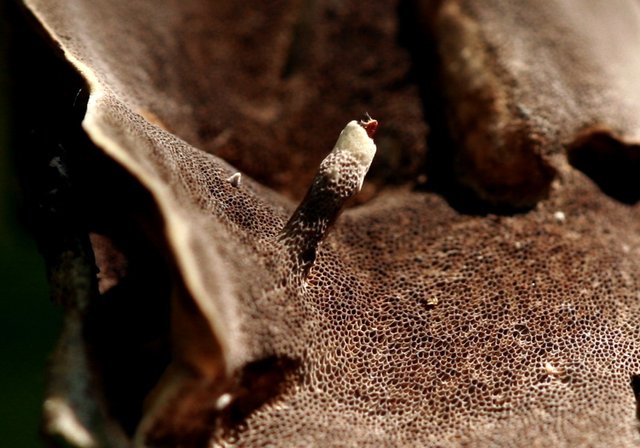 I found also a black analog of it. Really not convinced if it is a different specie, or just a matured, old version of a white one.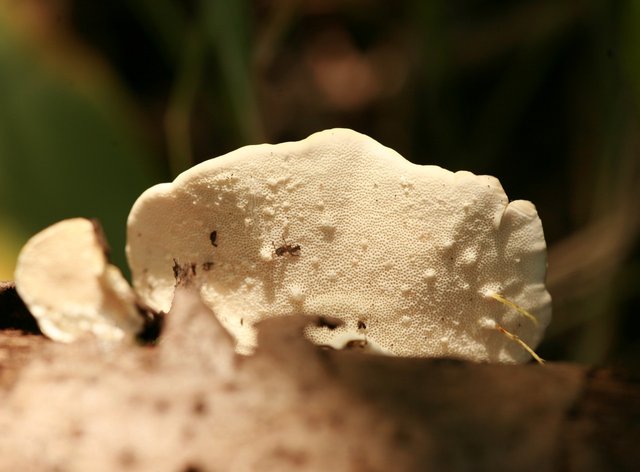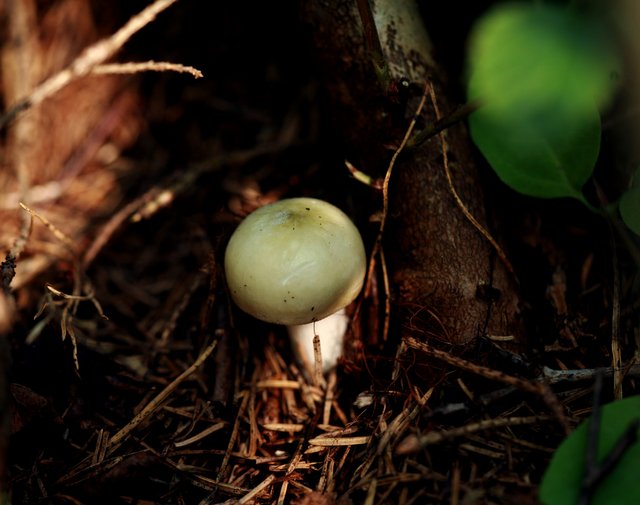 A green cap Russula, probably not edible.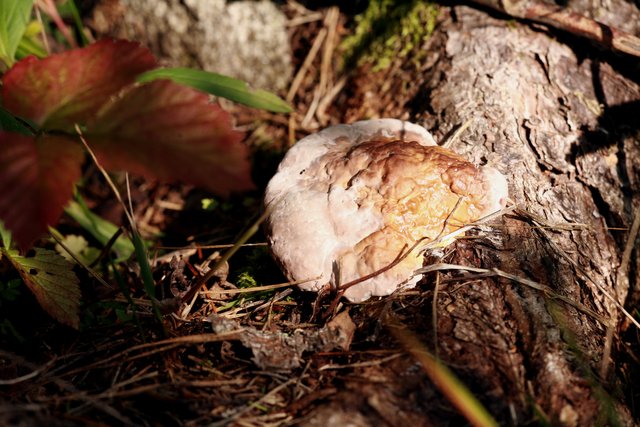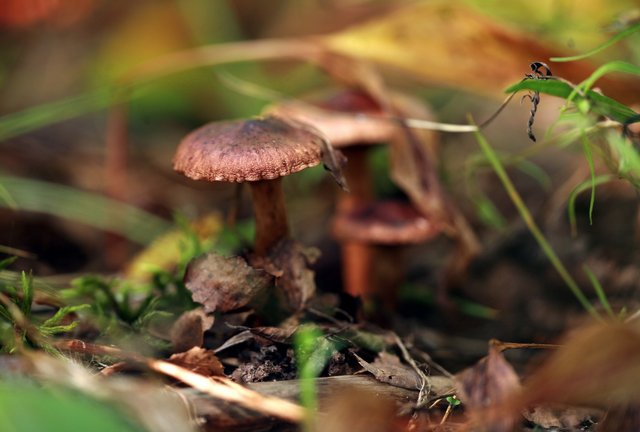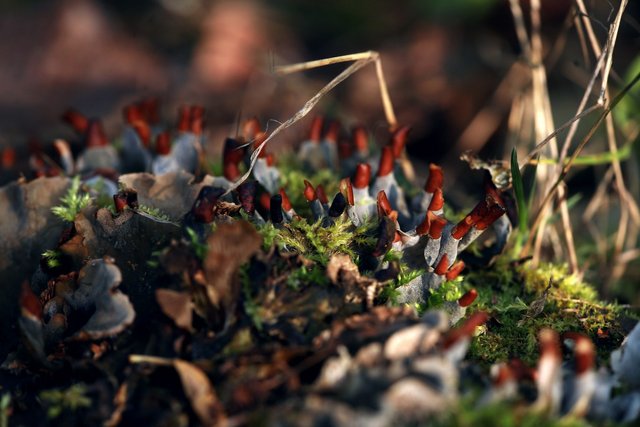 @Ewkaw, I hope you will not tell me of all those mushroom beauties you enjoyed most this lichen foto I made for you... will you dare? :=)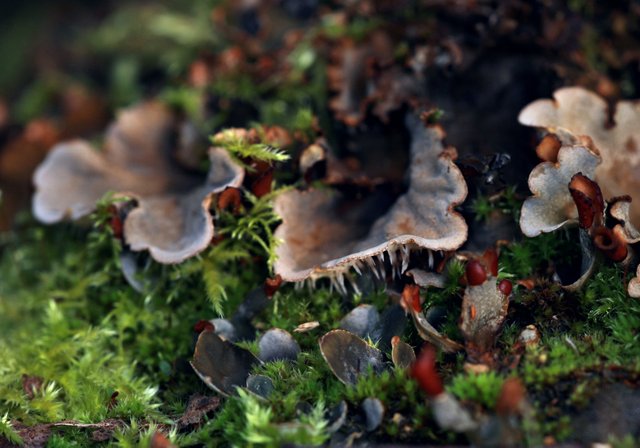 This intresting lichen looks quite hazardous, tho it definitely isnt. Amazing outlook!
Absolutely a noname... and really, does it matter anything, anyway?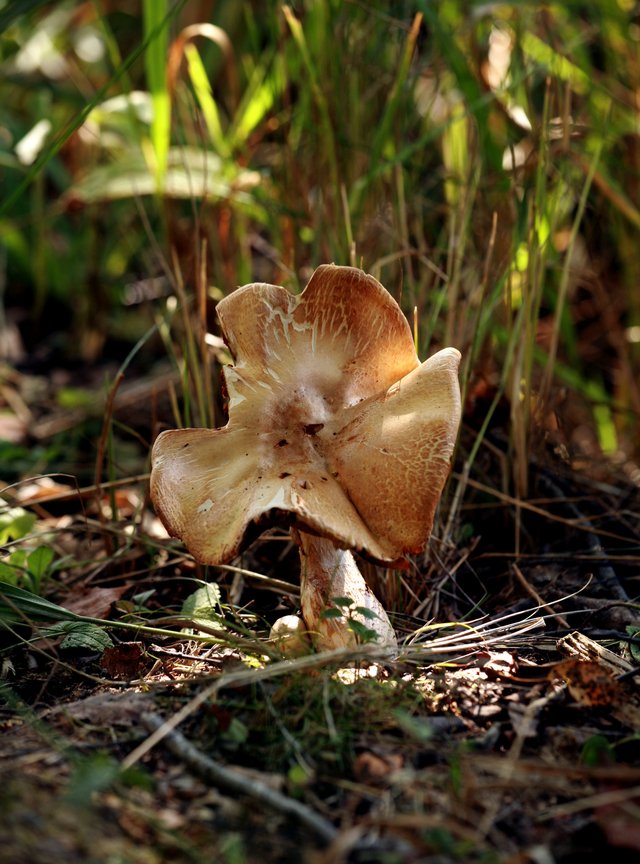 all images taken with Canon 5D +Sigma 150mm macro-tele, copyright by me
---
The nature constantly amazes me.
Мне очень нравится разнообразие прихотливых форм, необычные цвета, и я вообще не люблю однообразия. Природа создала около пяти миллионов (!) разных видов грибов. Вы можете вообразить себе эту цифру?.. Это потрясающее достижение, я благодарен матери природе за то что она дарит мне все это... Ну, конечно, все эти грибы не растут по соседству со мной... в моей местности их вряд ли более одной тысячи... Что ж, нельзя иметь все сразу. Зато каждый новый гриб - другой! И растет в новом месте и выглядит по-другому. Абсюоютно никакой скуки в процессе поиска и добычи, я гарантирую это!
Generally, the variety of whimsical shapes, unusual colors is what my likes are about: I do not like monotony. Nature has created about five million (!) different types of mushrooms. Can you imagine this figure? .. This is an amazing achievement, I am grateful to mother nature for giving me all this ... Well, of course, not all of these mushrooms grow next to me ... they are unlikely more than a few hundred of species in my area (and it is the best assumption! on a regular basis its only just a few dozens). Well, you can't have everything at once. But each new mushroom is different! And it grows in a new place and looks different. Absolutely no boredom in search and harvesting process... especially when we talk about taking the pics. I guarantee that!
---
I hope many of you will join, as there are only 2 simple rules:
when Friday comes, share your fungi with us! post your own, original photo/drawing/art/food/anything-at-all of any type of fungi (yes, stolen images will be checked and reported !)
add #fungifriday (not necessarily must be your 1st tag). that's all!
Posted via neoxian.city | The City of Neoxian