I treasure in my life many years of sharing Antolina Martell, mostly in a loving relationship and, at the same time, of few words. Antolina is, without a doubt, a complete artist, not only because of her cultivation of the art of drawing and painting, but also because of her solid training. Furthermore, she is driven by a permanent concern for the promotion and dissemination of art and culture in general, as she has done through her participation in various local, regional, and even international cultural initiatives through UNESCO. But, above all this, Antolina is a woman with a particular sensitivity, which she has expressed in her posts published in Steemit, the platform of which she is a user. If you want to know a little more about her and her work, you can go to https://steemit.com/@antolinamartell.
Antolina Martell, as has happened to many, has been affected by breast cancer; she is undergoing treatment, with the enormous difficulties that this means today in Venezuela. Her friends and the members of @equipocardumen, of which Antolina is a member, have decided to promote a campaign for this platform that can collect some funds to help her cover, to some extent, the considerable economic resources that are required today in our country to face such a serious health problem.
Thus, we will be publishing posts during these weeks to gather with your votes contributions for her. And here's mine.
*****
Three years ago, in an essay workshop that I directed at Casa Ramos Sucre (Cumaná, Edo. Sucre, Venezuela), when I proposed a free exercise, the proposal to write from a pictorial work came up. Having among the participants a plastic artist, Antolina Martell, how not to go to one of her works. She diligently and selflessly offered us a painting called "Blue Dog Eyes", like the title of García Márquez's story. Based on Antolina's work, several exercises were presented. I, as a teacher, did not present anything. Now, I have tried a poetic reading of that complex and rich work of Antolina, trying to express my interpretation of it, in an experimental text of a style that tries to incorporate the simultaneous and surrealist vision, features that I perceive in the work.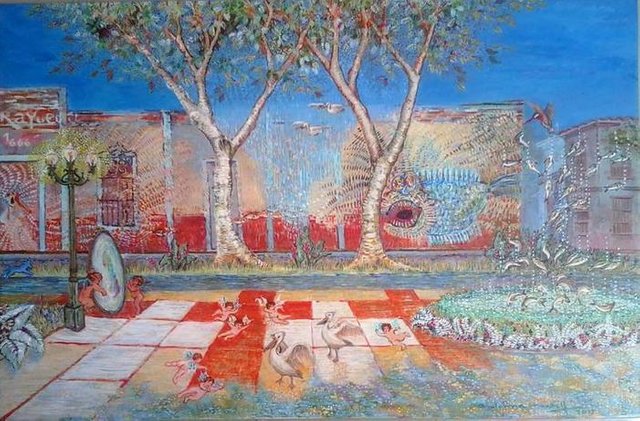 Blue dog's eyes, by Antolina Martell
(2017)
Blue Gaze

An Andalusian dog                   Buñuel and Dalí's
a blue rider                                       Kandinski's
a blue dog
               Gabo's
                                 or Antolina's
The Blue's eyes
in the eyes of the bluish dog
                    What is it looking at?
                                   Look and then create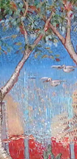 Blue water runs down the walls
from the river              the sea                the fountain

The windows of the inside open
flooded with depths        with secrets
The fishes fly like pelicans
angel-fish
children-angels who mirror us


While
the square is dressed in hopscotch
crucified
angel-children run around
the pelicans flap their wings
                               And the game goes on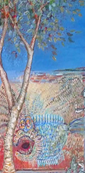 An ancestral coelacanth or a fatal Leviathan
A 666 that's a Munch scream
on the wall-screens
of history              of conscience

The yearned        missed       destroyed city
The park of dreams                        of children
who fly like pelicans or angels
like fish in a whirlpool
                        rising
to morph
into a pristine hummingbird
All confused
                               simultaneous
in the eyes of the blue dog
               From which Antolina looks at us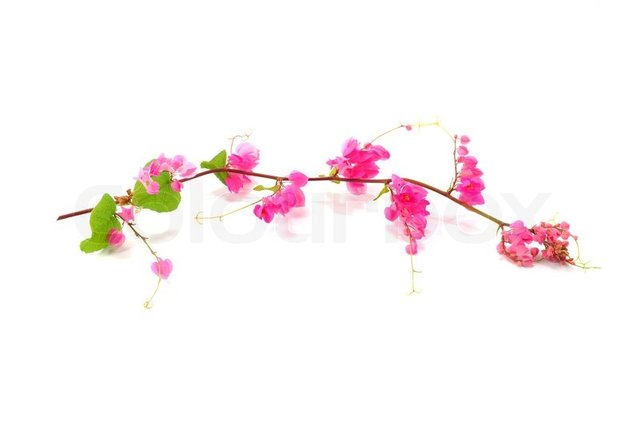 All resources collected by this post will go to the @antolinamartell account. We very much appreciate your contribution.