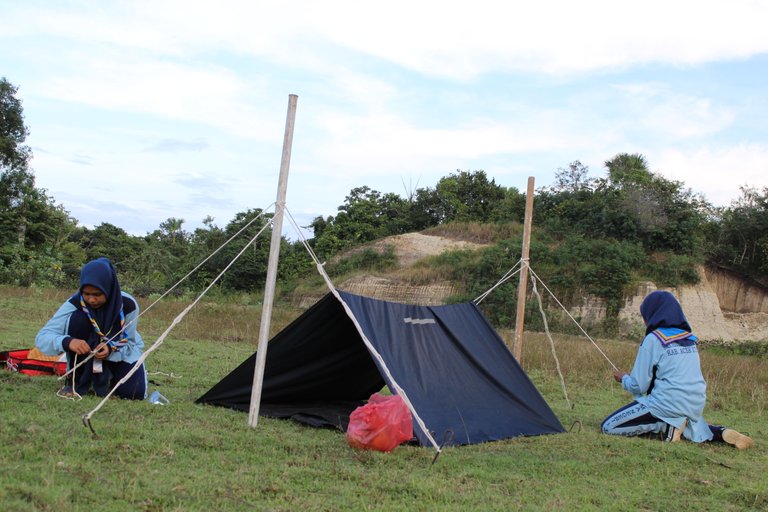 As I promised in the past, that I will publish a recent post about learning activities for survival techniques lessons. This is the time to share our exciting stories with you. In the initial stages of learning we do it in the classroom. This second stage we do learning outside the environment.
We will practice what has been learned in the classroom. All participants are brought to a field, providing they are directly connected to nature. This large field is very suitable for making bivouacs and practicing cooking with jungle cooking techniques. On this field full of green grass we will do it.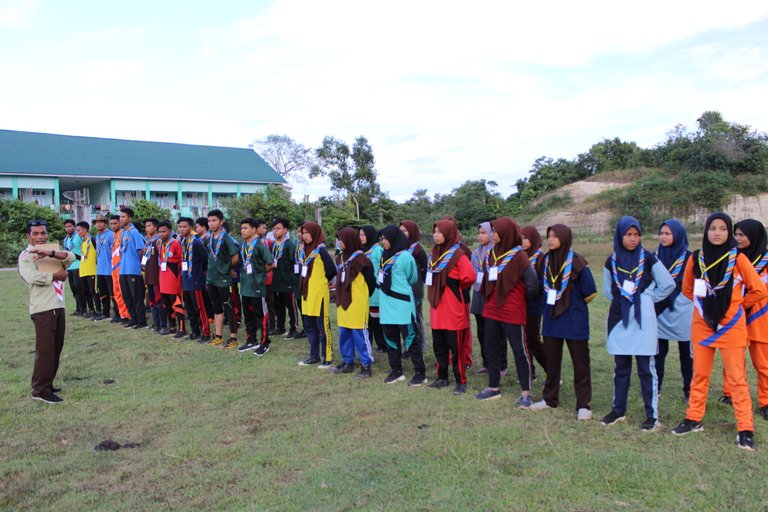 The learning process in scouting education is inseparable from direct contact with nature. Every knowledge that is learned always has a value of benefits to be implemented in nature and our social environment. No wonder the learning process is combined with different nuances. We start the lesson by deepening the theory in the classroom and then practicing it realistically in the surrounding environment.
In practice this time we will make a bivouac. The bivouac made by the participant will be judged by the speaker. So, this practical activity is also a competition for all participants to present their best work. Participants are tasked to make bivouacs that are suitable for use and in accordance with the material procedures that have been provided by our educator. This is truly a professional competition in scouting education.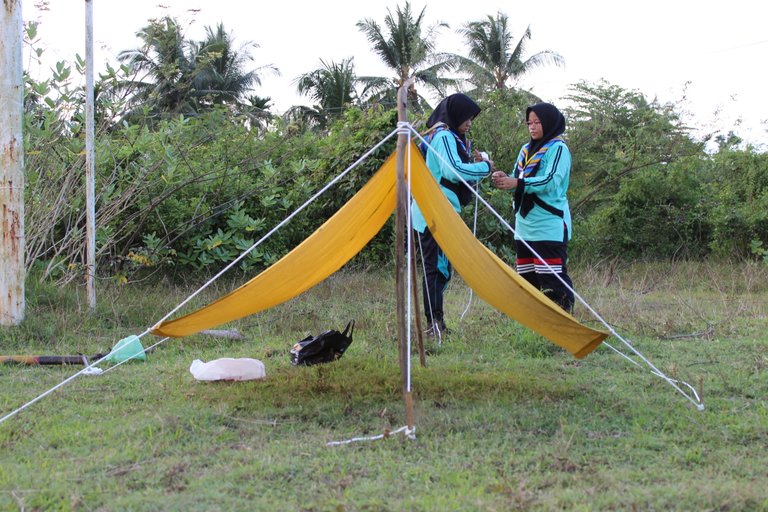 The following is a brief resume of learning activities and bivouac competitions.
Schedule:
Performed at 16.00 - 18.00 WIB. So, participants have a maximum of 2 hours to make bivouac and cook.
Presenters:
Mr. Lidan, a professional educator in scouting education. He was the speaker sent by the scout council at the city level. He has great experience and knowledge for survival lessons.
Judges:
Mr. Lidan and the Lhokseumawe City Branch Work Council. Mr. Lidan was accompanied by several people from the city scout branch's work council to assess the bivouac made by the participants.
Assistant:
Committee in the field of events and field. They have a duty to guide this activity so that it is carried out according to the procedure that we have set.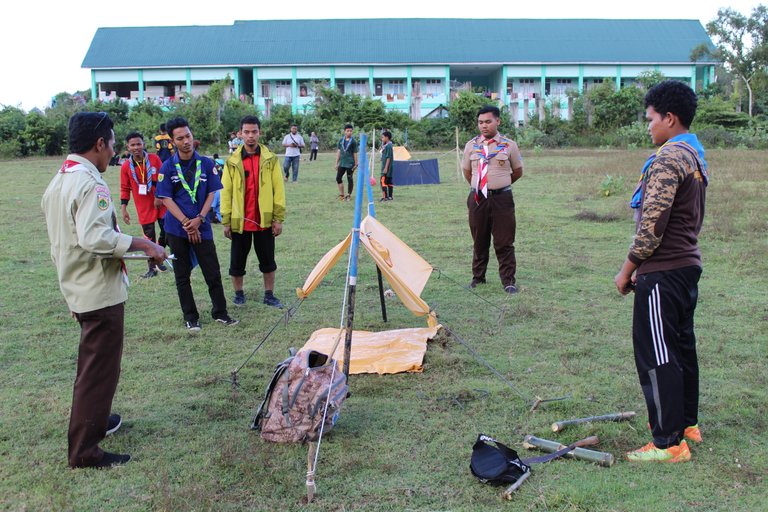 Learning method:
This activity is a practical activity. So participants will implement the knowledge they get in the classroom. There are no guidelines, only giving instructions to them to carry out a mission / task. Make work to achieve a value and be the best among others.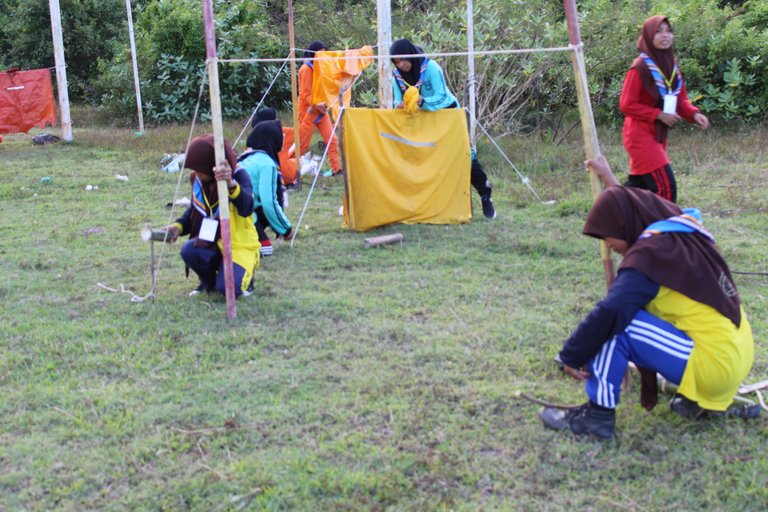 Learning objectives :
A. What is bivouac
Bivouac is a temporary hut (a place to stay overnight) in the middle of a forest and so on (for soldiers and so on). The function of the bivouac is as a place to protect ourselves from natural and environmental factors such as blazing sun, cold air, rain, wind or interference from animals when in the wild.
B. Bivouac or shelter can be divided into:
1. Natural Bivouac
Shelter created using materials found in nature such as;
a. Fallen tree
b. Hole in a big tree
c. Cave
d. Bamboo bivouac
e. Bivouac from the leaves of plants
2. Artificial Bivouac
a. Using plastic
b. Use Fly sheets
C. A viable Bivouac meets at least the following conditions:
1. Try not to leak bivouac.
2. Safe, convenient and strategic location.
3. Do not overly damage the surrounding nature, use facilities in nature as needed.
4. Make a place to light a campfire and cook.
5. Make a moat around the bivouac so that water does not enter into the bivouac.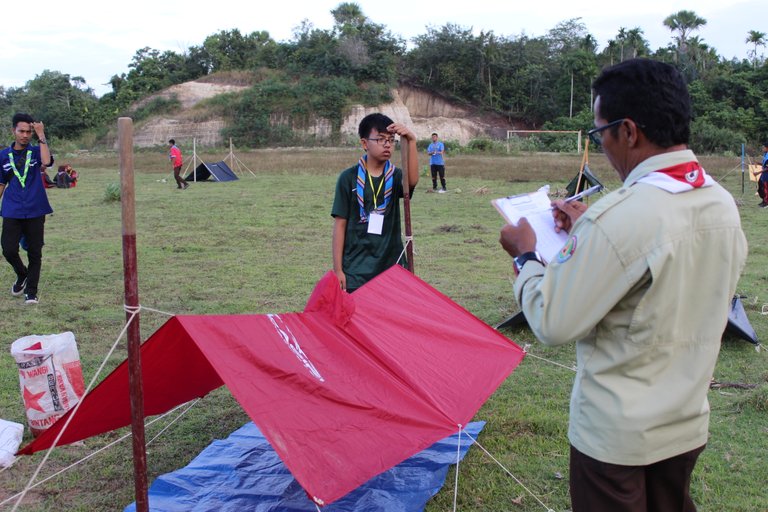 Learn more about bivouac!
Thank you for supporting this program. Look forward to the next post about jungle cooking.
---
"Good things done will bring goodness, sincerity is a source of passion full of love and dedication, wings of birds fly, the people have dreams, people need you to help them, you will look great for the little actions you do but have an impact broad for everyone"
@ponpase