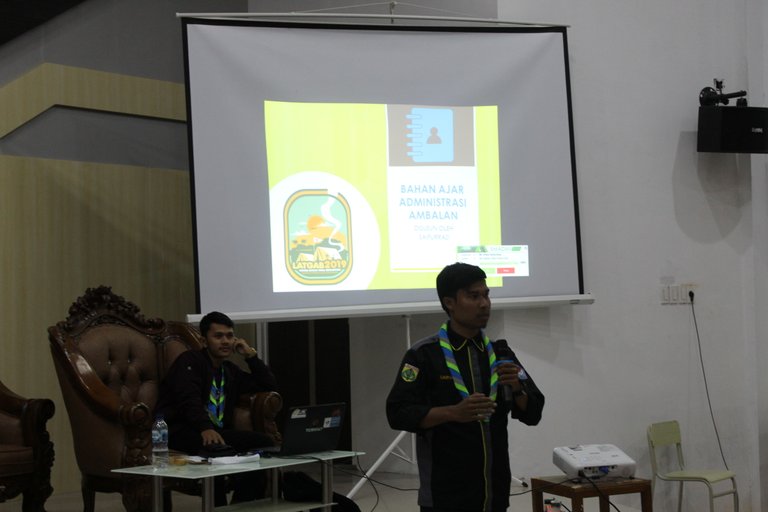 The following is a report on the results of the "Joint Training" activity. This time I want to publish event documentation for a learning activity session with the subject "Administration of Ambalan". After postponing a post about survival techniques, I finally decided to publish this first and will publish the second volume survival technique in the coming week.
On this occasion I became an educator who will explain learning material about "Ambalan Administration". You could say that I am already quite experienced with this material, my experience as a secretary shows how I should master this. This material is indeed the basis that must be mastered by every person / agency so that they can be orderly in administration. I have collected this material some time ago.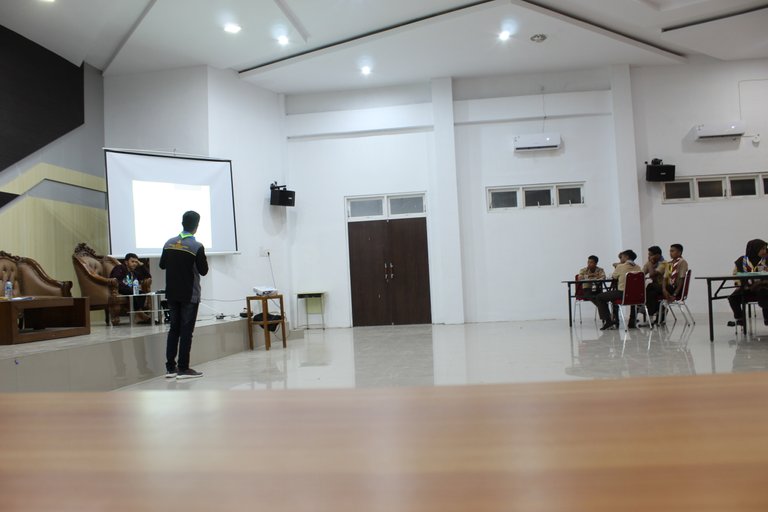 Between breaks during preparation time for the program, I turned it into a power point, so that it formed into slides. I think the learning process by displaying material on a projector screen will certainly be a creative and interesting way of learning. There are many elements of animation and layout of the material space that I manage in such a way that it is very interesting when seen. This visual learning process will certainly captivate every eye that sees the screen of the projector.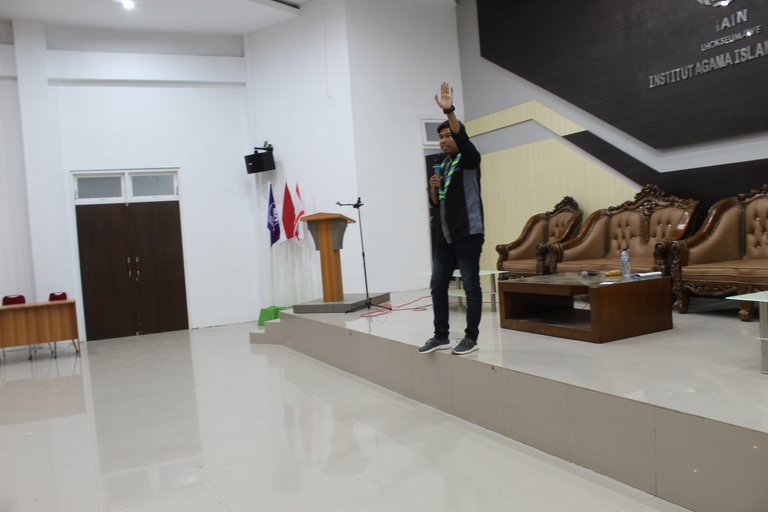 The following is a resume / notes material that I submit:
Event schedule
At 23.00 - 24.00 WIB
The venue
Hall of the Islamic Economics and Business Faculty Building Hall
Number of participants
Approximately 50 scout participants at the enforcement level
Moderator
Risky Farianda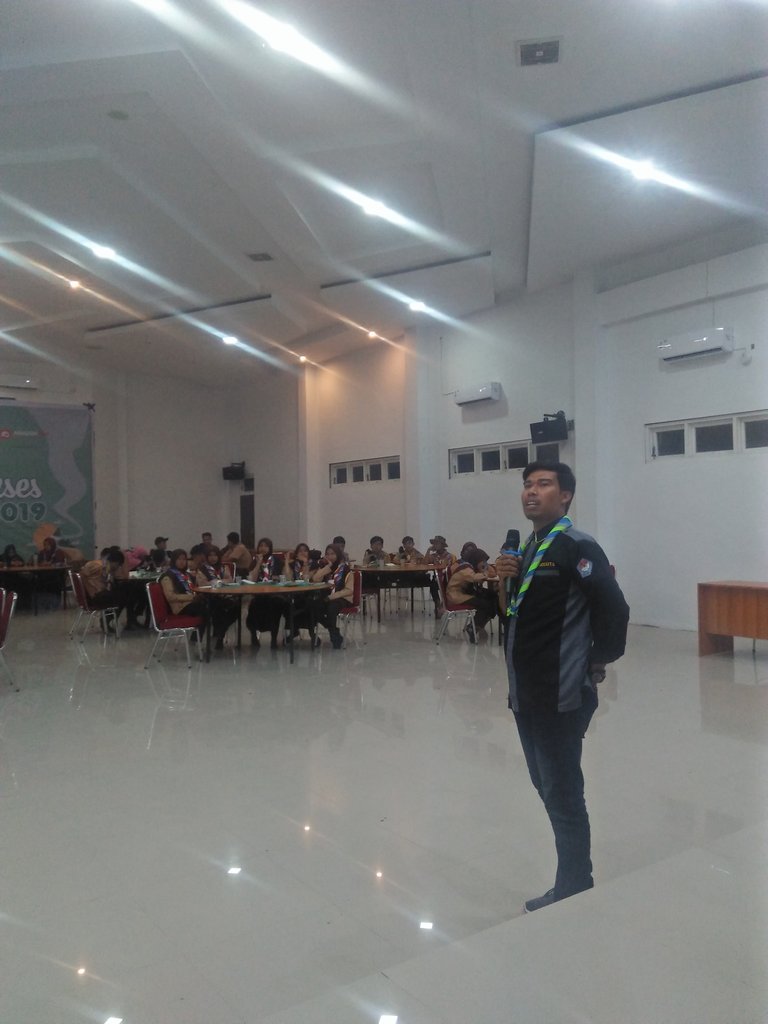 Material Resume
The establishment of this shelter aims to facilitate the collection, management, mobilization and direction of students in the implementation of Enforcement Scout activities to achieve their goals.
The Enforcement Ambition is fostered by an Enforcement Builder assisted by the Enforcement Development Assistant.
Guidance for Enforcement and Guidance for Enforcement of Son Enforcement must be held by men, while for Daughters must be held by women.
Administration in a broad sense, is the management of units which includes: planning, organizing, implementing and controlling scouting activities in units.

Administration in the limited sense (narrow) is including structuring and controlling in writing or activities called administration in the Front Line of the Scout Movement.
Administration functions:
To carry out supervision, all work must be carried out according to the provisions.

As a basic guideline that must be implemented to be established in the Scout Movement Organization.
Types of administration that need to be prepared by the front group / school:
Front Cluster Main Book
Financial Book
Inventory Book
Guest Book
Book achievements
Book the exercise program and minutes of the Ambalan Council
Log book / List of Important Events
Presence and Contribution Books
History Booklet
The Ambalan Book
Book/Notes of Ambalan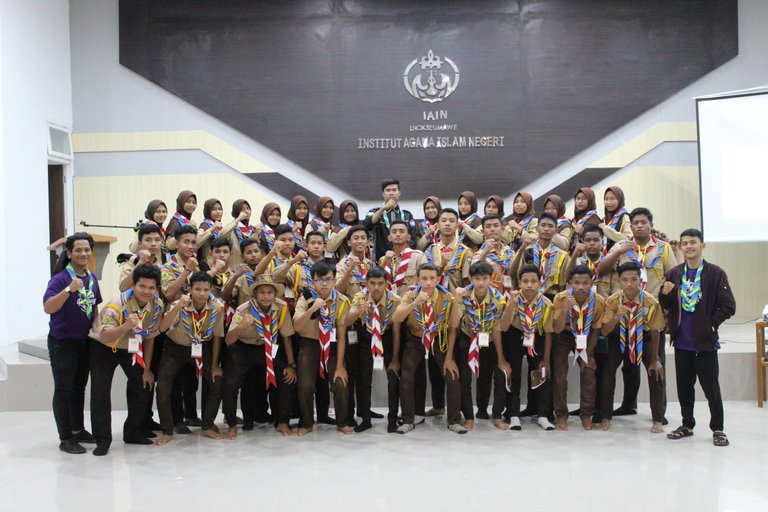 Concepts and Methods of Submission of Materials
Because our learning process is almost late at night, this will be a burden for educators. As an educator I have to become more active to arouse their passion and enthusiasm to listen to the material. So, I have to be closer to them, greet, make entertainment and inspire them.
So, don't stay in the chair, where you teach or your students will get sleepy at that time. Try to be more active, build interactive and make them more responsive to what you are saying. Try to get around and stand closer to them, build interaction and deliver learning material with your position closer to students.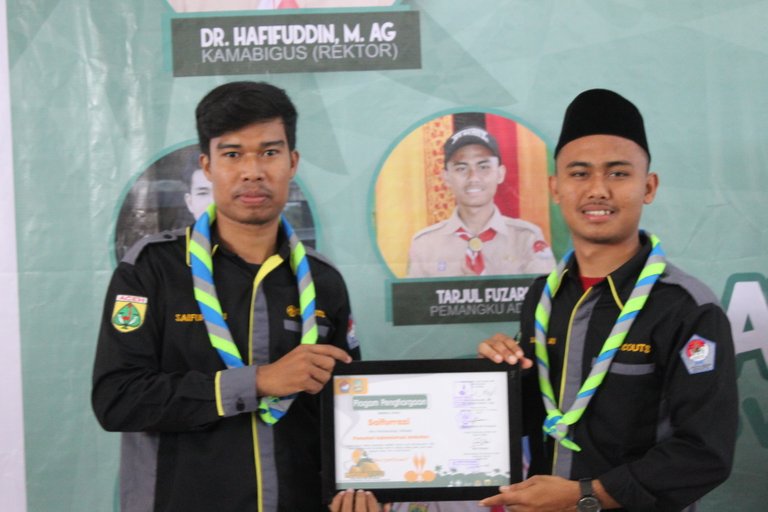 Thank you very much for this valuable time. At the end of the session, I got an award certificate which was handed over directly by our customary stakeholders. This is a significant award for my career in the future.
---
"Good things done will bring goodness, sincerity is a source of passion full of love and dedication, wings of birds fly, the people have dreams, people need you to help them, you will look great for the little actions you do but have an impact broad for everyone"
@ponpase