Today I would like to break down the fund, and highlight some of our recent partner increases. The LeoDex gives a really nice visualization of the approximate value of the holdings. Obviously slippage is very high on most markets, so this is not the liquidation value, whose discount may be steep.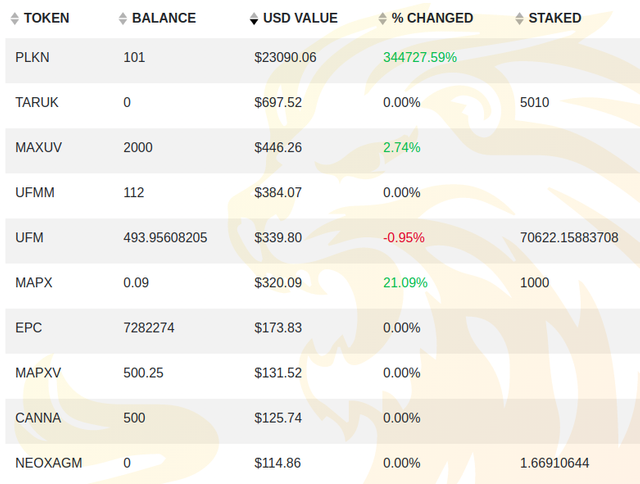 The first thing we can notice is that PLKN token has been pumped, these exciting numbers are completely fabricated hack of the low volume market for that token. The PLKN community may be up to something, we will have to keep an eye on that.
Our Largest holding is TARUK, where we are the second highest staker, after the project founder himself.

Keep an eye out for their upcoming release of the GEMAS mini-game, a mostly luck based clicker game that will eat your extra DEC and BATTLE tokens!
---
MAXUV, MAPX, and MAPXV are all MAP FinTech products, run by @rycharde. These are steem-backed vote bonds, and we are maxed on each of them in terms of votes possible to be received.
Each of these tokens is a bit different, read more to be informed!
---
UFM and UFMM are @UpFundME tokens and the miner for that same token. UFM is one of the first 'pudding-proof' parts of the fund, and was initially identified that it was immensely undervalued and still under active development. By correctly identifying the bottom (with participation), we have been able to continue to participate in the growth and rebirth of this promising, goal-setting community!
We have pierced 70k UFM stake, and are shooting for 100k on the fund to support builders. In this way, holding UFM in the fund multiplies our synergy, giving us even more power to support our fund members in new ways.

We have posted about EPC recently, and the last two days it has paid dividends, and the most recent was very nice!

The fact that EPC can randomly come in with enough to cover a whole day's worth of liquid divs is very appealing!
---
Take a look at CANNA token, a @canna-collective SP-backed curation initiative run by @hotsauceislethal. Each token is backed by SP, and thus slowly grows through curation. The current round can be bought at 1.1 steem on the dex..
---
Finally you can see our tenth position holding: NEOXAGM
With this miner we are mining NEOXAG at some random intervals. By waiting a week, the fund had over 800 NEOXAG liquid, (an equal amount is always staked). Much of this was sent to @neoxiancityvb vote bot to test their paid voting on some of the fund posts.
---
I hope this update finds you all well! Our entertainment fund is internally marking the ABV at 2.2 steem per token right now (independent of the PLKN pump). Our willingness to sell tokens low is drying up, any fund member can sell at any time now, there are some buys as high as 1.4 - anyone who got in early may want to sell some out now. I wouldn't, but you may, we won't judge :)
Posted via Steemleo