As you may know, our fund continues to focus on the Power Up of STEEM profits as the way to expansion. Having 3 liquid steem on hand each day is important, but that aside, the fund is looking to power up! We want to be claiming accounts and after that delegating even more to some great programs.
Today we have the best week of the Fund so far!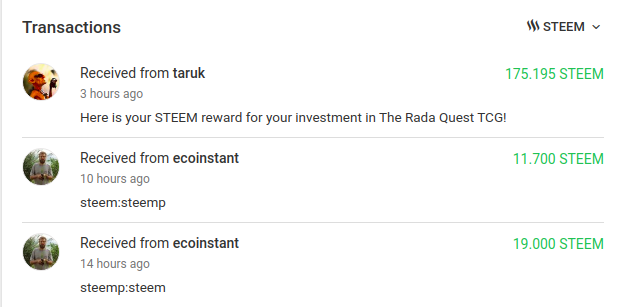 The steemp:steem transfers, as you can see, we're done with @ecoinstant, if we can avoid the market fee we do, and if @leodex is available, we use them too. As you can see, we were already on track for a very nice week with over 30 steemp converted.
But the 175 STEEM from @radaquest: EPIC!!!
We had powered up just over 5000 TARUK into our fund, after a large swap with the @radaquest account. There is an incredible promotion to buy TARUK with fiat, invest in the game long term, but to walk away with STEAM games to play right now.
We have decided to leave 10 days worth of divs on hand, and power up today - 183 new SP!

Powering up long term will be good for the fund. Having a larger stake will bring new challenges and opportunities, but we are up for it! Our main goal is to support and synergize with our portfolio, and on STEEM each day we can do that better than the day before!
This is not investment advice, do your own research and make your own choices.
Posted via Steemleo