A little while ago I had a ride on the wild side - Two rides to be accurate. The first was awesome and the second even more so.
Whilst on vacation we found ourselves at the Shotover River not far out of Queenstown in New Zealand - It was by design not accident as we had planned to take a ride on the Shotover Jet boats. I wrote about it but at the time I didn't have the video downloaded - I have now though.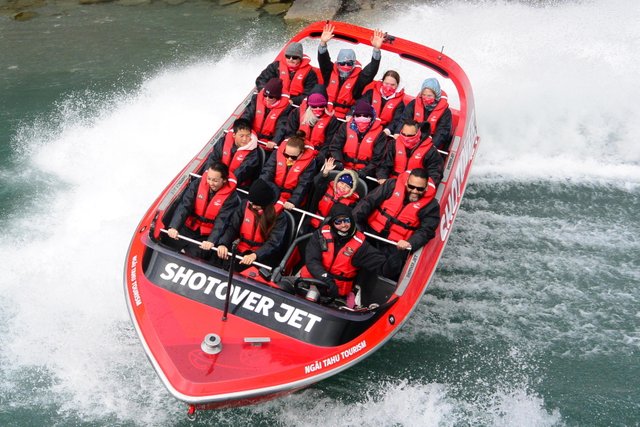 Image shows me, Faith and my mother in-law in the second last row - right to left of the shot. This was taken by Shotover Jet whilst we were in the middle of doing a 360° spin. YOu can also see the black upright new the bow of the boat - That's the rear and forward facing video camera they use to create the videos.
Just a little background
The Shotover Jet operation began in 1965 with a fibreglass boat that carried 5 passengers. These days the operation uses purpose-made specialist boats made out of heavy-gauge marine aluminium and carry 14 passengers plus the drive. They cost just under $500,000 each to produce. They are powered by twin 350 Mercruiser V8 engines generating a combined 700 horsepower. Propulsion comes by way of two Hamilton 212 jet units which thrust just under 800 litres of water per second. That's a lot of thrust.
The jet boat only requires 10 centimetres of water to run allowing it to operate close to the river banks and rocks of the gorge. You'll see that if you watch the video. This all culminates in a thrilling ride.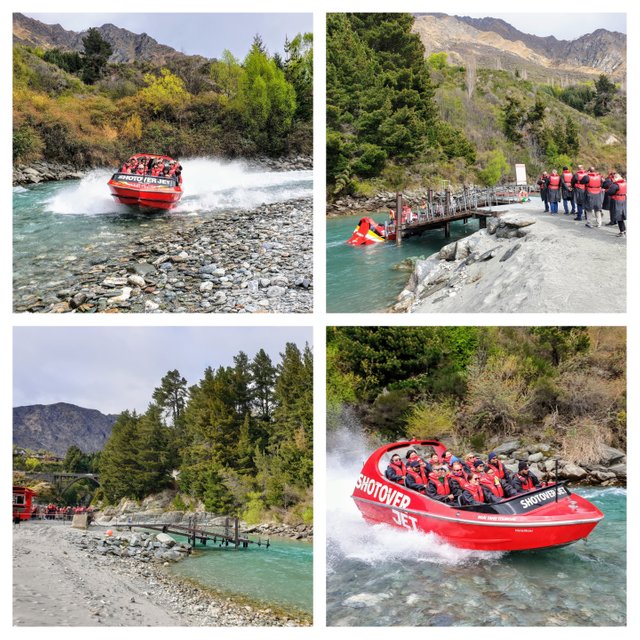 As you can imagine there's some danger involved but the drivers are highly trained and accidents are rare; They have happened of course, but then nothing is completely without danger right? Running so closely to the rocks and river bank at speeds of up to 90kph isn't probably the safest thing a person could do but what the hell - It's loads of fun.
The video below shows the first run we went on. It cost us $159 each which is a bit of coin I guess, however if you go for a second run you get that one for $19 provided it's straight after the first, or within about an hour or so anyway. This is what we did so we feel we got good value for money.
In the video you will see the three of us sitting in the second to last row of the boat. I'm on the port-side, my mother in-law beside me and Faith beside her.
You may note that the sky changes from overcast to grey and back again in the video. That's because they spliced in some of their stock-footage to create the video; I guess that makes it easier for them to pump out a video like this every fifteen minutes, for each boat-ride, all day every day. I don't mind though as about 50% of the footage is indeed the run I was on and it's just designed as a memory of the actual ride. You will see us if you look carefully although I pull my red buff, supplied by Shotover Jet, up over my face a bit as it was bloody cold!
The video will give you a pretty good idea of the ride. It's pretty rough considering the speed at which they travel. Going 90kph in 10cm of water means that every little ripple batters the body as the hull smashes down on the water over and over again. Fun though.
On our second run we managed to get the same driver. They actually rotate boats with up to four of them running on the river at the one time. [They have passing points and a very finely-tuned choreography so there's no danger of collision.] The driver recognised us and Faith and I managed to get ourselves in the very front two seats. I think the driver went a little more crazy than usual too as the ride was even more thrilling than the first. Definitely $19 worth of value for that second run!
It get's very cold on the run as water spray inevitably get's on passengers and running at 90kph means the wind-chill plays a part. It's all good though, the hand rail is heated so hands stay warm, and capable of gripping.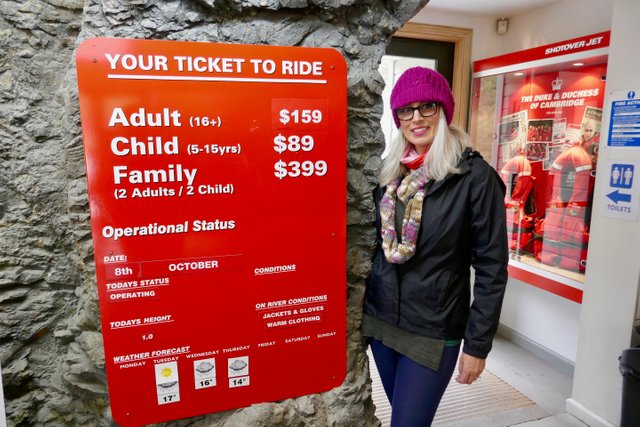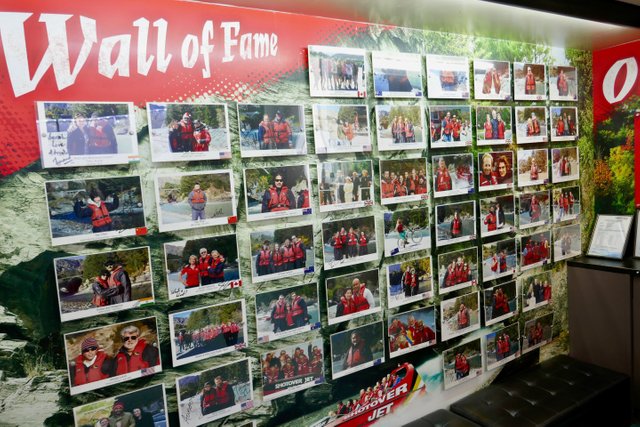 In 2011 they carried their 3 millionth passenger and in 2014 they carried UK royalty when Wills and Kate took a ride. They probably had the boat to themselves though I'd say. There's a pretty cool wall of fame in the visitor centre with many pictures of notable people who have taken a ride. Our image is not on the wall of fame though - Because we are nobody's.
Shotover Jet run a very slick operation with a boat leaving every 15 minutes, each with a full load of 14 people aboard. They issue a waterproof coat and life-preserver to each passenger, stage and load the boats efficiently and have their entire process running like clockwork. It's a very slick operation - And one that leaves passengers with a massive smile! It is definitely worth a go if you are in the area.
Anyway, there you have it - The Shotover Jet boat video I promised a couple weeks ago. Thanks for reading.
---
Design and create your ideal life, don't live it by default