I love hummus
But I also know to attain it in Malaysia, ready made hummus is very expensive, including getting a ready made Tahini.
Until I found out that we can actually make tahini from scratch as long as I have a (high-speed / normal) blender
I came across a really 2 interesting recipes that I have decided to give it a try and make my own.
---
The last time I did was using the slow juicer. It wasn't too bad
---
1. Making the Tahini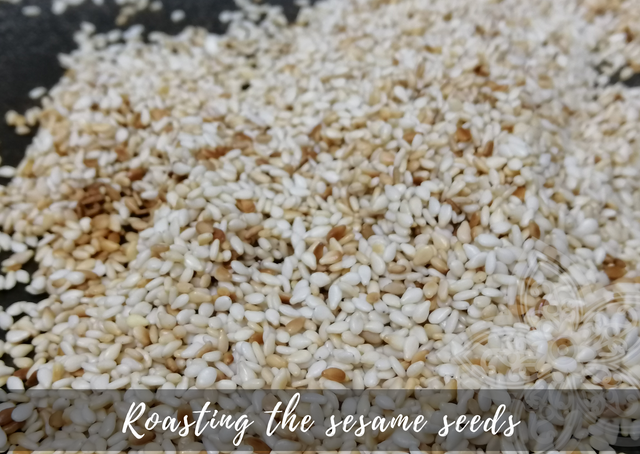 I always thought that tahini was some magic creamy sesame seed paste, because when I was first introduced to it by my friend, it came in a bottle
But it turned out to be as lot easier than I thought, however, watching the fire is VERY IMPORTANT! Just 1 minute difference there were already a few over roasted ones!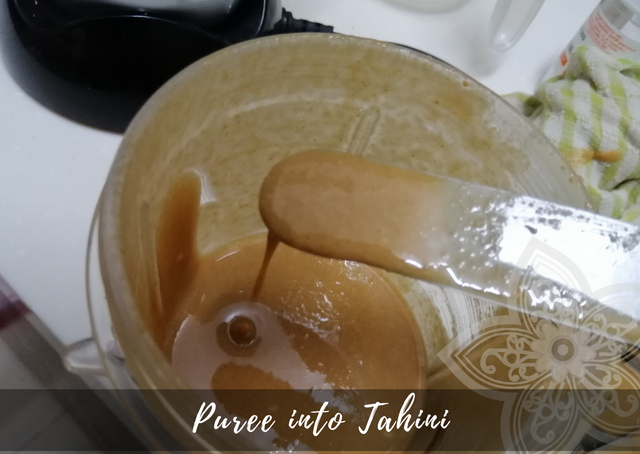 In normal process you will need to wait for the roasted sesame seeds to cool it down, but I was in a little hurry so when they are still a little warm I started blending with the Magic Bullet high speed blender.
It is a lot harder than the normal blender because I have to shake a couple of times to get it finely ground; and then add with cold pressed rapeseed oil that I had and blend until it starts to produce oil itself and become this smooth texture.
2. Preparing the Hummus main ingredient - Chickpeas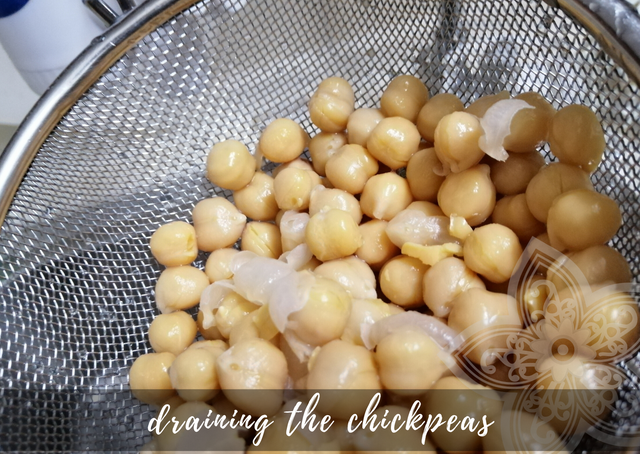 I didn't have fresh / dried chickpeas with me, but I had can chickpeas. As I wasn't sure whether it works for a blender I only prepared 1/4 cup of tahini, I had to ratio it to only 1/2 can of chickpeas.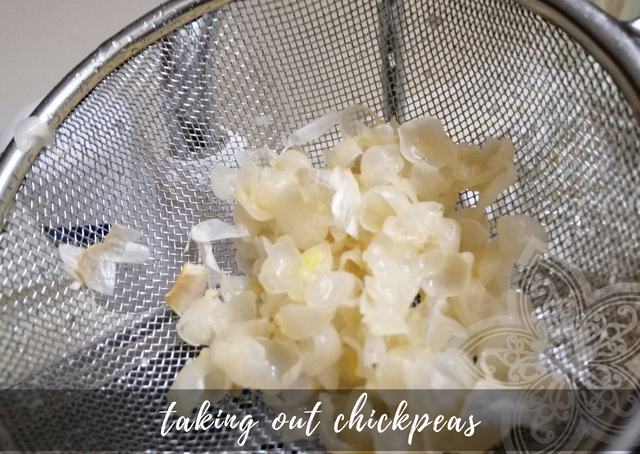 The chickpea skins are not suitable if you want to have a very smooth hummus, therefore even if it is from a can, it is best to give it another boil to ensure the skins are easily peeled off and the chickpeas are soft enough for easy blending.
![5.png](
After boiling the chickpeas, run it through cold water and allow the skins to be removed while you use your hand to quickly remove it.
It should slide off pretty easily
3. Making the Hummus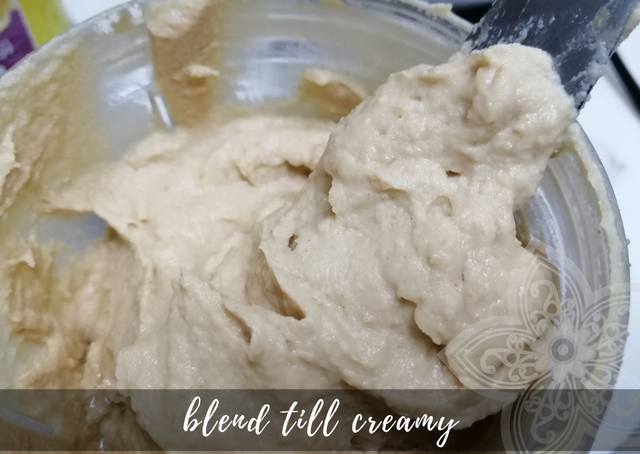 This is the tricky part.
And there's a trick to it.
Adding very cold water while blending will actually allow the hummus to have an airy texture while adding oil (then later the tahini sauce) to it; and in this recipe I actually added 2 small cloves of garlic to boil together with the chickpeas instead of using raw garlic in order to have a lesser acidic and pungent effect for my parents' palette.
Cumin powder is added in before the blending begins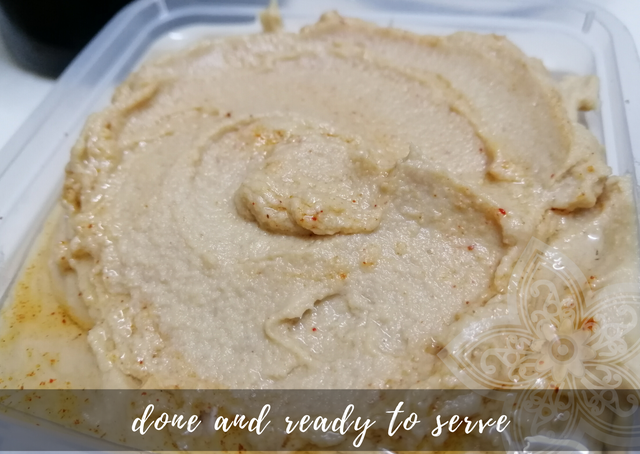 And there you go, after blending for about 5 minutes on and off from the Magic Bullet you get this nice creamy texture.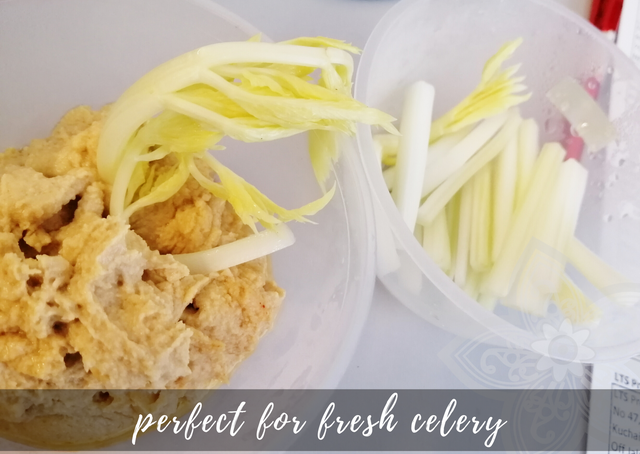 It goes really well with fresh celery sticks, and you can serve it with fresh carrots too.
---
Ingredients I used for this experiment
To make the Tahini
1/4 tahini sauce (made from 8 table spoon of sesame seeds)
3 tablespoons of cold press rapeseed / olive oil
a pinch of Himalayan salt
To make the Hummus
1/2 can of chickpeas, drained, boiled, un-skinned
2 small cloves of garlic, boiled, un-skinned
1/4 teaspoon of cumin powder
1/2 teaspoon of himalayan salt
a pinch of paprika powder (to garnish at the top)
2 tablespoon of cold press rapeseed / olive oil
2 tablespoon of white vinegar
1/4 cup of ice cold water
Steps to blend the Hummus
place chickpeas, garlic and cumin powder in together
start blending
stop and add first tablespoon of oil and white vinegar
start adding the tahini
add 1/8 of ice cold water
add another tablespoon of oil
add the remaining 1/8 ice cold water slowly until it becomes the texture you like.
Add in extra 1 tablespoon of oil if you feel it is not creamy enough.
After blending, place on the bowl / container, sprinkle the paprika powder and add 1/2 teaspoon of oil to keep the surface moist.
---
So there you go. My entire experiment. Yummy, and creamy!
---
The #fruitsandveggiesmonday challenge is hosted by @lenasveganliving
Until then
Thank You for Your Time



1% of this post goes to null in the support of keeping STEEM alive