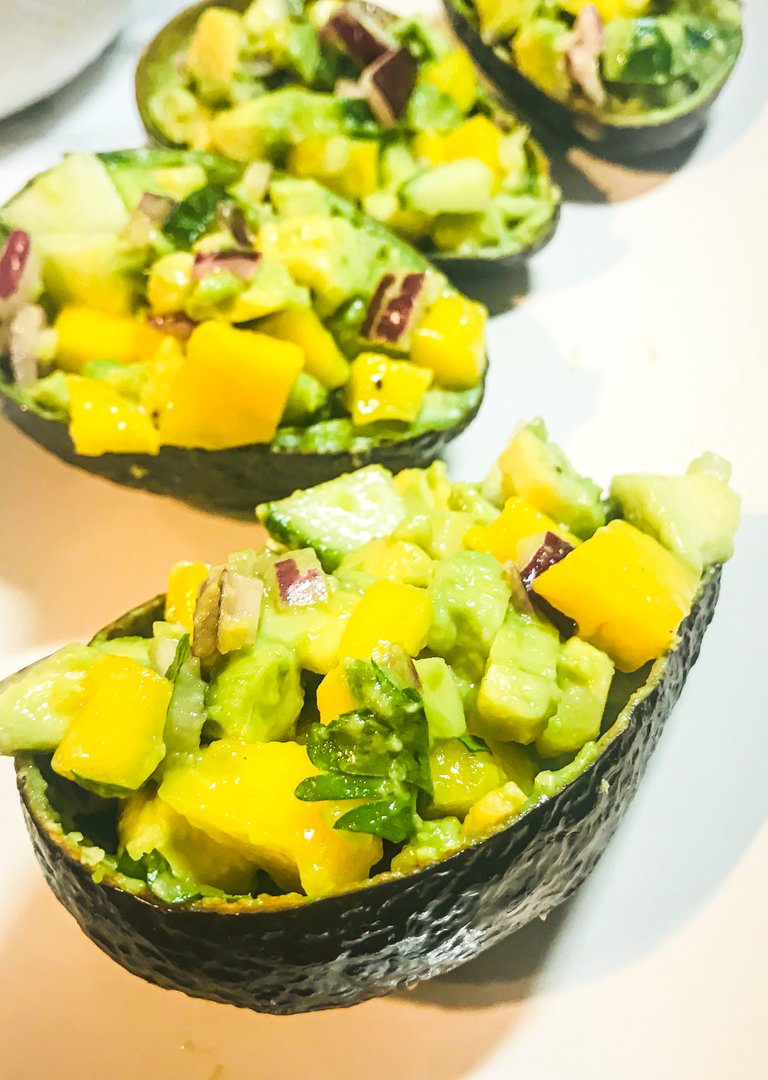 Welcome to: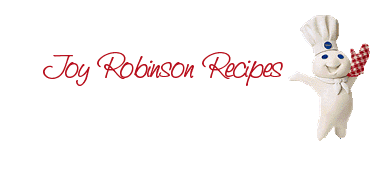 Hello Steemit
What's your favorite summer fruits?
Aside from water melon, ripe mango will always be my favorite and the Filipino mango float is one of my favorite mango dessert.
Anyway, since I started my vegetarian/vegan journey, I've been inventing my own salad recipe and this is one of my favorite. It's made with diced avocadoes, ripe mango, cucumber, chopped herb and spices. I make it either for lunch or snack. It smells and taste so refreshing.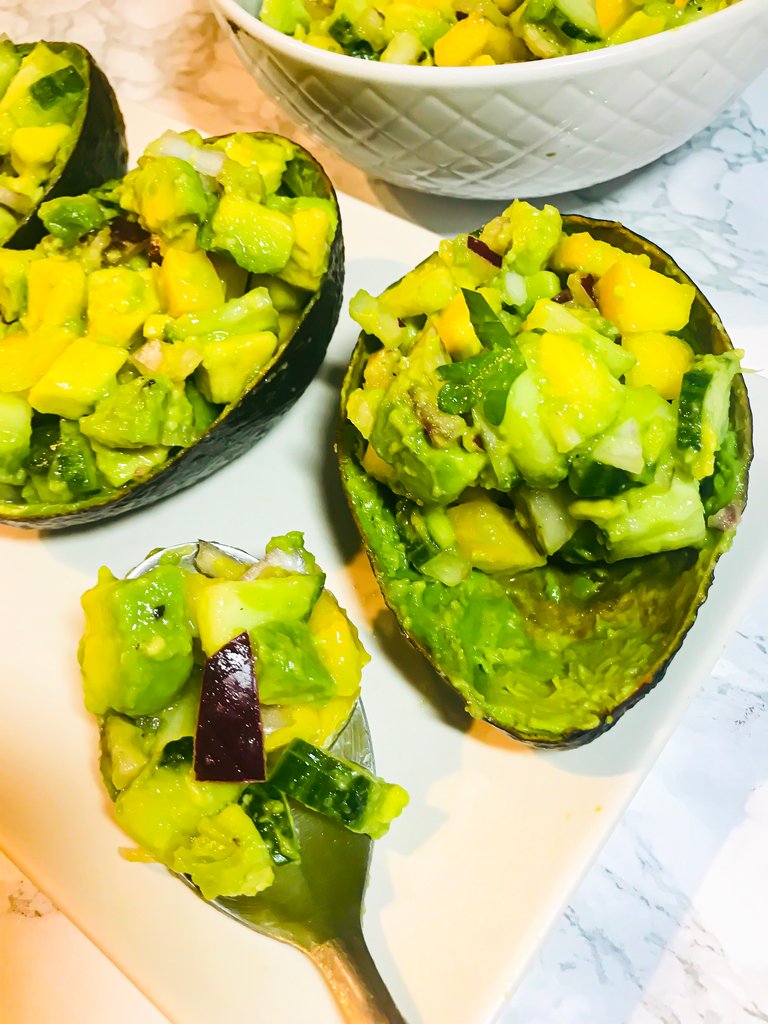 This is my entry for #fruitsandveggiesmonday, created by @lenasveganliving and hosted by @plantstoplanks. Checkout the competition details here and join the fun!
This is also my submission for @qurator's Tasty Tuesday.
Let's go and make it!
---
---
Preparation Time: 15 minutes
Serving: 2-3 persons
Ingredients:
2 medium avocadoes (diced)
1 half of ripe mango (diced)
1 cucumber (diced)
1 small Red Onion (diced)
1 spoonful Coriander or cilantro (chopped)
1 tablespoon lemon juice
1 teaspoon Extra Virgin Olive Oil
1 tablespoon Apple Cider Vinegar
Salt & Black Pepper to taste
Method:
Wash, pat dry, halve the avocados and remove the pits. Scrap out the meat using a spoon. Diced all ingredients, transfer into a nixing bowl. Add the olive oil, vinegar, sugar, salt and pepper to taste and mixed well.


Now for the fun part! Stuffing the avocado halves.

Serve and enjoy!
Using the avocado halves as a salad bowl instead of throwing it away create more appetizing presentation and I saved some plates to wash after (lol).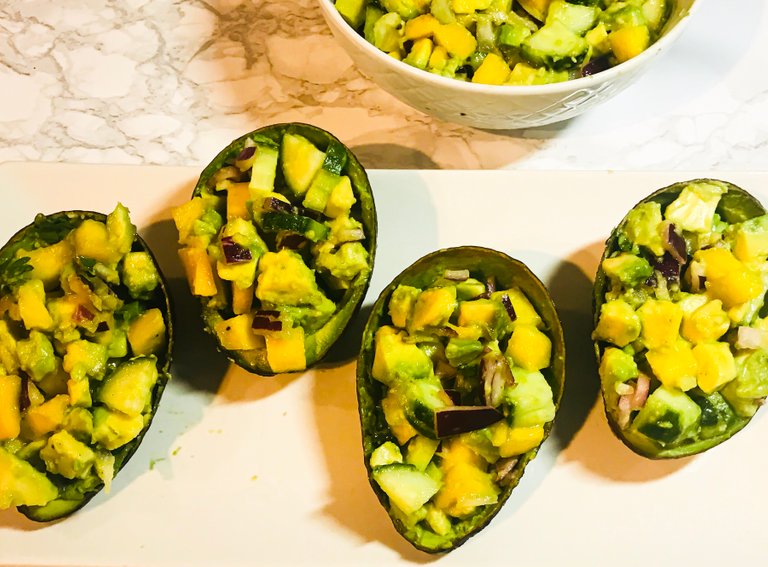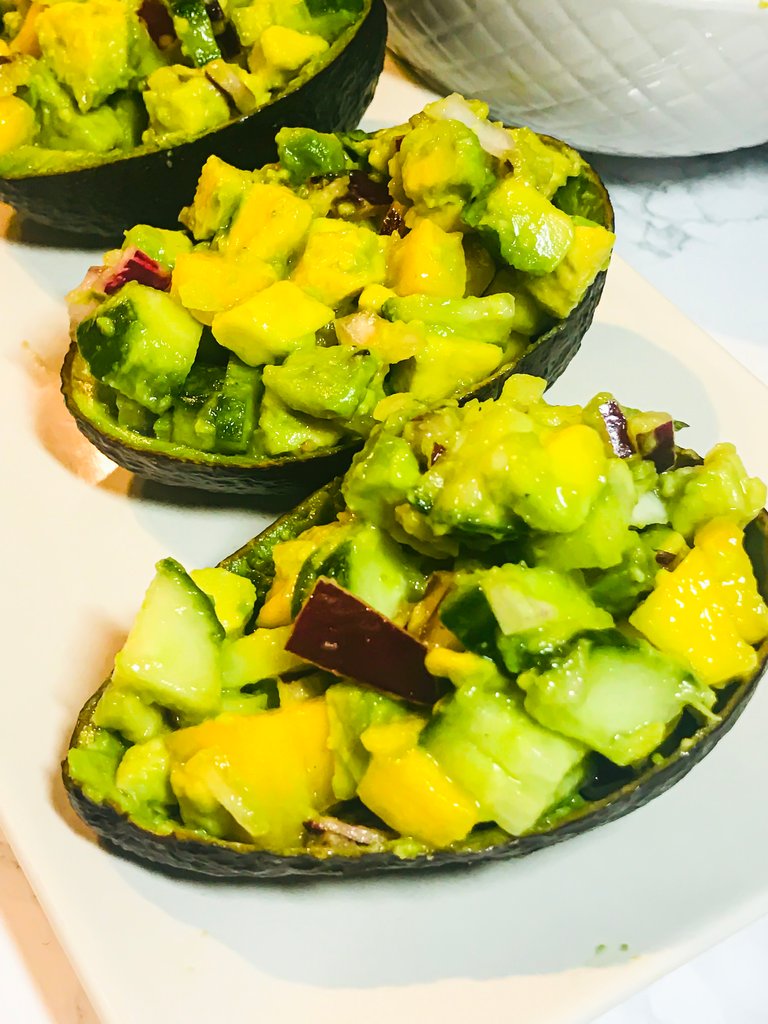 Till our next recipe!



All contents are mine unless stated otherwise.
Category: Food Photography
Camera: iPhone 7+
Setting: Portrait| color enhanced
Cool banners by @qurator


Have a joyful day Steemian!