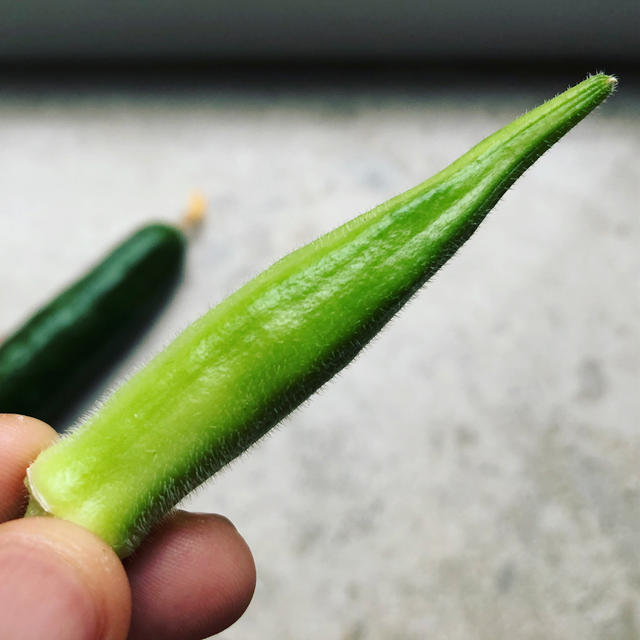 (Japanese follows / 日本語は下に)
This is my entry to Fruits and Veggies Monday, created by @lenasveganliving and hosted by @plantstoplanks. Thanks to all for realizing this great Monday Vegan gathering on Steemit.
STEEMIT FRUITS AND VEGGIES MONDAY COMPETITION
This time it's about Okra, one of my favorite summer veggies. Few months ago @plantstoplanks wrote that she bought Okra at her local farmers market. I wish I had some local producers around. I've bought Okras at a Turkish grocery store but it was too hard ... So time to grow Okra by myself.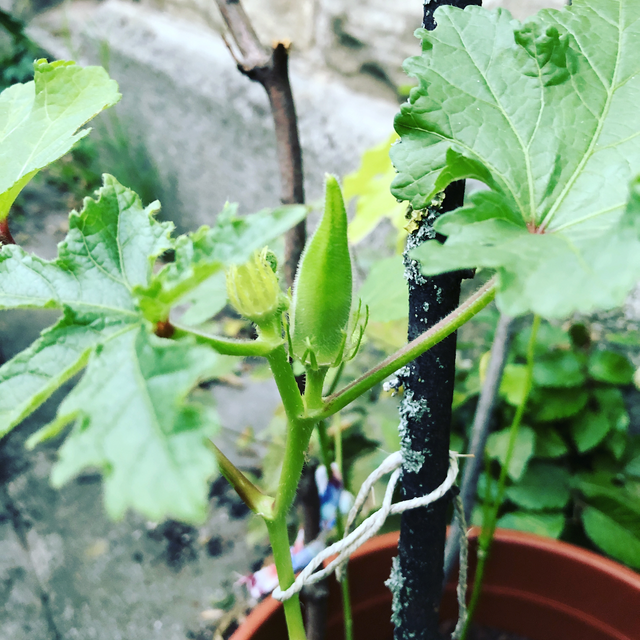 I just had one so far but it was the first time I could harvest Okra successfully. Okra is originally from West Africa and South Asia. It needs heat and a lot of sunshine. I wonder it could make a fruit because of global warming ... if so I feel difficult.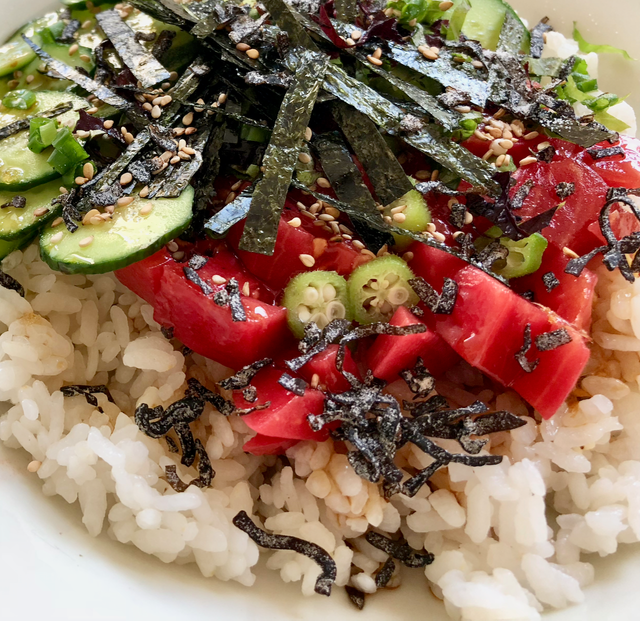 The Okra tasted exactly I expected. Sticky slimy greeny. It come on top of my veg bowl for lunch.
It was my Fruits & Veggies Monday :) I'll write about Bitter Melon, another veg I cannot miss but I couldn't find ideal one in Germany. I grow by myself too and I had already harvested some fruits also for the first time in Germany.
---
@lenasveganlivingさんがはじめて、@plantstoplanksさんがホストしている月曜日のビーガンコミュニティーFruits and Veggies Mondayへの投稿です。
STEEMIT FRUITS AND VEGGIES MONDAY COMPETITION
今年はゴーヤが採れて、まだ一本しか採れていませんがオクラも採れました。ドイツではじめて。日本の種なので当たり前といえば当たり前なのですが、日本で食べていたオクラ!小さいながらしっかりネバネバしていました。
また暑さが戻ってくるようで願わくばあともう数本採れてほしいです。来年は大きな鉢に一株にして、日当たりバッチリのところに置いてもうちょっとうまく育てたいです。毎年学ぶことが多いです。
年々暑くなっていて気候変動の影響を感じます。なげいてばかりいても仕方ないので、適度にエコに生活しつつ、暑さを利用して日本でなじんだ野菜を作ろうと思います :)