It's almost 2AM here and I can't sleep. This is usually what happens when I stay up pass my bedtime. I hope it finds you well.
---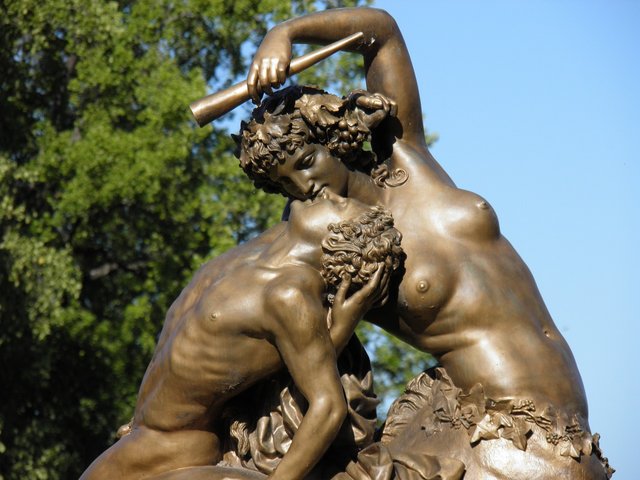 ---
Her fingers slid gently up and down the strings of the lyre. Head bowed, eyes closed in concentration, tiny strands of dreadlocks fell softly across her face. Her toes dug into the wet soil as she played and sang , a folksong she learned from her mother. She missed her home and the life she had, before the abduction that stripped her naked and forced her to work with her bare hands.
Thoughts of home and her mother's warm stew had made her cry the first few days. However, when the days began to turn into weeks, and the weeks stretched into months, she embraced her life as a slave and vowed to make the best out of it.
The five long years buried the frightened teenager, and left a beautiful young woman behind. A passionate soul, who found love in her master's eldest son.
Their affair felt like nothing she had ever experienced. His slow thrusts on the floor of the farm where she worked, always left her aching for more. The lyre became their mouthpiece. Only the two of them understood the language.
In between passions one night, he begged her to come with him. His father had sent him on a journey that would take years before he returned. He made her understand that he would see her safe passage home, should she decline.
Still confused, she played the lyre and waited.
"It's time. Please come with me."
Her eyes flew open. She stared at his outstretched arms and thought of her father's big barn, many wives and siblings. She thought of her mother who had survived years without her. She went into his warm embrace. This was home. This was where her heart belonged.
--
Like water, it's clear this thing I feel
I want to share a blunt with you
You blow the rings while I pierce the center
Painting the world with beautiful white smoke
Squealing in delight at our mess
Let's bask together in my aloneness
Mocking the infinite spaces between us
Two thoughts coming together as one
Neither lost nor seeking
Just in unison as it ought to be
I know I can be my own knight
Armour and shield I can wield
But I don't have to 'cos now I understand
What I have in me is strong and powerful
Far more dangerous than any weapon made by man
Come fly with me
Above the hindrances standing in the way
Tears of happiness is all I shed
Come soar besides me if you wish
Hand in hand, we can storm the world

---