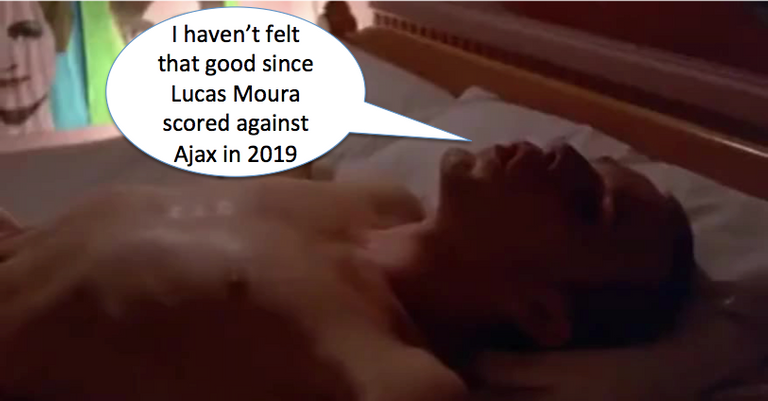 I've got to say that it's been a struggle to stay engaged in watching Spurs this season given their stop-start kind of a year and today's win against City was the first time I've really felt passionate about the side in some time. A new manager, a new stadium and discord amongst the squad have made it difficult, I think, for all fans to really identify with the side over the last 6 months.
The win today over the reigning champions (i guess we can still call them that) was a proper Premier League football match full of action, moments of controversy and the odd bit of magic and luck in equal doses. It was important for Spurs season as a whole that they gave a good account of themselves and took advantage of the fact that most teams around them had dropped points this weekend. However, when City went down to 10 men having previously missed a penalty it became doubly important that the side capitalised on the situation and secured their first win against a member of the top 6 at the new stadium.
Having shed the dead weight of Eriksen and Rose this Tottenham side looked reinvigorated tonight with the men who have essentially replaced them in the starting eleven, Lo Celso and Tanganga putting in the kind of all-action performances that the former pair had failed to do for a long time. Lo Celso might have taken a little bit of time to find his feet in English football and was no doubt not helped by an injury and change of manager within the first few months in North London but he is now beginning to look the real deal. His composure on the ball whether running with it or passing is excellent and he showed that he is tenacious enough in the tackle to play in a deeper-lying role. Ultimately it would be great to see him paired with NDombele with a more defensive player behind them to allow both to express themselves higher up the pitch.
In a game like this in particular where Spurs were looking to hit City on the break, having strong direct players like Lo Celso and NDombele was a major advantage and you'd hope that once both are fit and firing that Mourinho will consider deploying them at the expense of Delle Alli who struggled to keep up with the pace of the game and is undoubtedly more suited to matches where we dominate possession.
Tangana meanwhile is another player who has burst onto the seen in 2020 with a string of good performances against high-class opposition that this early in his career are very promising indeed. As I pointed out in a blog in the summer, the young defender looked very good in the pre-season games that we played against Champions League quality opposition but then again they were just friendly matches and this is the real thing. His pace and power are a real asset and if he can improve an already decent defensive awareness in his game then we could have a real star on our hands.
Of course, it would be remiss not to mention the debut goal for Steven Bergwijn in this match which was an absolute stunner and some way to endear yourself to the fans. In general, I thought the Dutchman had a fairly quiet night and he struggled with the frenetic pace of the Premier League as well as often being isolated against the speedy Kyle Walker. That being said when his chance came he took it with aplomb which is more than can be said for the City forwards who wasted promising position after promising position.
In that sense then there was a large chunk of good fortune about the win with Davinson Sanchez's header off the underside of the bar in the dying seconds proof that if Mourinho hadn't parked the bus in this match then he may instead have deployed some kind of invisible force field such was the number of times that the ball seemed destined to be heading into the back of Spurs' net only to be repelled at the last minute. Then again you make your own luck and for City they were once again porous in defence, allowing Spurs pacey front 3 plenty of opportunities to run at defenders and isolate them 1 on 1 with our boys tucking away 2 goals from 2 shots at goal.
February represents a massive month for Spurs with an FA Cup replay against Southampton during the week, a Champions League fixture against RB Leipzig and then a 6-pointer against Chelsea to come. You feel that the next 3 weeks will define whether Spurs are fighting on multiple fronts for success or drifting towards the Spring with little to play for. 3 points like tonight and victory in the games to come were precisely what Mourinho was brought to the club to - win against the big boys and win trophies. This game tonight feels like a big step in that direction and we must use the momentum to build from here.