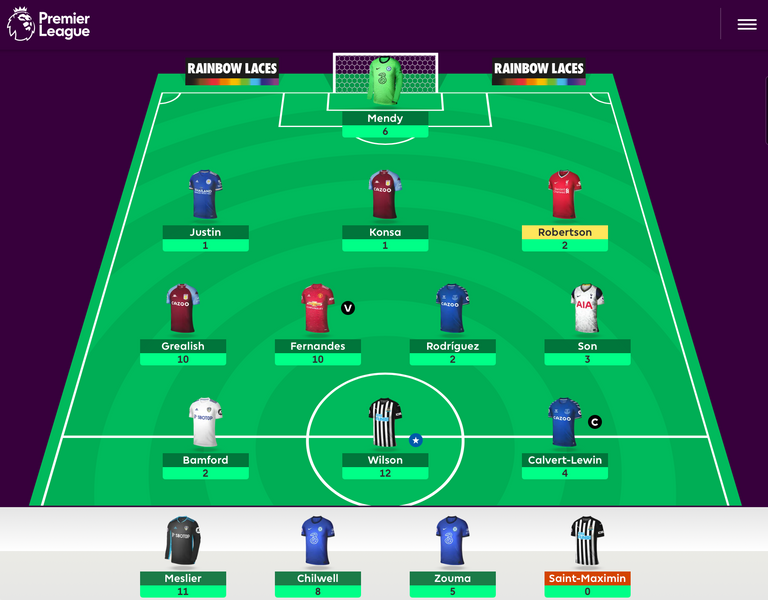 Week 10 Result: 53 points
A middling week for me: At 53 points a little above the average for all managers but well outside the top million rank that would have signified a good week. But it could have been so much better!
I went with Calvert-Lewin as captain, thinking the Everton-Leeds game would have plenty of goals. And as typical it was the opposite, a 0-1 away victory for Leeds. Which would have been good for my Leeds goalkeeper, Meslier, except he was on the bench, along with my two Chelsea defenders who kept clean sheets. All in all I could have reached 79 points with the same players (16 extra from the bench, 10 extra from Wilson as captain). But it's all so easy in hindsight!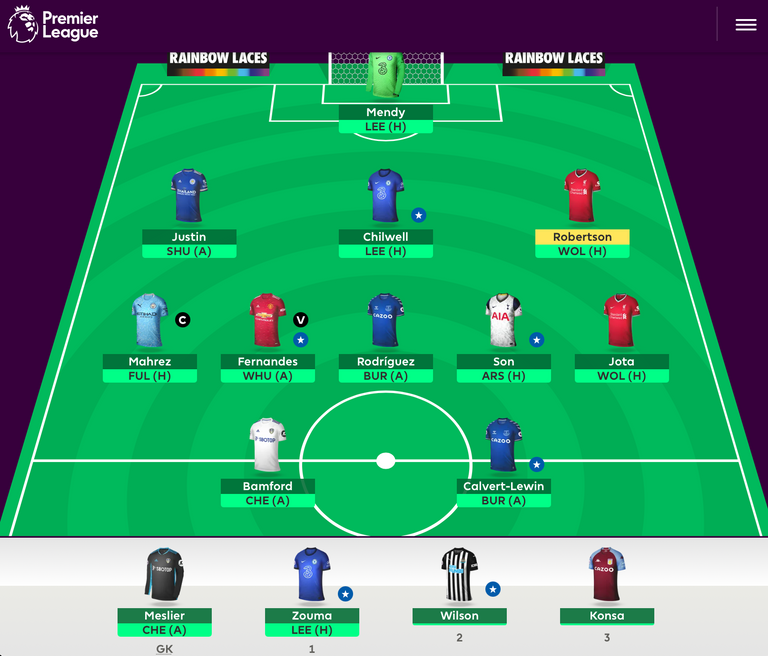 Looking ahead to week 11
Week 11 is one of those game-weeks where I'm constrained by circumstances rather than by choice. The Aston Villa - Newcastle game is off due to coronavirus concerns, and with 2 players from each team in my squad of 15 that leaves me with little room for manoeuvre.
Luckily I saved my transfer from last week-end so have two to play with today. So out go Saint-Maximin (NEW) and Grealish (AVL) and in come Mahrez (MCI) and Jota (LIV).
I would much prefer De Bruyne than Mahrez - I think De Bruyne will be the top player this week - but the players going out don't generate enough money to bring him in. Similarly I'm not keen on Jota due to his fringe-of-the-team status, although he's being playing consistently the last few weeks so fingers crossed.
Mahrez as captain, since Man City are at home to Fulham and are somewhat back on form in the Premiership. Fernandes as back up if Pep pulls the rug on me, like he always does.
So on to week 11! Good luck to all managers!