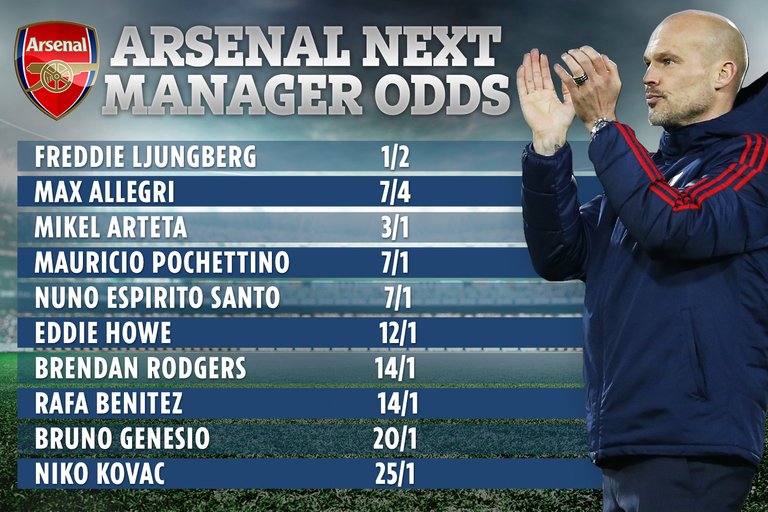 source
Arsenal are hunting for a new manager and somehow I don't think Freddie Ljunberg will get the post. I think Freddie may survive until the New Year ,but then his caretaker role will be up. This is the seasonal time that teams that are desperate change their managers hoping for a better run in to May and possibly salvaging their season.
What I find interesting is that Rafal Benitez was on Monday Night Football last night and coincidental the match was between Arsenal and West Ham. With Rafa being in London it can only mean one thing and that is he is discussing possibly taking the Arsenal job. Rafa is in managing in China right now and the last time I looked it wasn't close to London.
There is one other possibility and that they are using Benitez as a pawn to get someone else to hurry up and decide. Showing Benitez in London knowing whoever is in the running for the job will be watching this game would have taken note he was on the show. It is sending a clear message to whoever else is in the running to hurry up and decide as he is not alone as others are also being considered.
I would imagine the candidate they are trying to get to sign is Massimiliano Allegri and he is most likely in discussions with Manchester United and Arsenal keeping both his options open. With United winning at the weekend it may have dented any possible plans there and why Arsenal are pushing so hard. Very few people saw United winning against City and if the result had been different we may have seen Allegri already at Old Trafford this week.
I do believe that is closer to the truth and the likes of Allegri and Pochettino have been dragging their heels possibly hoping to only take over in the new year. Arsenal and West Ham are both desperate for a change of management so it wasn't surprising to see fans jumping to conclusions over Benitez. Rafa has a decent resume and is probably the perfect fit for Arsenal seeing immediately where they are lacking and what needs to change.