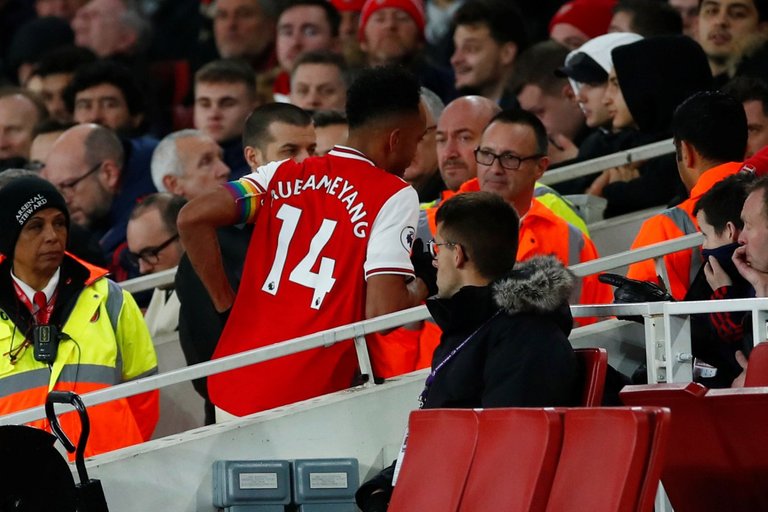 source
Disappearing down the tunnel.
There is always a first for most things and last night was no different. Last night Arsenal were trailing Brighton by 2 -1 and he darted off the pitch to rush to the toilet. There was only 10 minutes left and he is a striker so Arsenal were effectively down to 10 men for around 3 and a half minutes. Headlines say today that the Arsenal fans were furious, but what can you do? If Arsenal were 2 or 3 nil up they would have laughed about it and it wouldn't even be a story yet they lost and now looking to blame anyone they can.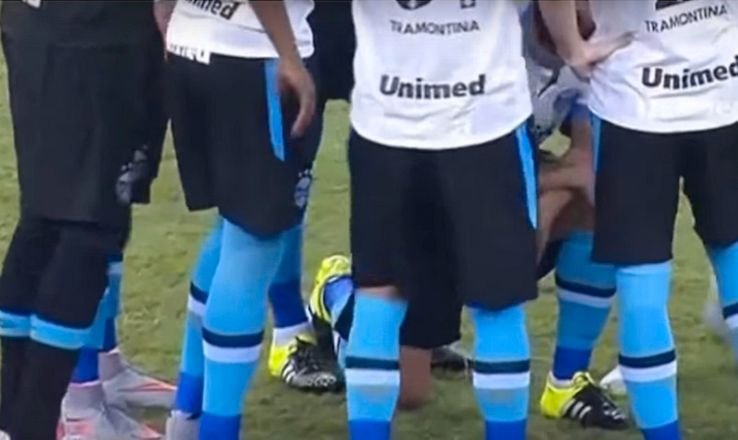 source
This makes more sense as the team mates form a wall blocking any view.
I have never seen that before and what can you do. if you need to go you need to go. Poor planning on his part maybe as that is what half time is for. Team talks and whatever business you need to do personally in the 10 minute break. I doubt whether his going off the field would have changed much and he is just lucky he isn't a goalie I suppose. The coach had no idea what was going on as he vanished off the field and then reappeared 3 minutes later running straight back on. As far as I know you have to let the referee and officials know what is going on first if you want to leave the field which he obviously didn't do and was lucky to be allowed back on.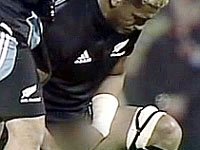 source
There was an instance about 10 years ago when the All Black Jerry Collins famously relieved himself on the pitch just before kick off during a test match against Australia. What he did was very clever as he went down as though he was stretching and managed to get the job done without the 80 000 people knowing exactly what he was doing. That takes some skill as only a handful of players knew what he was actually doing. Here is a clip of Russell Packer not making it too obvious.

source
If you think about it Tennis players call a time out, Formula One drivers have a problem as the race lasts two hours and are constantly drinking fluids. From what I have read the drivers just do it in their overalls and let nature take its course. Last night I thought it would have been better for one of his team mates to go down with cramp or something forcing a stoppage in play giving him time to run to the dressing room and back.
This would be normal and make more sense as when I played and we needed to change something we used to tell a player to drop to the ground and make it look good. This would then buy us time to come up with a plan to stop whatever was going wrong. This is fairly common and not something that is just made up and we used to take it in turns as to whoever was going to receive "treatment."