Macclesfield Town 10 - 0 F.C. Barcelona
In what had been billed as a close encounter, F.C. Barcelona were trounced 10 - 0 by Macclesfield Town at Burr Stadium.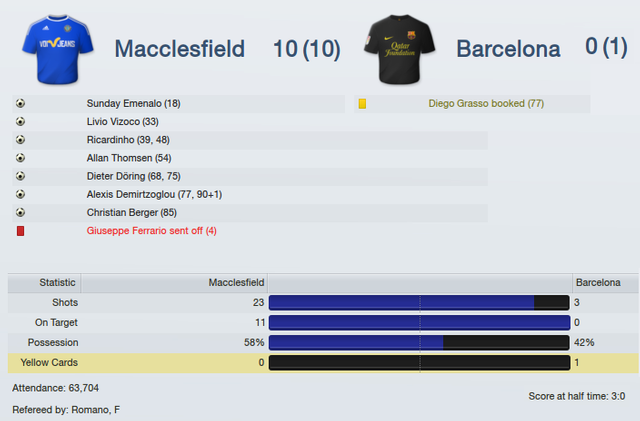 Explosive striker Giuseppe Ferrario's red card for a vicious foul on 4 minutes put Macclesfield Town's position under question. An error from F.C. Barcelona's Andre Silva allowed legendary striker Sunday Emenalo to score a placed shot which hit the inside of the post before crossing the line. Flamboyant midfielder Livio Vizoco doubled Macclesfield Town's lead with an accurate finish on 33 minutes.
Ricardinho scored with an accurate finish in the 39th minute to extend the lead further. It was a wonderful solo effort from Ricardinho and the player looked delighted. Ricardinho added his 2nd goal of the game with a close range header on 48 minutes.
Thomsen then increased Macclesfield Town's advantage further with a mighty header from within the six-yard box on 54 minutes. Doring added another goal for Macclesfield Town with a well struck effort on 68 minutes.
Doring added his 2nd goal of the game with a deftly executed finish on 75 minutes. An error from F.C. Barcelona's Ruben Dario Garcia allowed wonderkid Alexis Demirtzoglou to score a close range finish which was timed impeccably. Another error from F.C. Barcelona's Alejandro Alonso allowed winger Christian Berger to score a tap-in.
There were no prizes for guessing who completed the rout on 91 minutes as that man Demirtzoglou popped up again with a poorly struck effort from inside the penalty area.
Macclesfield therefore win 10 - 1 on aggregate.
Man of the Match: Livio Vizoco (Macclesfield) Attendance: 63,704
---
Probably the most impressive result of my whole managerial career, proud of the lads today!
At the Camp Nou, the first leg was tough and Barcelona deserved their win.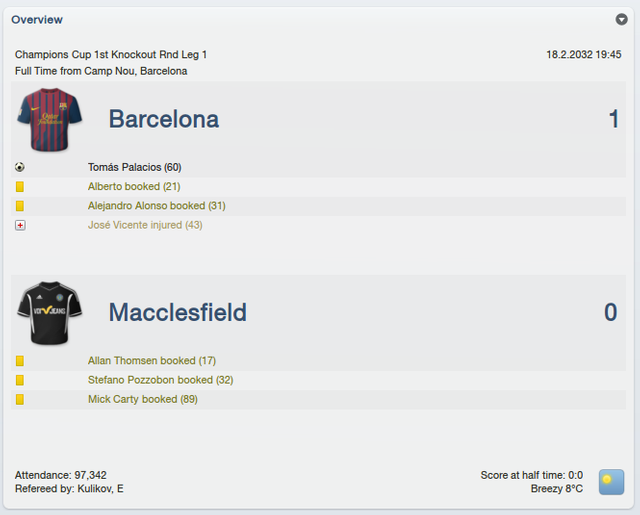 I was confident that at home though, that The Silkmen could reverse the result but 10 goals to nil, and playing with ten men from the 4th minute. Amazing!
---
This result comes only two weeks after the League Cup final, in which this happened: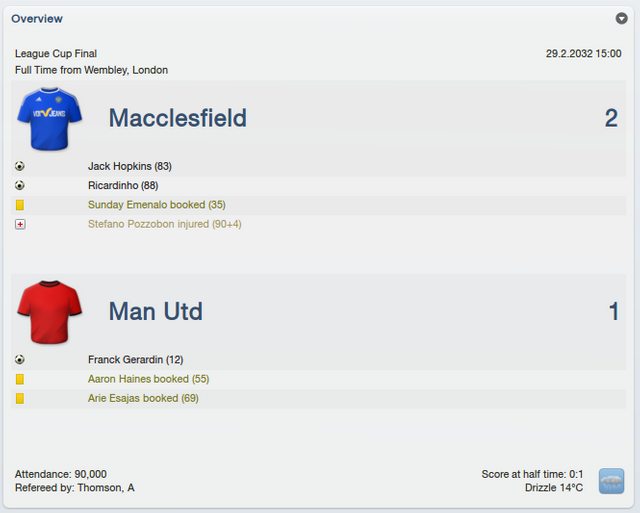 Two late goals from a couple of younger players won the day, and that makes it 6 in a row :)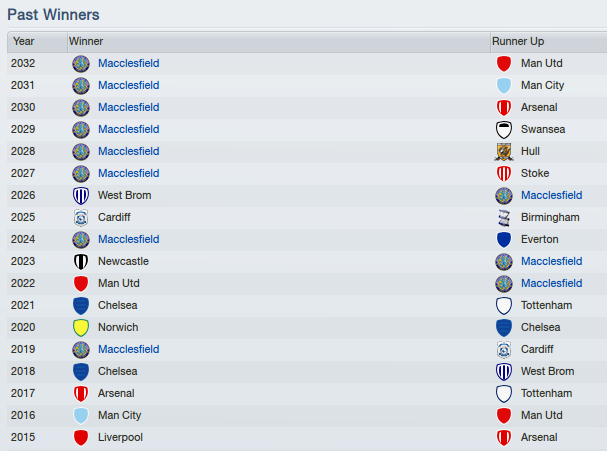 Still in the FA Cup, and currently 2nd in the Premier League, although City have played a game extra.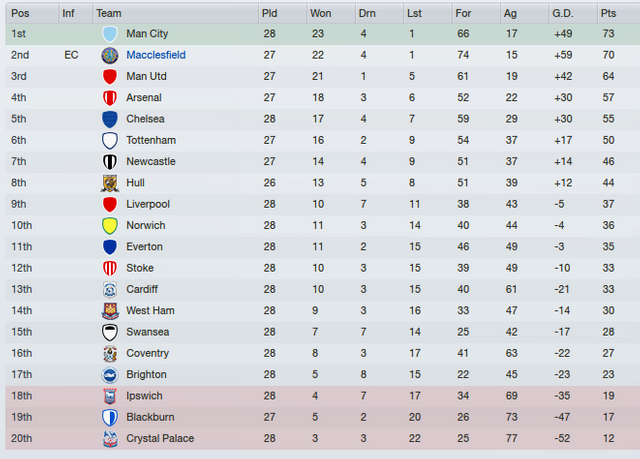 Who would bet against Macclesfield cleaning up this year?
One more thing mr star striker......


Duly accepted, good lad :)
Cheers
Asher
---
On to the big game of the day in 2 hours time - come on you Manchester reds!