Tristan Rooney is truly one of world football's global superstars. Having made his England debut against Cyprus in September 2020, Rooney has gone on to make 146 appearances for his country.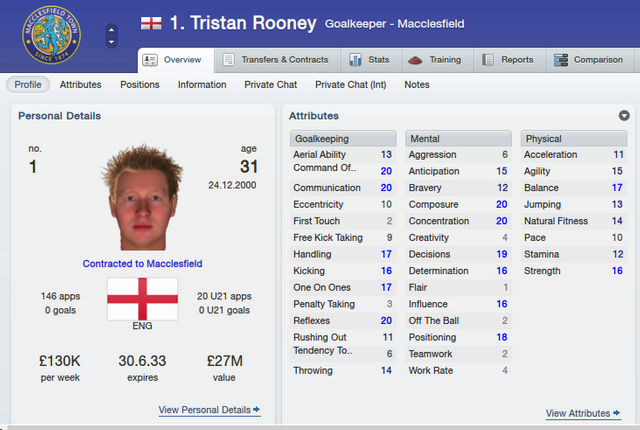 Tristan Rooney started his career at Manchester United in July 2013, breaking into the first-team in 2016 and making a total of 2 league appearances. During this time he also spent time on loan at FC Twente, making 7 league appearances. Rooney joined current club Macclesfield Town for £3.2M in June 2020 and has currently made 281 league appearances for the club.
Rooney has so far lifted the EURO Cup in 2021, won the European Super Cup 4 times between 2021 and 2030, won the English FA Cup 6 times between 2023 and 2030, won the English Community Shield 7 times between 2023 and 2031, won the English League Cup 6 times between 2024 and 2031, won the European Champions Cup 5 times between 2024 and 2031, won the European Football Championship in 2024, won the Club World Championship 4 times between 2024 and 2031, won the Confederations Cup in 2025 and won the English Premier Division 4 times between 2027 and 2031.
Rooney has built up a phenomenal record of 39 competition wins throughout his career: English Premier Division (Macclesfield 2027, 2029, 2030 and 2031), English FA Cup (Macclesfield 2023, 2024, 2025, 2028, 2029 and 2030), English League Cup (Macclesfield 2024, 2027, 2028, 2029, 2030 and 2031), English Community Shield (Macclesfield 2023, 2025, 2027, 2028, 2029, 2030 and 2031), Confederations Cup (England 2025), Club World Championship (Macclesfield 2024, 2026, 2028 and 2031), European Super Cup (Macclesfield 2021, 2026, 2028 and 2030), EURO Cup (Macclesfield 2021), European Champions Cup (Macclesfield 2024, 2026, 2028, 2030 and 2031) and European Football Championship (England 2024).
Rooney has also earned recognition from the footballing community for his achievements: Named English Premier Division Golden Glove and World Cup Best Goalkeeper.
And he wants to leave :(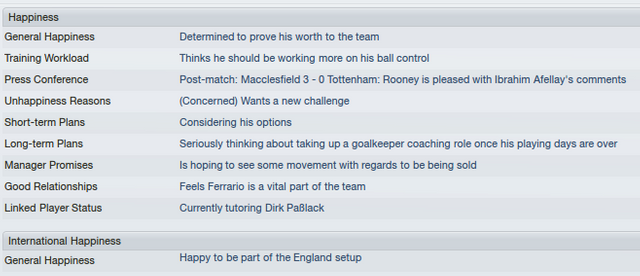 Rooney recently came to me for a chat stating that he was looking for a new challenge. I tried my usual technique of asking 'Why do you want to leave when you can help us achieve even more?', but he wasn't buying it.
As you can read from the above, he's been a pretty good servant for club and country - Macclesfield Town have certainly had their moneys worth. So a week ago (game time), I offered him to clubs for 27 million, and Inter Milan and Real Madrid were quick on the scene. However, he wasn't keen on Inter:

And the cheeky git wanted me to pay him to make up for the difference in wages at Real - Yes, Macclesfield Town were paying him more than Real will offer this 'Legendary' goalkeeper.


Fine! He is out!

---
And so what about a replacement? Well, I've been nursing a quality youth player who has also been tutored by Rooney, but I don't think he's quite up to scratch yet.
So I've just broken the club's transfer record and payed 60 million pounds for this guy :)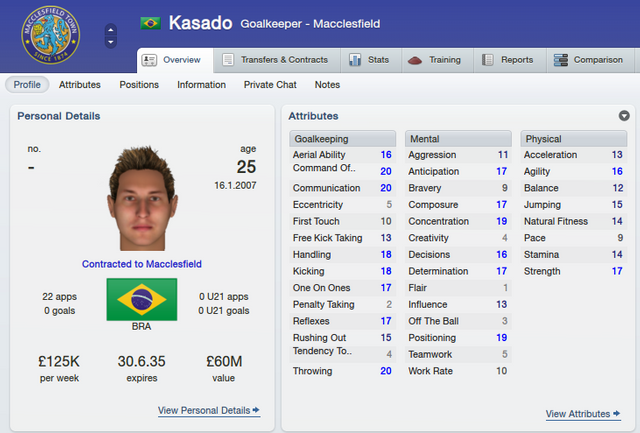 And although the price tag was ridiculous (they originally wanted 132 million), my favourite goalkeeping coach Iker Casillas himself, rates Kasado above Rooney.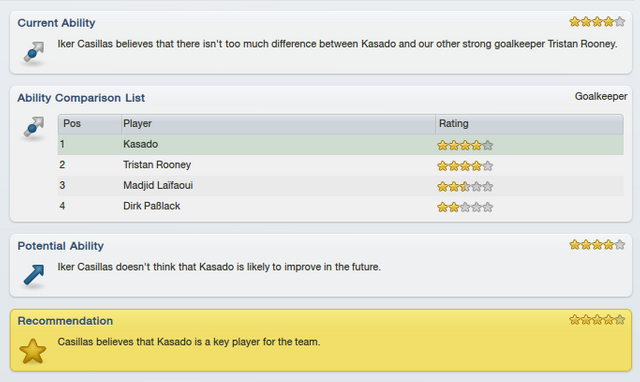 Hopefully Kasado can settle in quickly. His English is 'basic', but that should improve in time. I'm also going to get him to tutor my younger goalies - something which Rooney had been doing.
---
The current title battle is tight and 3 teams seem to be in the running.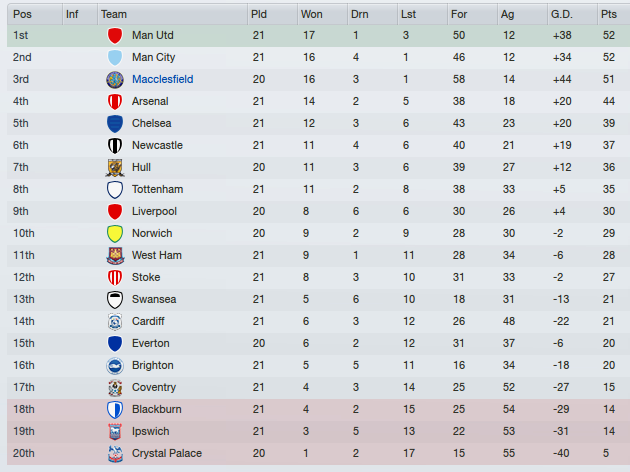 Last year Macclesfield ran away with the title and were crowned champions with 8 games to go. It's going to be very different this season but hopefully the boys in blue can make it four in a row.
Cheers
Asher