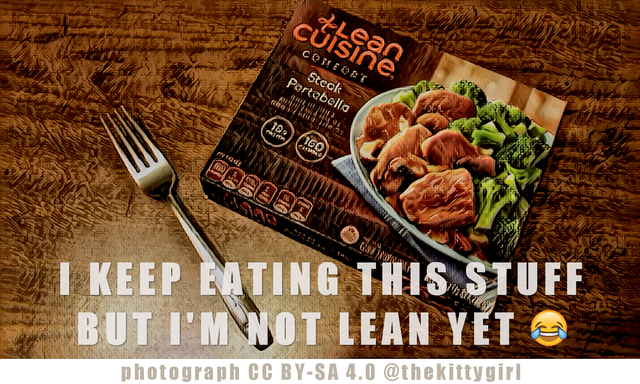 Seriously, though, funny meme aside... I try to eat reasonably healthy most of the time. perhaps not as much now as I once did... When one lives alone, cooking is not so much fun as it is when there's a crowd of happy mouths to feed. So, now I do take some shortcuts, including a Lean Cuisine
®
meal a couple of times a week.
Several years ago, I was diagnosed with high cholesterol, so I was counseled to start eating less fat. In the fifteenish years since then, I have read the "Saturated Fat" content on all labels and choose the foods with the least of it. Saturated Fats and Trans Fats are the worst type to eat and can clog the arteries, while unsaturated fats are the healthy ones.
Saturated fats are found in meats that are not lean (such as beef & pork), many dairy items, and junk food. I usually buy sausage made from turkey rather than pork because of lower saturated fat. When I get a pizza, I opt for brands that only have 4 or 5 grams of saturated fat rather than the ones that have 10, 15, or even more grams per serving.
On the other hand, unsaturated fats are the healthy ones: both monounsaturated and polyunsaturated. Unsaturated fats are found in foods such as nuts, avocados, olives, seeds, and fish such as salmon — all foods that I love, anyway! Yum! 😋 So, I try to eat lots of those things, both for enjoyment as well as health.
---
► EDITED to add: After lowering the saturated fats in my diet, my cholesterol readings returned to a normal range. Every human body has different genetics, so this might not work for everyone.
---
My needs are rather simple, although I do like variety. I will often toss a piece of frozen fish into the oven to thaw & bake while dishing up a salad or coleslaw to accompany it. Some days, I will eat a few whole-grain crackers with low-fat pepper-jack cheese and call it a mini-meal. Or fix a bowl of oatmeal with three turkey-sausage links. Sometimes the simple things are quite nice, especially when one is dining alone — and there's less pots, pans, & dishes to wash afterwards, too!

 😊




to learn more about either of these projects, please visit: @heyhaveyamet or @steemterminal

08-Feb-2020