Hey everyone! I'm popping in to share some of my meal prep for the week since I had one of those mega days in the kitchen yesterday. Lately I've been spreading out some of my cooking since I've had a little bit of free time here and there throughout the week, but starting today I'm a bit busier again helping out with some corporate run groups. Instead of feeling rushed during the week, I just buckled down yesterday and prepared all kinds of meals and snacks for the the days ahead. That definitely means I will stay well-fueled for all my running and other activities!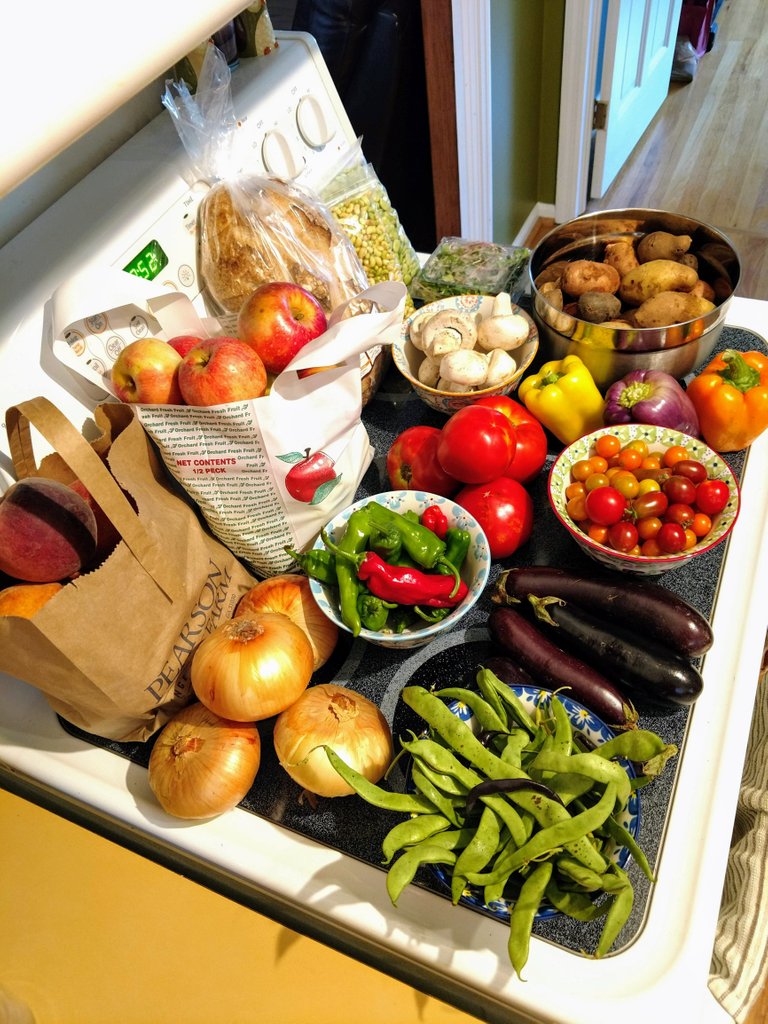 I also seem to not be able to hold myself back from buying everything at the farmers market, so meal prepping makes sure none of that goodness goes to waste. I am still in the mode where I just go make my weekly visit Saturday mornings and buy whatever looks fresh and delicious, then take some time in the afternoon to figure out how I'm going to put everything together into cohesive meals. It's kind of fun to get creative and think about different ways to use some of the standard ingredients. Of course I still try to branch out and try new things as I see them, as well! I've seen the shishito peppers for a while now (green and red in the bowl above), but this was the first time I tried those. Luckily I did as they were delicious grilled!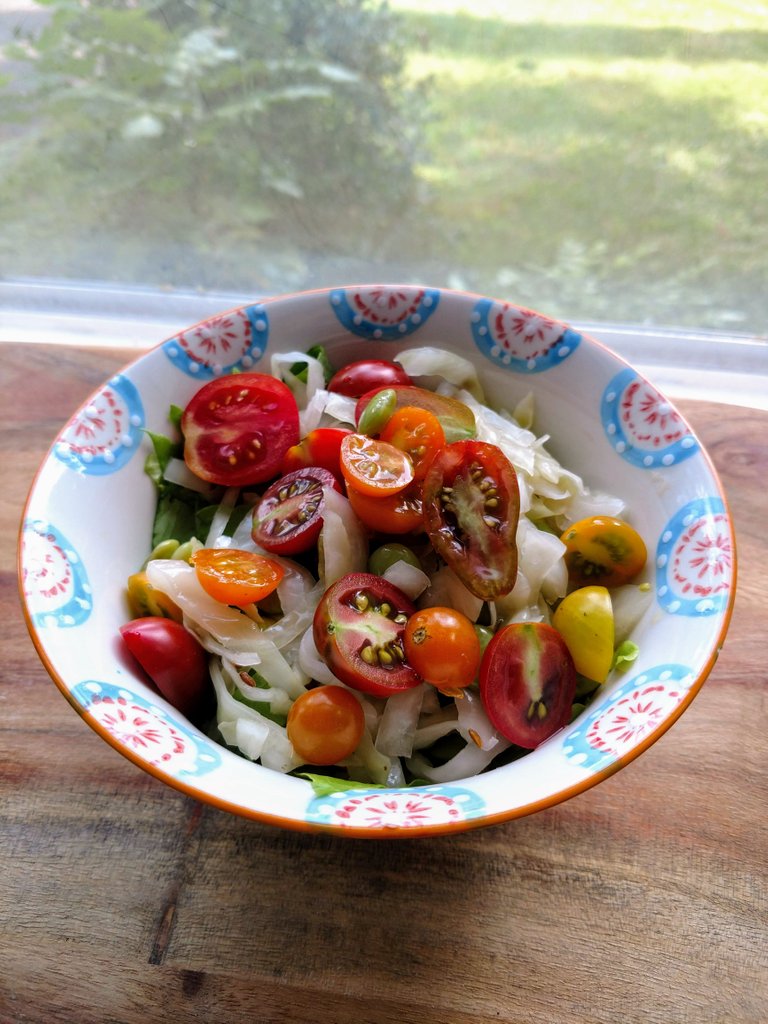 Speaking of grilling, let's get right into the menu for the week. I didn't take any pictures of the final meal, but @dksart took one for the team and went out in the summer heat to grill our dinner last night. The shishitos, eggplant, and mixed potatoes all got happy on the grill while I prepared a quick salad of Bibb lettuce, butter beans, cherry tomatoes, homemade sauerkraut and a drizzle of lambrusco vinegar. I tend to go a bit heartier for my salads usually, but since this was in addition to the grilled veggies I kept it light and fresh! I always try to find a balance in the week between slightly calorically dense whole foods to give me enough energy, and the lighter, still nutrient dense foods to make sure my body can process them quickly to give my digestion breaks here and there.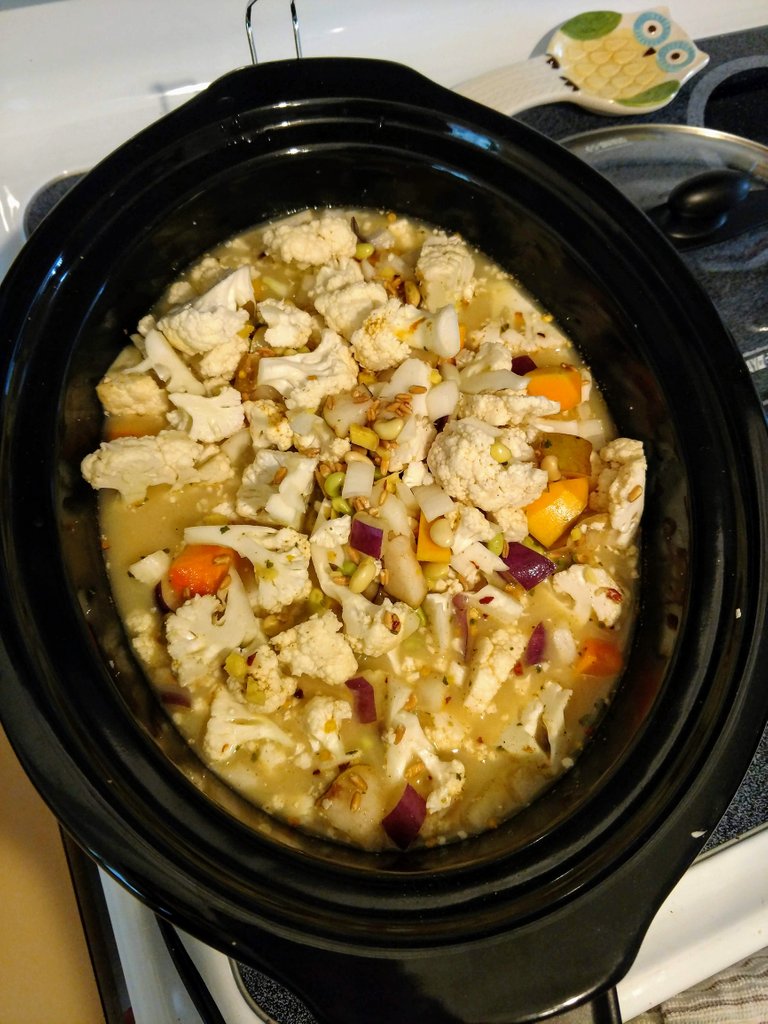 As another way to keep the kitchen cooler, I also opted to break out the slow cooker for a take on a curried farro recipe that I shared last year. I love going back through my old recipes and tweaking a few things based on what I have on hand. This one I switched out the lentils for fresh lady peas, raisins for fresh chopped pear, and carrots for butternut squash from the garden. I think I'll have a bowl of this when I get back from my lunch time run group. The turmeric and spices will be great for recovery. That's really the name of the game this week (and really every week)--see how much good stuff I can get in my body to keep it healthy and strong! 💪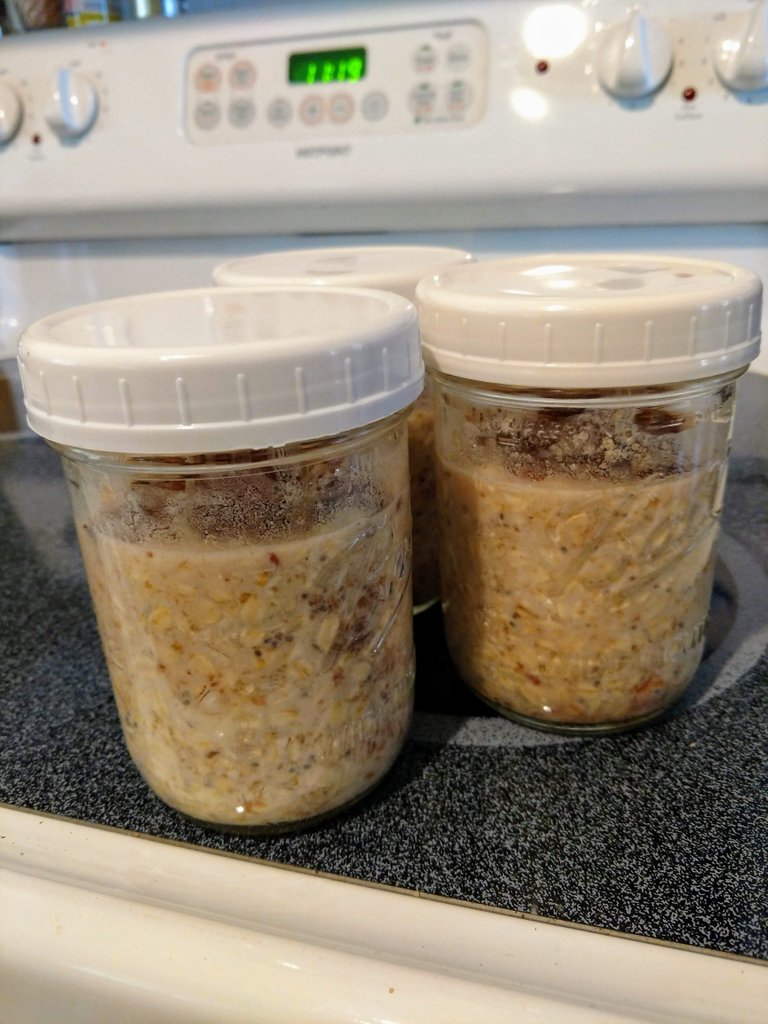 I opted for two different "breakfast" creations this week, as well. Yes, I am a big fan of second breakfast. When you get up at 4:30 am for clients a few days a week, it's nice to have some extra healthy fuel to power through the day. We are trying to use up the last of the peach pressure cooker jam that I made a little while back, so I made overnight oats with a little coconut milk, the peach jam, chia seeds, rolled oats and chopped apples. I sprinkled pecans to top off each jar. These are always so easy to make in no time flat, and they are great to grab and go. Sometimes I'll eat them cold, other times I'll warm them up before I enjoy. This week was the last of the peaches for the season, but the apples are starting to pop up now. No fruit shortage in our home just yet!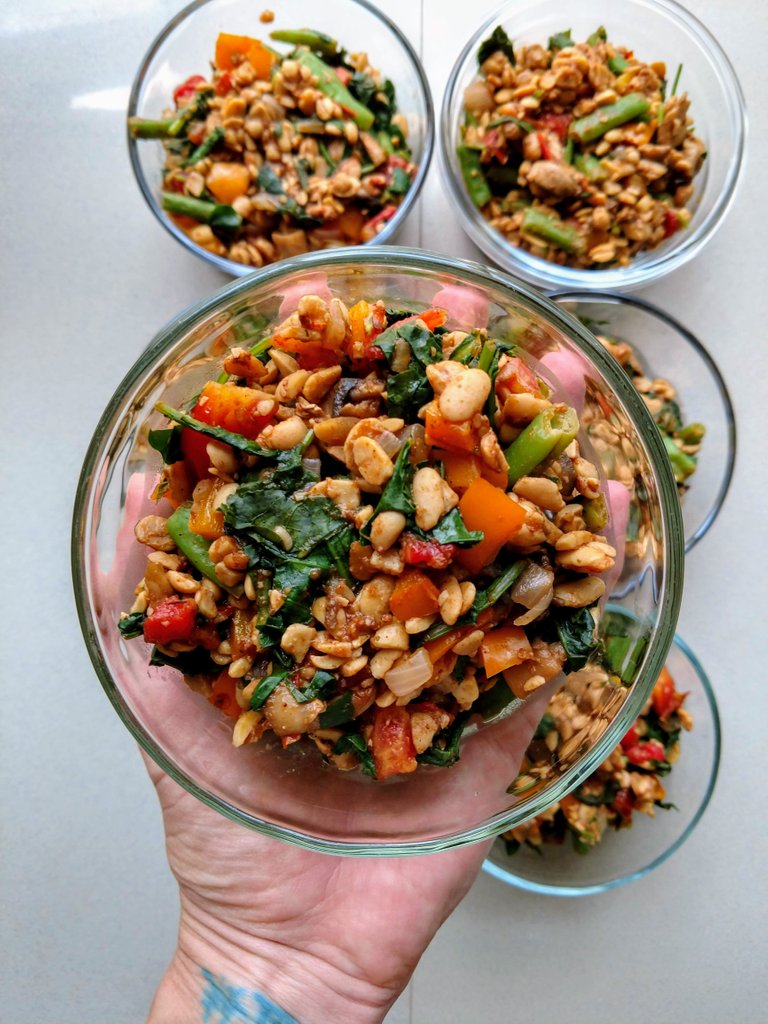 My second breakfast is a veggie-packed tempeh skillet. I was thinking of doing a tofu scramble as I hadn't made any in a while, but I already had tempeh on hand. This kind of breakfast (or it would be great for any other meal) is a fantastic way to pack in lots of veggies early in the day. It's pretty darn easy to make, as well. Just chop up whatever you like or have in season and cook it up in a single skillet.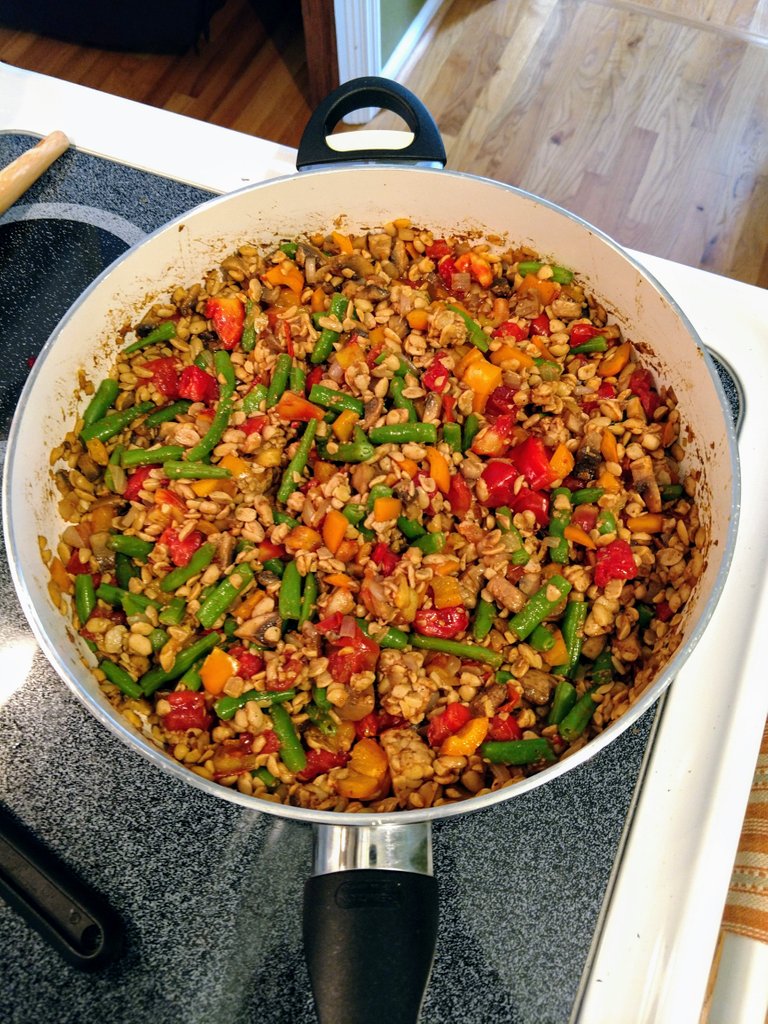 This round I had onion, bell pepper, tempeh, mushrooms, tomatoes, and some green beans from the freezer. I used chili powder, cumin, paprika and some other spices to season it. Of course I can't forget some greens, so chopped broccoli greens and a squeeze of lime were added in once I pulled the pan off the heat. I will chop up some avocado when I eat them this week. Love that it makes about six servings to keep me going all week with maybe one or two to share with @dksart.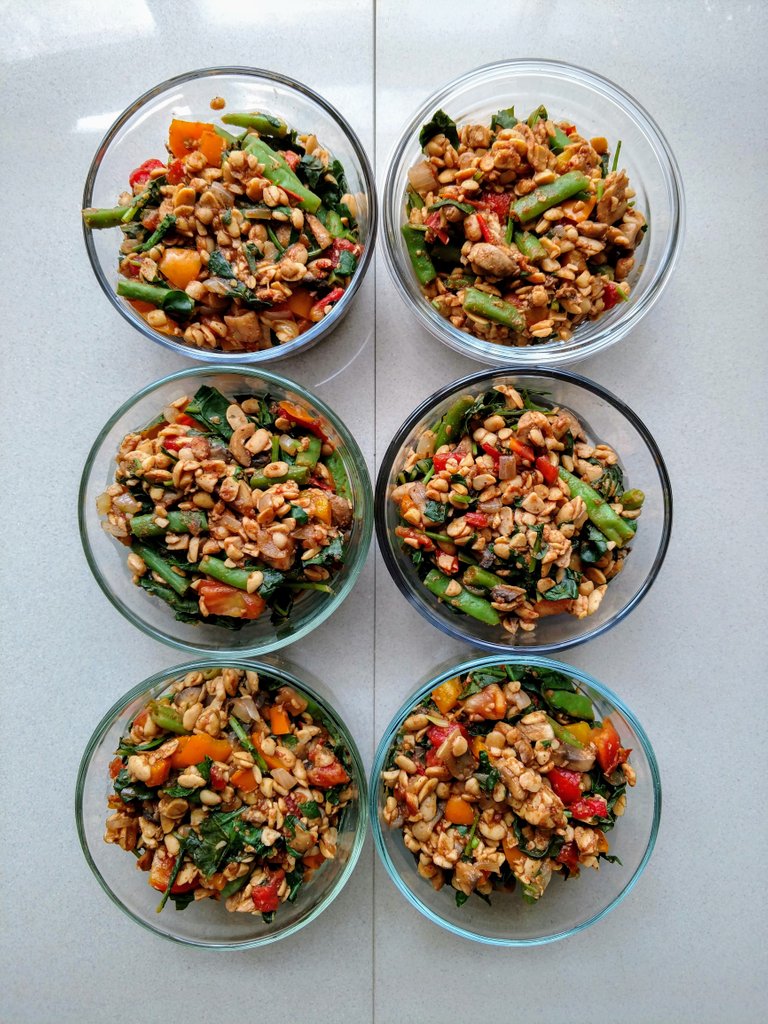 I did make some date bars that I'll share in another post with my date haul update later this week. I think we've still got a few other things, including our acorn squash from the garden, to continue working with, as well. The cooking never ends! That's all good though as the process is enjoyable and the results of consuming wholesome, homemade meals is worth every second of meal prep!
Now off to catch up on any #fruitsandveggiesmonday posts to get more inspiration for my next marathon cooking session...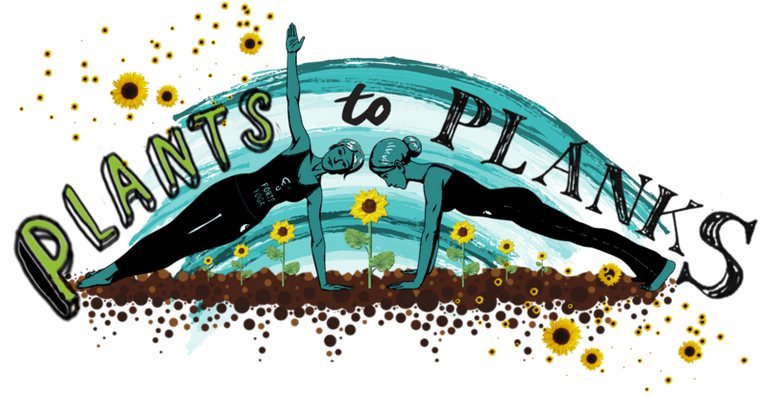 Banners by @zord189, @woman-onthe-wing, @dksart and @bearone for @steemusa