Breakfast at Pariya's Place
Airbnb in Bangkok, Thailand
[ @STEEMFest 4 ]
Sign up for Airbnb: https://www.airbnb.com/c/jjagoe
During @steemfest 4 in Bangkok, Thailand, most attendees stayed at the Prince Palace Hotel. I decided to book an Airbnb, about a twenty minute walk away from the official hotel. When I travel I prefer to stay in an Airbnb than in a hotel. I feel like I get more of a taste of what the local environment is like when I stay in an Airbnb. So far I have never had a bad experience using Airbnb and I've used it countless times. I am usually very impressed with my Airbnb accommodations, as was the case with my stay at Pariya's Place.
Every morning during my stay I was greeted with a delicious homemade breakfast. At 8 AM breakfast was placed on a table outside of my bedroom. Below is a look at the meals I ate at the Pariya Villa in Bangkok.

Day 1
Day one I woke up to shrimp pad thai as a welcome to Thailand dish. There was some fresh mango, some sort of fruit juice and a slice of blueberry cheesecake to go along with it. Everything was delicious and it was at this moment when I knew I chose the right Airbnb.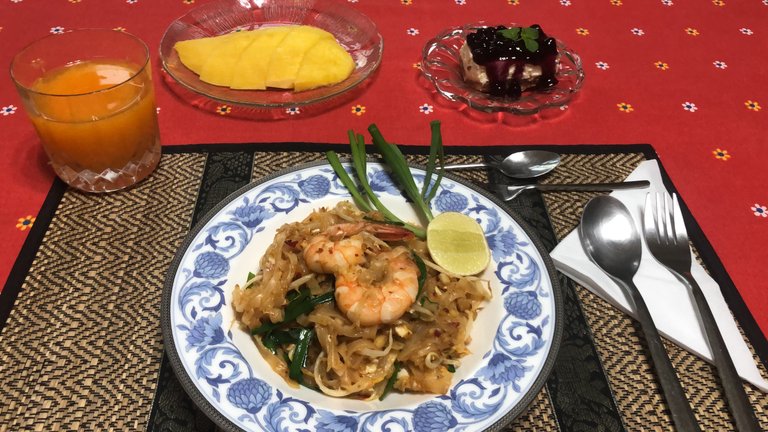 Look at that awesome slice of blueberry cheesecake!

Day 2
For the second morning I was given a bowl of green curry with chicken to pour over a plate of rice. There was a hard boiled egg on the side, and a lemon sweet tea to wash it down. It was accompanied by a plate of papaya and dragonfruit with a bowl of some sort of fruity gelatin. Another complete and delicious breakfast.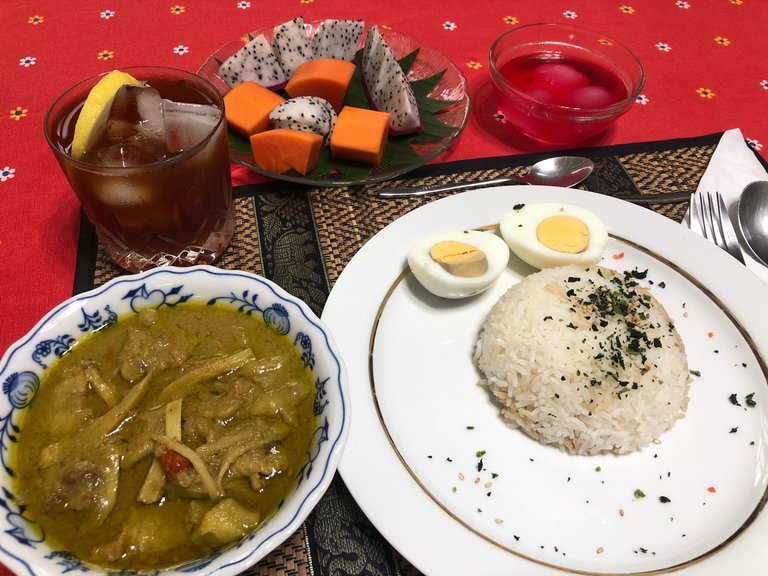 Day 3
For Day 3 there was an italian twist. A spiced spaghetti dish mixed with sausage and bacon, served with a nice little side salad. A plate of pineapple was there to refresh. To end the meal I was given a delicious tiramisu style bread pudding.
Look how good that tiramisu looks!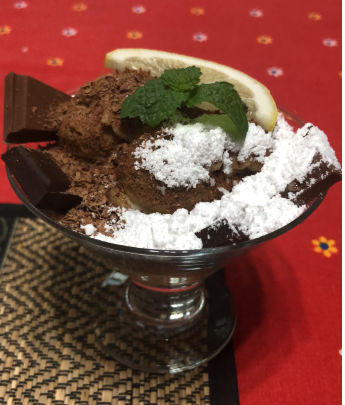 Day 4
Day 4 I was given a plate of rice with a seasoned chicken drumstick. A couple of cucumbers went alongside. A spicy green sauce accompanied the dish to pour over. A clear brothy soup with a leafy green vegetable was served with it. A glass of iced Ovaltine to wash it down. In the back of the picture you can see a folded palm leaf which contained a purple sweet sticky rice. Some apples and dragonfruit went with it. As you can see, these breakfast platters were phenomenal.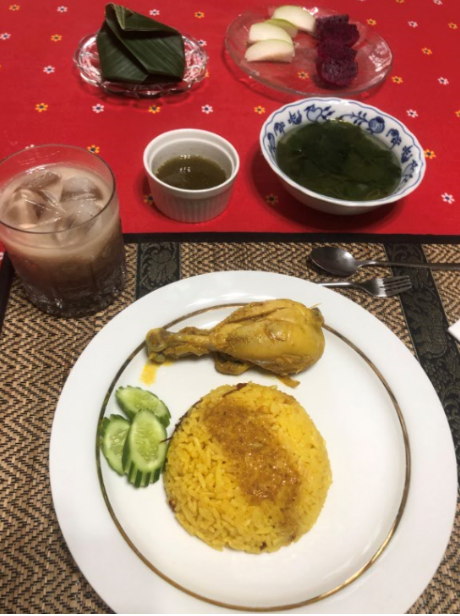 Day 5
For Day 5 I was greeted to a plate of delicious pork fried rice. It was served with some sort of soupy porridge custard. Not quite sure what it was. A big plate of sliced watermelon accompanied this dish with a glass of orange juice. To top off this meal I was given another slice of that delectable blueberry cheesecake.

Day 6
Day 6... my last morning waking up at the Pariya Villa. I was given a plate that consisted of a sunny-side up fried egg, french fries, sausage, bacon, sliced tomatoes and sauteed carrots. A cheese toastie was served with it alongside some sliced apples and papaya. An iced sweet tea was given to wash it all down. A great final meal in Bangkok before heading to Koh Chang.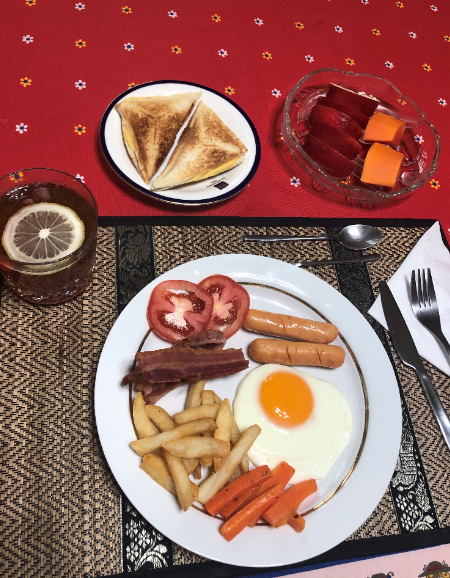 Overall this was by far the best food I ever received while staying at an Airbnb. Every morning I woke up to a delicious spread of foods and it gave me a great start to the day. All of the meals were delicious and well-thought out. If I were to ever go back to Bangkok, I would definitely try to stay at the Pariya Villa again.