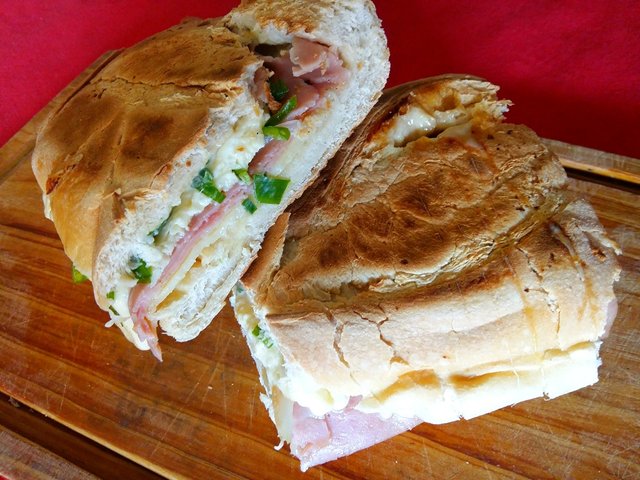 ---
The Guayanés cheese is typical of Venezuela. It is a semi hard, watery, fresh, milky, crustless kind of cheese. Its texture allows to "spread" it on breads, arepas, cachapas and other food. It is one of my favorites. Today I share a Sandwish based on this soft and fresh delicacy.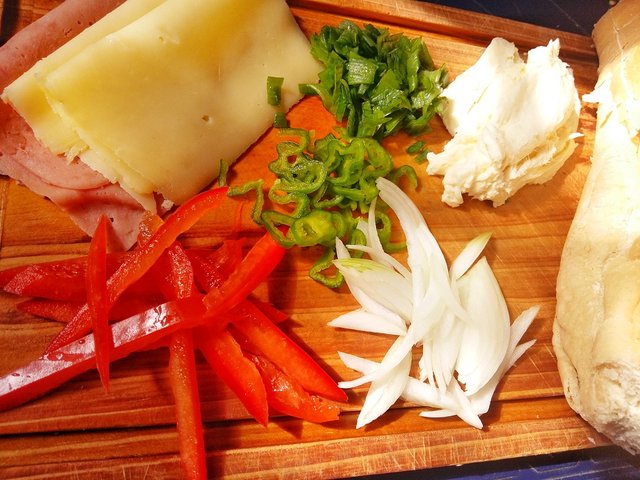 ---
Ingredients
---
Although the main layer would be Guayanés cheese, I decided to add gouda cheese and ham. Added to that are some flavoring ingredients such as chives, green pepper, bell pepper and onions. To give some moisture to the bread, I used mayonnaise and mustard.
---
---
Preparation
---
First, I placed a layer of mayonnaise and mustard.
Next, I added the gouda cheese and ham.
On them I added the chopped vegetables that I smeared just a little with more mayonnaise.
Now the main layer. I added the Guayanés cheese and combined it with chopped chives.
Mayonnaise and mustard on the other side of the bread.
Finally, I toasted the bread in the pan on both sides.
---
---
By heating the sandwish, the semi-aqueous cheese softens much more and allows you to feel a sufficiently moist Sandwish that does not makes you tire when chewing. The scallion gives it a particular flavor, and everything amalgamized very well. It is a very fresh Sandswish, easy to prepare and delicious.
I can't wait to eat it again!
---
@gaeljosser
LG-D620r
Snapseed