Hello Dear Witches...!
I think I already said it, but I repeat it now, I love Asian gastronomy, and the combinations that have been created specifically in my country, many know it as Chinese rice, but truly its name is fried rice, and although as its name implies, it is a rice with high fat content, and when you are trying to eat healthy, this is a very big temptation, which today I wanted to kill, and so it was that I set out to prepare for lunch a fried rice with chicken and some vegetables.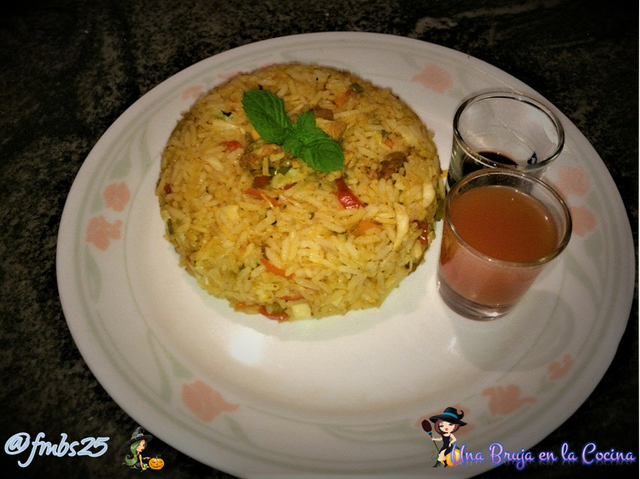 And I say some vegetables, because at this time of the week my pantry is almost empty, but this is one of the benefits of this dish, and is that it can be adjusted to what we have in the refrigerator, also in this recipe I suppressed the use of vinegar, and replaced it with lemon juice, the truth is that the difference in flavors is not noticeable, at the end of the day we need a touch of acid, and both vinegar and lemon can give it, and the latter is much healthier and more natural than the first, and on the other hand, we must also try new flavors, otherwise, how can we know how we look or if we like?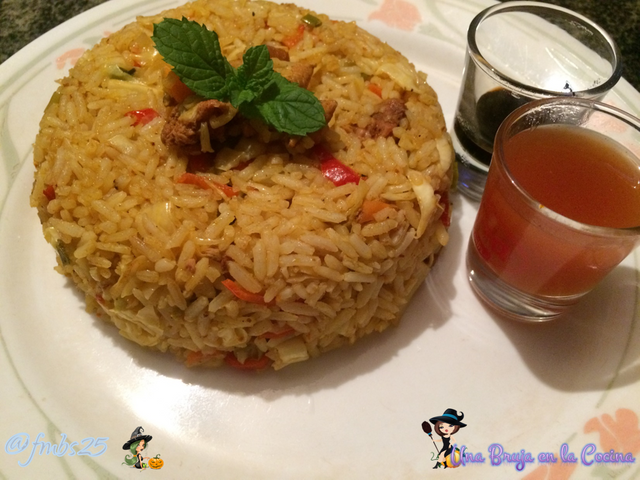 This is one of my favorite recipes, because doing it is really easy and fast, which is ideal to get us out of a jam, and they can even do it with rice that we left the day before, which is even better because with that we do not waste anything. Come and I'll show you how to do it.
Enjoy!
.

Ingredients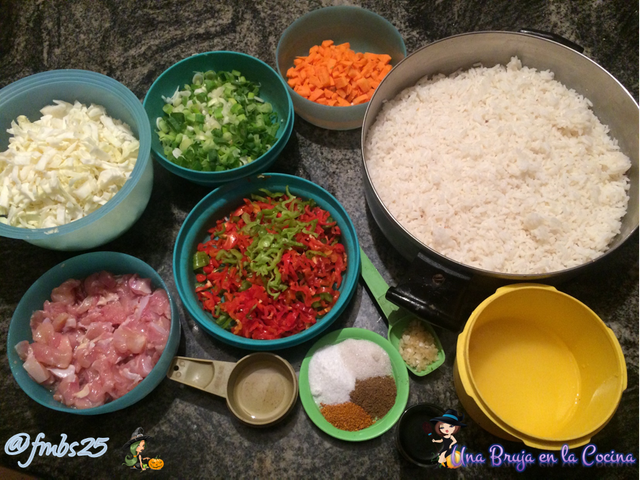 2 Boneless chicken thighs, diced into small cubes.
1 1/2 cup chopped chives.
1 Pepper chopped in strips.
1 finely chopped chili.
1 Medium carrot diced.
1/2 Medium white cabbage, chopped.
3 finely chopped garlic cloves.
5 tbsp soybean oil.
3/4 Cup of lemon juice
1 tsp ground cumin.
1/2 Tbsp turmeric powder.
1/2 Tbsp.
1 teaspoon of sugar.
3 tbsp soy sauce.
1/2 Tbsp anchovy oil.
8 Cups of cooked white rice.
Preparation
Difficulty level: Low
Preparation time: 15 Minutes
Baking time: 15 Minutes

We begin with the most important thing, to spice the chicken very well, because it is here where all the good flavor and the taste that our rice is going to have resides, for that we add to the chicken the dry spices, cumin salt, turmeric in powder and the sugar, accompanied by the juice of the lemon, the oil of anchovies and the half of the soy sauce, we integrate everything very well and we reserve.

In a frying pan large enough to prepare all this rice, add the soybean oil and let it heat a little, I add a pinch of turmeric and a pinch of onoto powder, so that the oil takes a light orange color that will then give a yellow tone to the rice sauté the chicken in the hot oil for about 5 minutes, until it is well cooked, at this point we add the spring onion and paprika with chili, sauté for a couple of minutes without stopping stirring.

We continue adding the carrot and sauté another couple of minutes, it is not necessary to cook for long because we look for a crunchy texture in the carrot, then add the cabbage, and continue stirring for a minute more.

At this point we add the rice and start stirring, we add half of the soy sauce that we left, and if you want you can add a tablespoon more lemon juice, integrate everything very well, until you get a uniform color throughout the rice and ready, cover the rice to let the flavors concentrate for about 5 or 10 minutes and
Voilá!
is our delicious fried rice.
Accompanied by a good bittersweet sauce, for me this rice is perfect for lunch or even dinner, on another occasion I would have accompanied it with some delicious spring rolls, but remember that I told you at the beginning of this publication that my pantry is a little empty jajaja, so with this delicious rice, I solved today's lunch, and the truth is that I am delicious.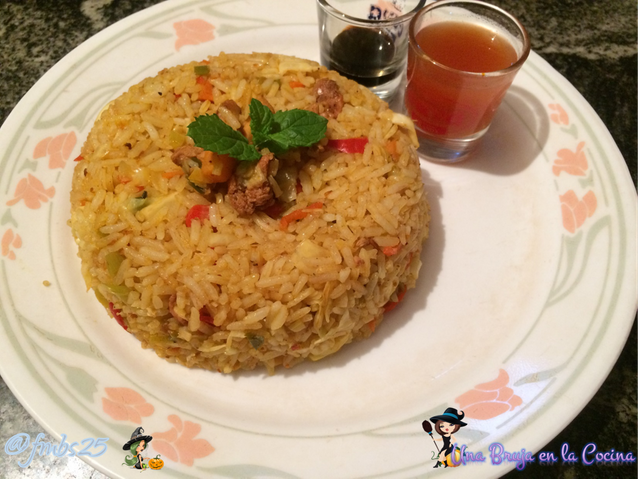 One of the benefits of this type of recipes is that you can adjust it to the vegetables you have available in your fridge, it goes very well with a little chopped celery, some good fresh sprouts, even scrambled eggs placed, the truth is that it is a very versatile recipe, and this is why it is one of my favorites.

Images of my property, taken with the camera of my iPhone 5s and edited with PowerPoint 2013



.
Thank you for taking the time to read this publication, if you have any questions, criticisms or suggestions, I'd appreciate it if you'd leave it in the comment box, and remember, you can also do magic in the kitchen!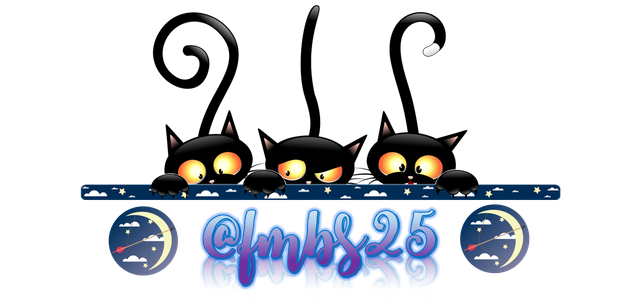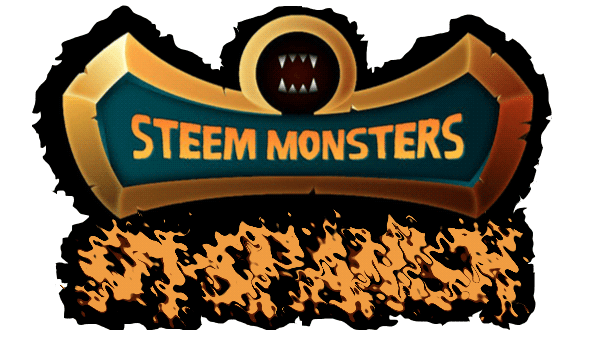 ---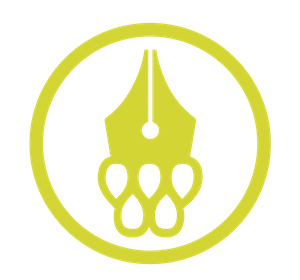 Come and support @Cervantes as Witness in https://steemit.com/~witnesses
---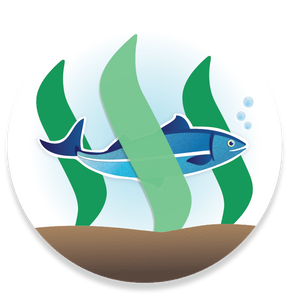 Come and supports @Aggroed as Witness in https://steemit.com/~witnesses


Join @upmewhale's Discord

A proud member of