Hello Dear Witches...!
Yesterday was the birthday of one of my siblings, some won't know, but I'm the eldest of three siblings and let's say that the birthday boy of the day is my favorite, my right hand in everything, and my accomplice in almost everything, Francisco, even though when we were kids he hated it, because he got to take my parents' love and attention away from me, (What older brother hasn't gone through this stage?), and although today we fight almost every day, the truth is that he has been one of my best allies, and as I tell him every day, I will love him until death do us part.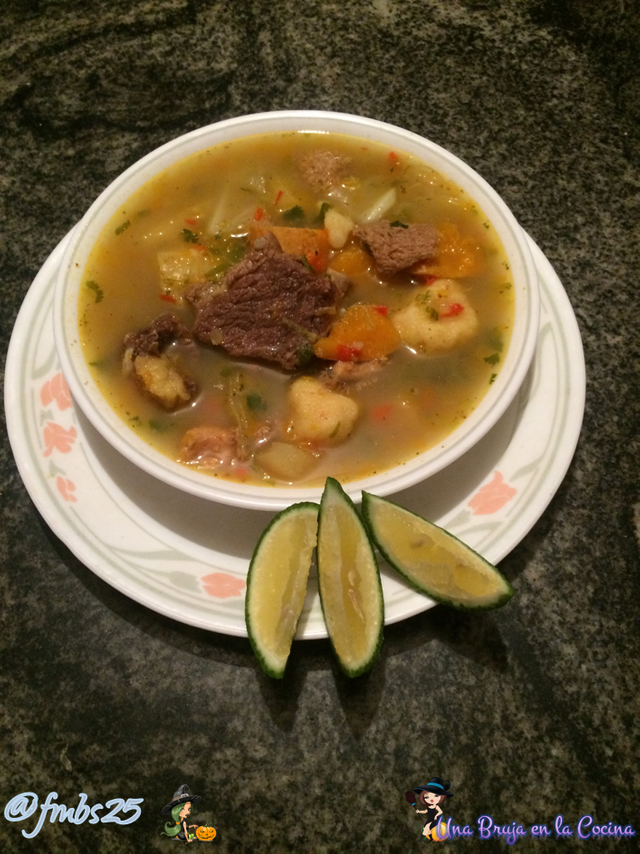 He, like my father, is a lover of a good bread cake, but that's not what I'll show you today, because I've done it before,
and here's my bread cake recipe
, if you want to try it. This time my brother asked me to prepare a good mondongo, which like my father wanted to remember the good meals that my grandmother prepared, and although the truth is that this soup is not even moderately similar to what my grandmother prepared, I said yes, and try to do my best.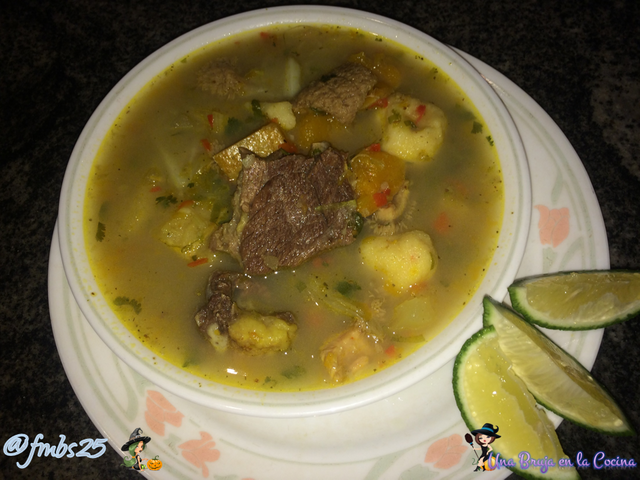 For me this recipe is not the absolute truth, because it fits very well with what we have at home, which is basically the beginning of a good soup, make it to our taste and add what we like and make us happy, so join me and show you how to prepare this rich soup of mondongo and beef ribs. <Enjoy! .

Ingredients
1.5 kg of beef belly
1.5 kg of beef rib
3 kg of assorted vegetables (yam, cassava, celery, ocumo, potatoes and pumpkin).
1 Cup chopped chives.
1 Cup of chopped peppers.
1/2 Cup chopped celery Spain.
1/2 Medium cabbage.
1 Cup of chopped coriander.
Salt to taste.
1 Tbsp ground cumin.
1/2 Tbsp turmeric powder.
10 Litres of water or more.
2 Cups of corn flour.
Preparation
Difficulty level: Low
Preparation time: 30 Minutes
Baking time: 120 Minutes

I remember that when my grandmother prepared this type of soup, she would do it in a stove that she used to have in the patio of her house, very early that day she would wake up and turn on the embers, to place that big pot with water to boil, as soon as it began to boil, she would add the ribs and the belly still raw, and we had to wait even more than two hours for them to be tender and to be able to continue cooking, which made this preparation somewhat long, because it could take up to 4 hours to be ready. And guess what? I couldn't last so long cooking all this jajaja, and thanks to my express pot I make it in less than half the time.

After washing the beef belly very well with lemon and lots of hot water (remember that this is the cow's stomach), we chop it to our liking and cook for 25 minutes in the pressure cooker with enough water and a little salt, and the same thing we do with the ribs. Set aside the ribs and the belly, and add the water from the cooking of these in a large pot, where we add about 8 liters more water, and let it boil.

> Once boiling the water, add the yam, this we do at this point, because we look for a thick broth and substance, and this is a good trick to get that texture, cover and let it boil about 15 minutes more, to continue adding the belly and the rest of the vegetables, cover and let it continue boiling another 20 minutes.
>br>

While we wait for the 20 minutes to pass, chop our dressings and proceed to sauté with a couple of tablespoons of oil, and season with salt, cumin and turmeric powder, after 20 minutes add the ribs.





We continue adding the sautéed and seasoned dressings to our soup, reserving 2 spoonfuls that we will use to make some corn flour rolls with this broth that we are preparing, and that after formed we will add with the boiling water, and in this moment we also add the chopped cabbage in big pieces.

Let it boil for 5 more minutes after adding the cabbage, rectify the salt and add the chopped cilantro, let it boil for another 5 minutes and turn off the fire, leaving the covered pot to rest for about 30 minutes before serving, this way the flavors are better concentrated in the broth, giving us a great experience to eat this delicious soup.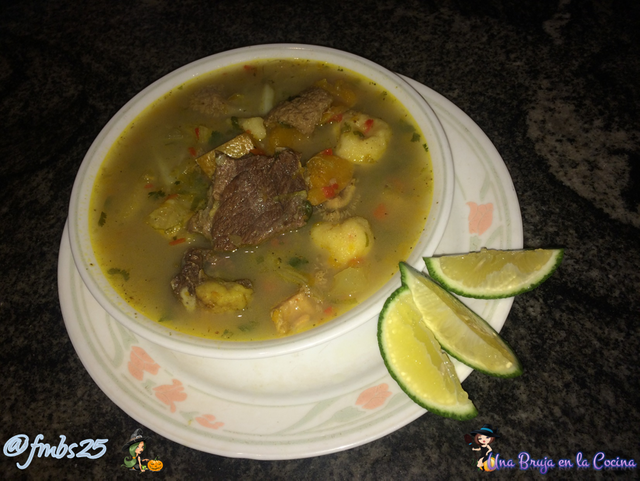 Accompanied by their respective squirt of lemon, this soup, although I did not do as my grandmother did, was very close to know the glory as I knew that to her, the truth is that my brother who was the guest of the day was satisfied and all who were at home equally, and best of all is that I stay soup for breakfast today hahaha.

Images of my property, taken with the camera of my iPhone 5s and edited with PowerPoint 2013



.
Thank you for taking the time to read this publication, if you have any questions, criticisms or suggestions, I would appreciate it in the comments box, and remember, you can also do magic in the kitchen!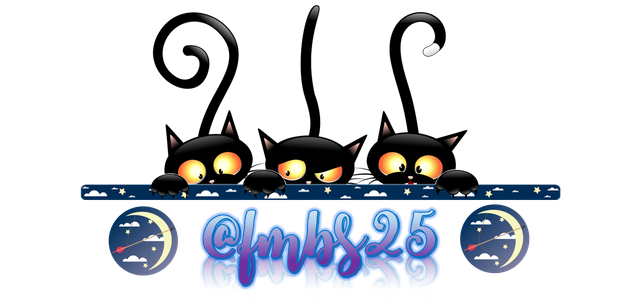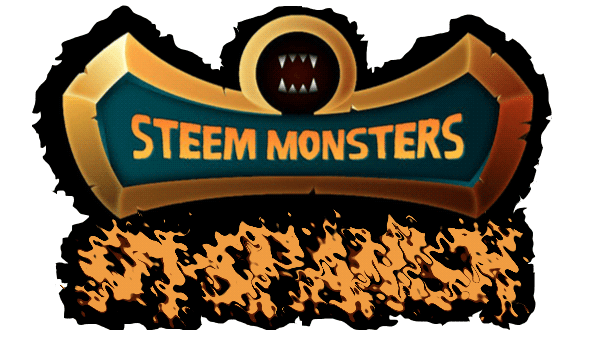 ---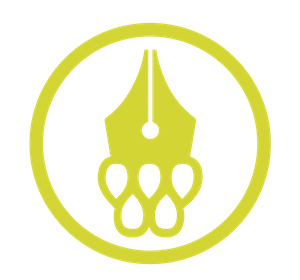 Come and support @Cervantes as Witness in https://steemit.com/~witnesses
---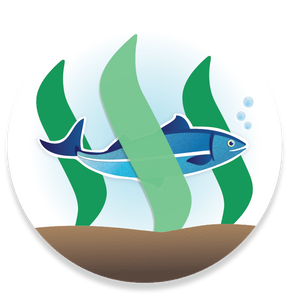 Come and supports @Aggroed as Witness in https://steemit.com/~witnesses


Join @upmewhale's Discord

A proud member of