Hello Everyone☺☺☺
I prepared here our snack earlier.It taste really good and delicious.I named it as "Tuna Bread" because its made of tuna sardines and loaf bread.This is also very easy to make.So if you dont know how its made,here I am again and Im willing and happy to share this recipe of mine to yours.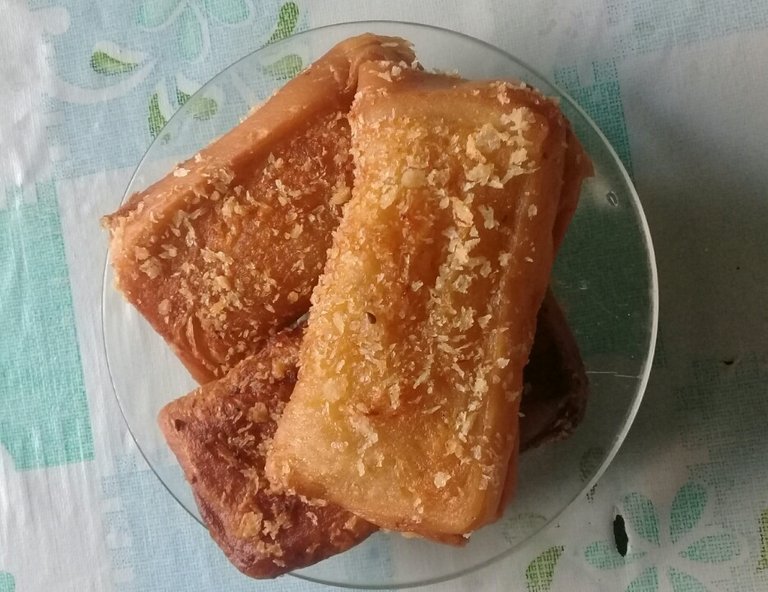 But sad to say,I didnt capture every steps because our little boy is so annoying and while he was waiting in every steps I made he always asked me if it is done.So now I just explain well the procedure.Lets start now prepare the ingredients.
INGREDIENTS:
Sliced Bread
mayonaise
bread crumbs
tuna sardines
egg
oil
PROCEDURE:
Flat the bread using a roller pin or anything that can flatten the loaf breaf.

Mixed the tuna sardines and mayonaise

Put the mixed tuna and mayonaise into the flatten bread.

Then fold it.

Put the folded bread with tuna into the bitten egg to wet.

If the bread now is wet put it in a bowl with bread crumbs.

Fry it until it turn into golden brown.

After frying it is now ready to SERVE.
Look everyone,as I have told you earlier it is very easy to made.You can made now your own version of Tuna Bread.Im.pretty sure if your a mom your kids and husband will do love it.☺☺☺
Happy yummy eating everyone☺☺☺.Advance happy mother's day to all mommies in the whole world especiallt to my one and only mom who is now in heaven.I love you to the moon amd back mama😘😘😘
That's all for now steemians.Keep safe always.Stay at home.God Bless and Thank you.!!!
truly yours,