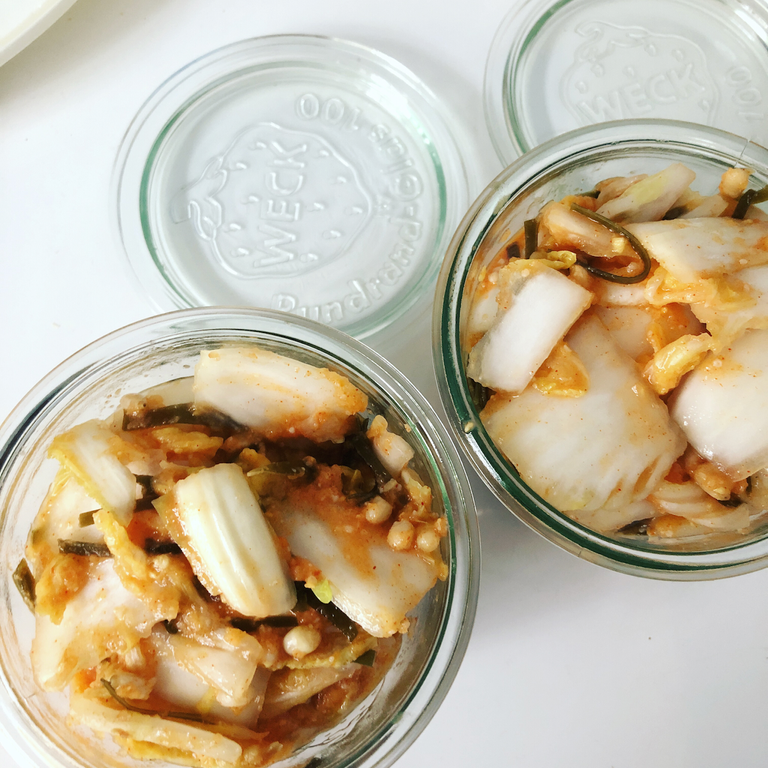 Chinese cabbages are sold at markets and super markets. It means Kimchi making time for me. I made two jars of Kimchi this morning.
This time I made it vegan without fish related ingredients. A video on YouTube by Tokyo Veg Life, one of my favorite YouTube channels encouraged me to do so.
It worked well and I ate almost half the jar amount for my lunch. A video by inspired me to make vegan one.
I basically follow the recipe below (Japanese). I make small changes time by time.
漬け込み2時間! 意外なうまみ食材で作る「自家製キムチ」レシピ | 三越伊勢丹の食メディア | FOODIE(フーディー)
I'll write down how I make Kimchi probably on next Monday for Fruits and Veggies Monday :)
---
ドイツでは旬にしか出回らない野菜があって(探したらあるのかも)、野菜で季節を感じることが多いです。春のアスパラ、季節のきのこ、夏のベリー類、この時期のごぼうもどき。白菜もそのひとつで、見つけるとうきうきキムチを作ります。
今回は魚由来の材料を入れずビーガンバージョン。大好きなYouTubeチャンネルのひとつTokyo Veg Lifeの動画に背中を押されて作ってみました。だしパックなど入れなくても普通においしいです。
レシピは以前にも買いた三越伊勢丹の食メディアのものに基本的にしたがって作っていますが、ちょいちょい変えているので次のFruits and Veggies Mondayで投稿しようかな。
漬け込み2時間! 意外なうまみ食材で作る「自家製キムチ」レシピ | 三越伊勢丹の食メディア | FOODIE(フーディー)
相変わらずキムチはおいしく、容器二つ分作りましたが、ひとつはもう半分ないくらいです。ご飯が進んでしまって危険です。
余談: キムチトークで盛り上がった@sallyfunさん帰ってこないかな!
---
As it was nice to be at SteemFest last year and would like to support participants this year, 50% of my reward goes to @t-r-f (SteemFest Travel Reimbursement Fund 2019) until SteemFest. Detail of my idea is written in the following post:
Half of my reward goes to SteemFest Travel Reimbursement Fund / SteemFestの旅費サポートプログラムに報酬の半分を寄付します