Today I want to introduce three things I've made at home recently with all the fresh herbs and vegetables that I've harvested from my garden and the produce I've traded for the food I've grown. I've been on a mission to try and avoid buying as few groceries as possible for the past few months and so far it has worked out fairly well.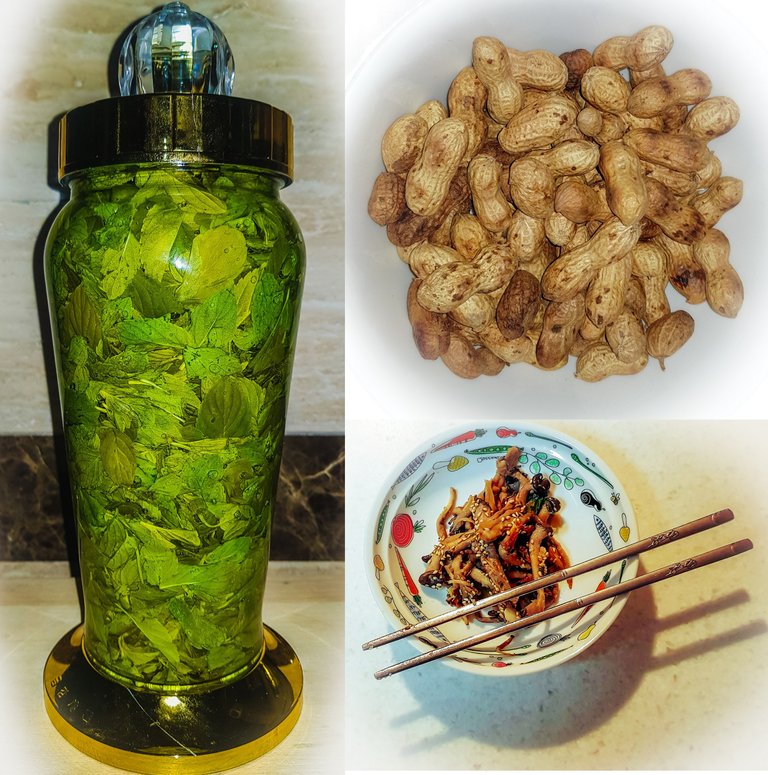 It's not because I can't afford to go buy the stuff. With the exception of the mint soju liquor, I could have easily bought this all at the store (fresh mint isn't easy to find in massive quantities here). It's because I'm fascinated with the #homesteaders movement and I feel being able to make things on my own is important.
Homemade food definitely takes more time and money (if you value your time), too. It's amazing how a bit of homemade lettuce can be upgraded for about $3.00 worth of garlic and mushrooms. Friends and family would rather have my stuff than the stuff at the market. Sourcing the best quality ingredients is important for everyone's health.
Now I'll introduce these dishes 1 by 1.
Mint Liquor
I've talked a lot about my mint, I even wrote about drying mint for tea. Well, there are a few other ways to preserve mint. One of the ways is freezing it, but that's boring. The other way is putting it in alcohol to infuse the flavor.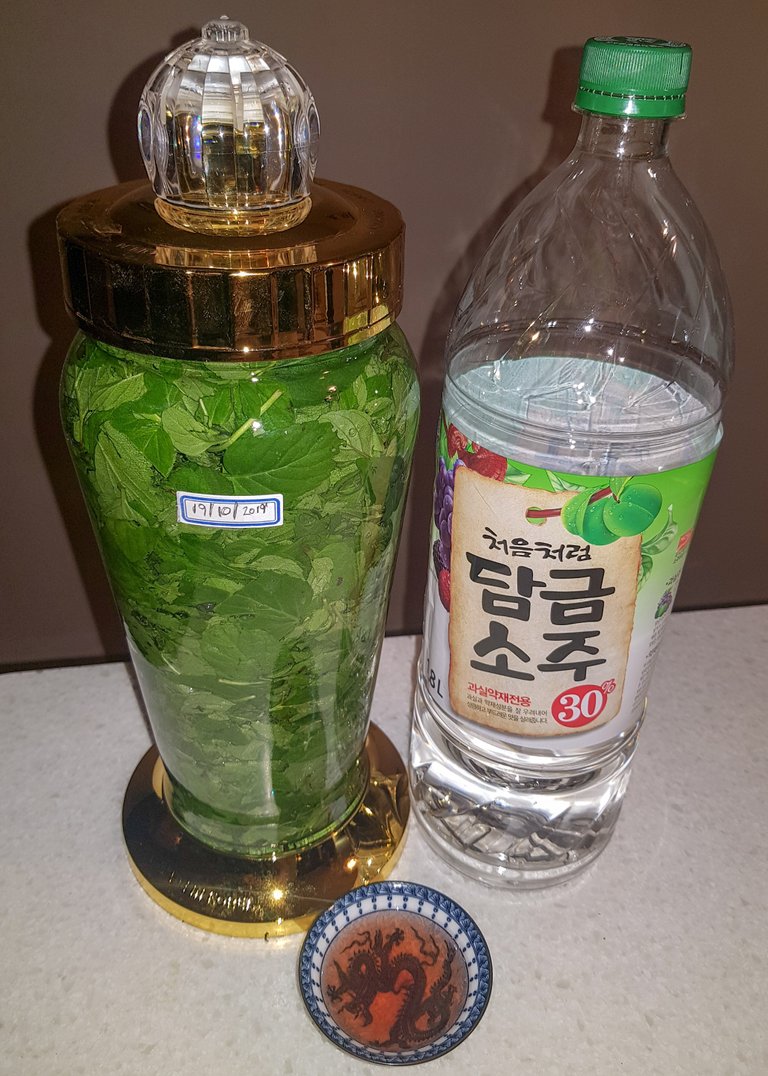 The shot is actually something else (I can't remember exactly), I recommending drinking while making alcohol
In my case, I use the humble and popular Korean soju. They sell it in 25% and 30% ABV. Since I'm planning on keeping this for a long time and leaving the mint in, I'll go with 30%.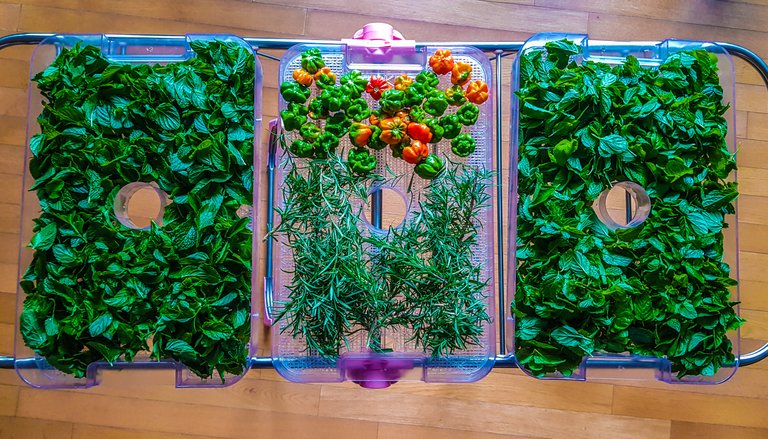 In the middle I'm drying rosemary and ghost peppers for some other purpose
First I pick the mint. Then I'm extra careful to remove the stems. I am more vigilant than when making tea because anything with too much wood in it can actually turn to methanol which is not good. I'm not sure if this is a problem with mint and I'm not actually fermenting or distilling anything, but who wants to take the chances? I'm not following a recipe.
I washed the mint well and dried it for a couple of hours indoors. I didn't want it to dry out because it always loses a little flavor when I do that. Also, it's unnecessary when being stored in alcohol. I just wanted the water that I rinsed it in to evaporate off.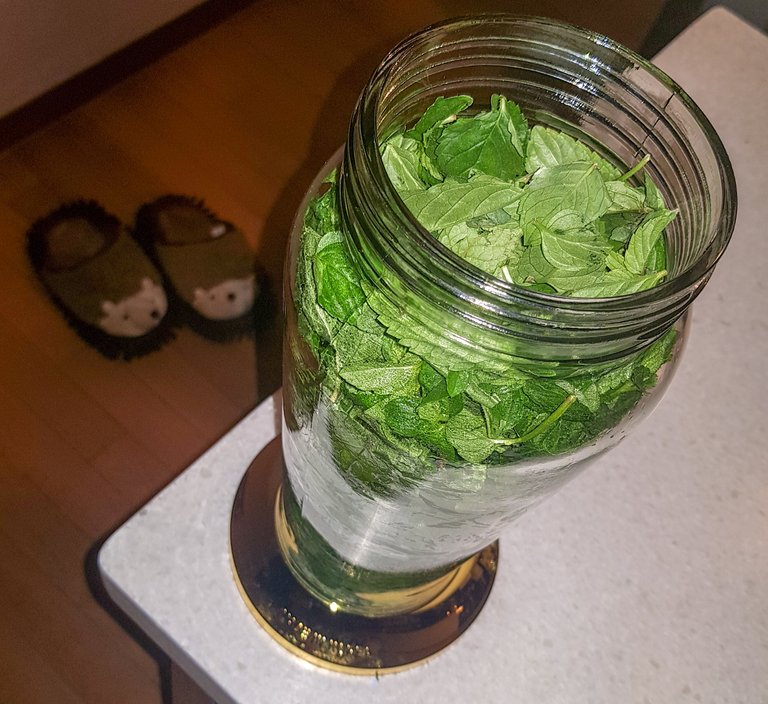 If you put the alcohol in before putting in the mint, you are making your life difficult. Please ignore my adorable hedgehog slippers, they have a mop like bottom and do a nice job wiping up everything I spill.
Making it is too easy. Put the mint in the bottle, then pour the soju on top. I label it with the date and I'm good to go. I hear it takes about a week. At that point, you can start to drink it. It hasn't been quite that long yet and I can wait until the weekend to try. I'll just leave the mint in and maybe top it off a few times.
Boiled and Roasted Peanuts
I grew my own peanuts again this year despite not wanting to. Last year I failed miserably with 4 plants because I didn't know what I was doing. This year the man beside me was growing a lot and gave me 4 plants. I told him my story and he said, "No worries this land is great for growing, you were probably in the wrong spot, besides I'll keep an eye on them".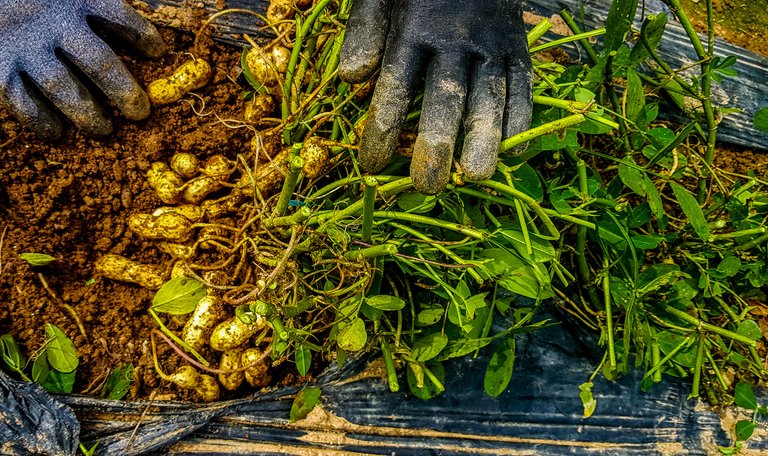 Freshly harvested peanuts! They would be pretty nasty raw. I've been playing around with Adobe express so some of the pictures in this post are heavily filtered for 'effects' and your viewing enhancement
In case you don't know, peanuts grow underground and they are a legume, not a nut. In Korea they are called ddang-kong (땅콩). Ddang means ground or dirt and kong means bean. The name actually makes sense. Actually one of the plants didn't do so well but the other one got me enough for a nice snack.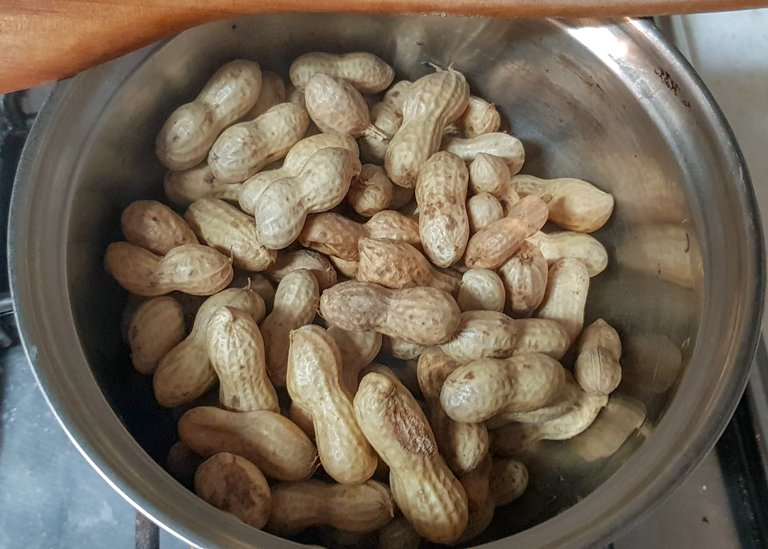 You actually don't need to boil peanuts and they kinda taste strange if you only boil them. If you want the ballpark flavor don't do this. However, it does make their shells really clean.
First I rinsed them, then boiled them for about 20 minutes. I heard doing this is healthier. I don't really like boiled peanuts, though so after I roasted them. Roasting peanuts after boiling them is called 'Hawaiian Style' by some people. The texture is a little unique.
I salted them very lightly and ate them while watching some Netflix.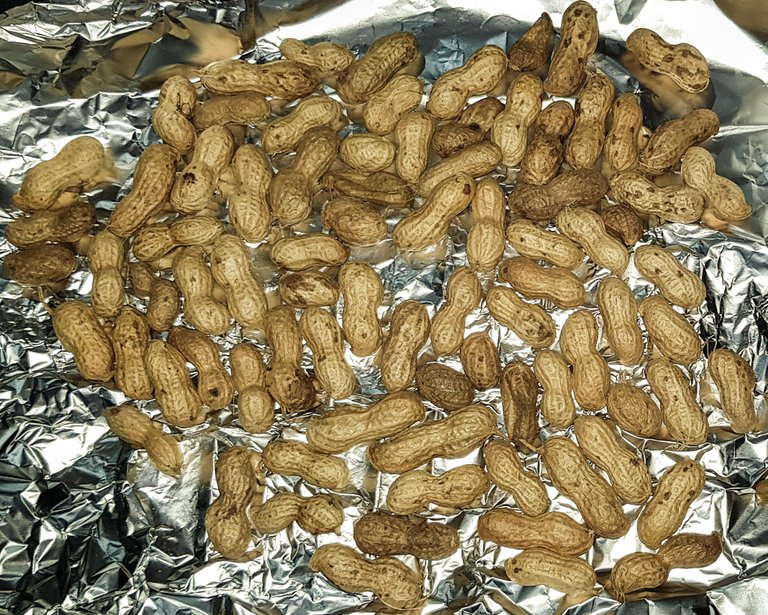 I've never made them well doing it like this. Next time, I'll just shell them and fry them in my cast iron skillet at low heat as that really brings out the flavor.
I could have spared the trouble and just bought roasted peanuts at the local shop. I could have even had them already shelled to save the mess and effort, but I kinda like fidgeting and I don't have a spinner. Maybe next time, I'll get some raw peanuts and roast them myself until I become an expert like my mother in law.
Mushroom Side Dish
Side Dishes are very popular in Korean Cuisine. I really like mushrooms, so I'm a huge fan of the mushroom side dish. This is a popular one and often served with meals at restaurants. I can also find this at the market to take home, but I make it much better at home and to my taste (no fish sauce or red pepper paste).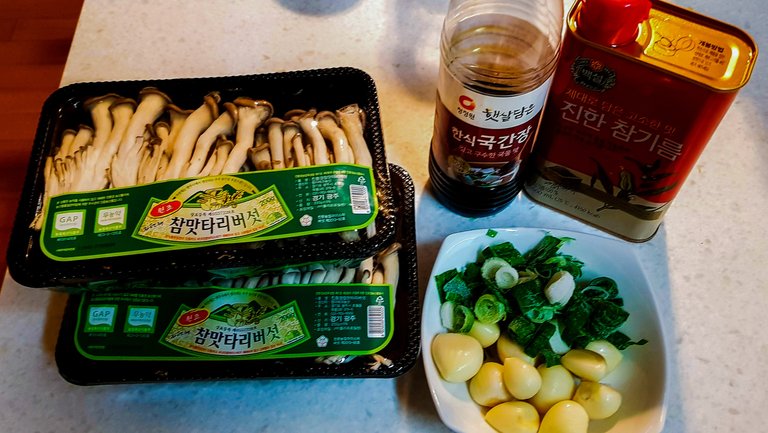 This dish requires 6 ingredients:
oyster mushrooms
green onion or leek
garlic
sesame oil
sesame seeds
soy sauce
The ingredients don't have to be exactly the same. I'm not the one eating your cooking, but you should follow the next directions. The only stuff from my garden were the large green onions. I got the garlic as a birthday gift and the other ingredients were either bought in the market, traded or gifts (I don't know my wife got them)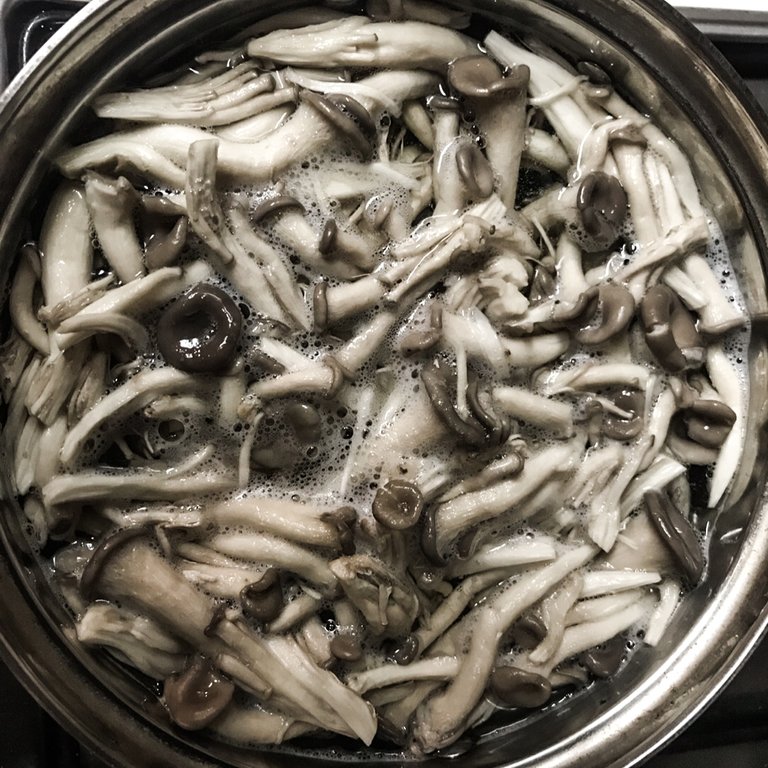 Boiling mushrooms looks weird. I went with a sepia filter for this photo even though it already pretty much looked like this without the filter.
To make this dish, first I boil the mushrooms. I don't boil them for too long, a couple of minutes maximum. Even just parboiling or steaming them will do.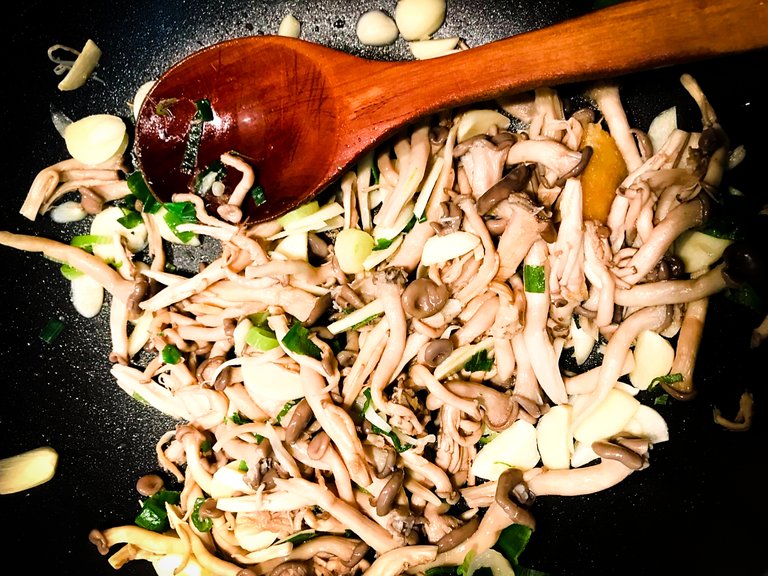 Fry it at a low heat, you aren't grilling them to put on steak adn they may turn to mush.
After, I add everything to a skillet (except the sesame seeds) and fry it lightly. I add around a tablespoon of sesame oil and soy sauce. I only fry it on low for around 10 minutes, then I turn off the heat.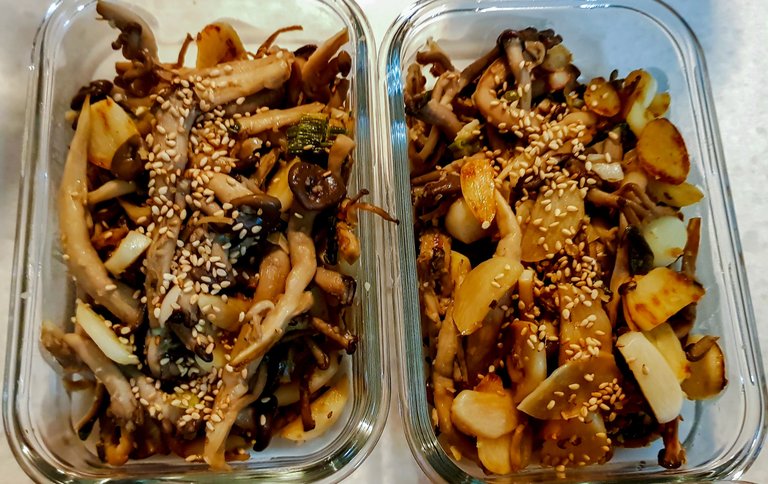 I always make plenty extra to snack on between meals or have as a side dish.
I put on the sesame seeds before serving or stashing it in the fridge. I'm not sure how long it will keep for because I usually devour it within a few days, but mushrooms don't tend to last very long.
Bon Appetite!