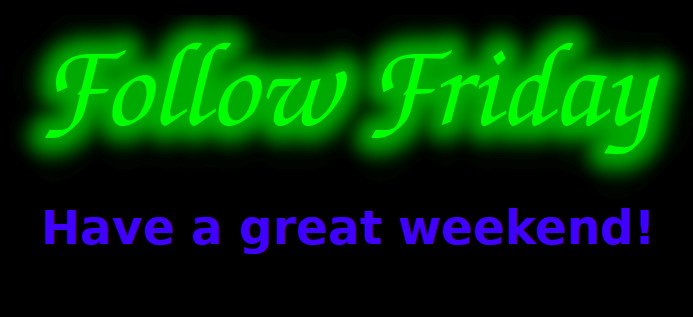 Each Friday I've been posting some accounts that I'd like to recommend to others. This is my second #FollowFriday in a row and I'd like to encourage others to use the hashtag and help build this Friday tradition. It's a great way to find new content creators and fun accounts to interact with.
I recently met a lot of new people through the HiveChat promotion on Twitter and I've enjoyed tweeting, and interacting with all these folks. They all have active HIVE accounts and put in a lot of work and effort to promote the community and help us grow!
I've started interacting with @nathanmars on #HiveTwitter. He's a fantastic guy and likes to post about HIVE and what we can do to better ourselves and this platform. He's a very active HIVE community leader and does a lot to help promote the platform.
@traciyork is another great account. She's very active in HIVE promotion on other platforms and is always running and promoting interesting contests and challenges. Currently working on the #HiveBloPoMo challenge to get everyone blogging for thirty consecutive days in a row. I keep forgetting to add this tag to my posts this month! She also promotes a fun #TarotTuesday thread about Tarot cards every Tuesday.
I met @hiro-hive during a #HiveChat promotion. Absolutely fantastic and hard working person introducing new people to our platform all the time. He's also a huge promoter of #HiveFixesThis on Twitter fighting for free-speech and promoting the censorship resistant benefits of the Hive blockchain.
For anyone that has been around for awhile @theycallmedan needs no introduction. If however you're new or living under a rock this guy is incredibly motivational and inspirational with his talks on the 3Speak platform. He does so much for the community and is always preaching the benefits and gospel of the HIVE community. He also sponsored a large Hive giveaway on Twitter. IMHO this is a must follow account!
Finally my pal @cowboyblazerfan He posts about Cannabis cultivation and is looking to find some fellow cannabis enthusiasts here on Hive to interact with. If you're into cannabis support please stop by his page and leave a comment or two in support of his efforts. He has been involved with the legal medical cannabis business for some time and is incredibly knowledgeable on the subject. He wants to become part of the cannabis community here on HIVE and is looking to find like minded community members to brainstorm with.
Well that's it for this weeks #FollowFriday. I hope you you enjoyed this weeks selections and I encourage you all to post with this tag and help promote some of your favorite accounts and why you enjoy them. Also feel free to tag them in the comments section with a little info about why you support their work. Let's promote each other and make this place a little more intimate and welcoming.