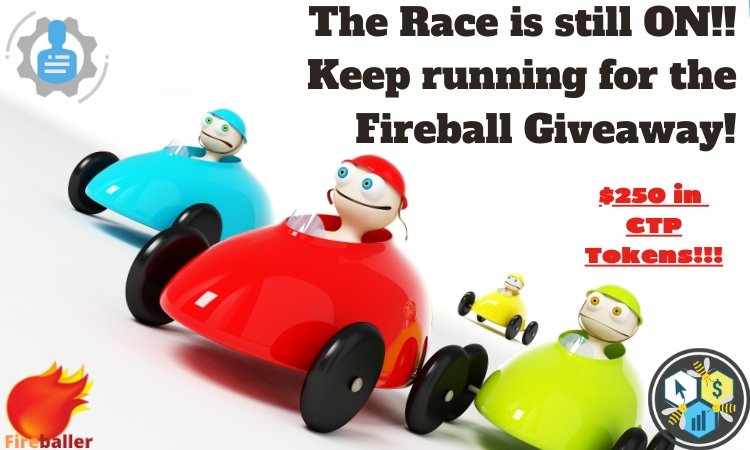 Hello Buzzy Bees!
Apologies in advance if I'm not sharing the proper updates of the Fireball Giveaway here as I promised I would do it weekly! Been doing things in the background. At least been keep you up to date by email!
Anyway, there's still 22 days of the race and this will go with the wind if you don't keep up the pace!
Allow me to remind yourselves what this all about:
To celebrate CTP Blueprint's last Monthssary, I wanted to do something really special as thank you for all your support so far
25K CTP Tokens Give Away!
Yes, you read it right! I'm doing a 25000 CTP Tokens drawing! That's about $250 worth in Tokens!! Some actions will give you entries for the drawing so everybody has a chance!
The more entries you get, the more possibilities to win!!
Winners and Prizes
The drawing will be random and 10 lucky winners will get a share of the giveaway!
Here are the prizes:
1st Place - 10000 CTP Tokens
2nd Place - 5000 CTP Tokens
3rd Place - 2000 CTP Tokens
4th Place - 2000 CTP Tokens
5th Place - 2000 CTP Tokens
6th Place - 1000 CTP Tokens
7th Place - 1000 CTP Tokens
8th Place - 1000 CTP Tokens
9th Place - 500 CTP Tokens
10th Place - 500 CTP Tokens
How you can earn Entries
Here are some of the Actions that can give you entries:
1 Entry for login in daily
5 Entries for providing valid and valued engagement on my CTPTalk posts and CTP Blueprint Facebook
20 Entries for every dollar spent
10 Entries per active referral
10 Entries for every dollar a referral spends
Email Marketing saves Unicorns and gets you an extra 5 Entries - just reply to my emails so I can know you read them :)
If you sign up in any program inside under me you get 100 Entries. Upgrade and get 300 Entries
Earning Entries on CTPTalk
These are manual entries that I personally check if the content has value and then add the number of entries that I think it's fair. Since they are manual additions I'll keep a schedule to add them manually on the Leaderboard at "my" midnight, around 7 pm Eastern.
Here are some of the Actions that can give you entries on CTP Talk:
The winner of the daily #LukeIsAlive Challenge Drawing gets 20 Entries and on the Weekly Drawing gets 100, 50, 20 for 1st, 2nd and 3rd respectively - hosted by @flaxz
The winner of the CTP Talk Wheel of Engagement, hosted by @russellstockley, gets 50 Entries
The winner of the Honey Pot, hosted by @russellstockley, gets according to the CTP Tokens in the pot
The winner of the Hiveghost Wheel Spin, hosted by @hiveghost, gets 50 Entries
Posts/Reviews about the program gets 10 Entries
Comments get 5 Entries like said above on valid and valued engagement
Promotional Banners gets 2 Entries
Reblogging gets 2 Entries
And so on as I see fit!
Draw Date
The Drawing will be placed in August 1st!
Referral Contest
The Referral Contest gives you a chance to win extra entries, which means more chances for the 10K drawing!
Here are the prizes:
1st Place - 1000 Entries
2nd Place - 500 Entries
3rd Place - 200 Entries
4th Place - 100 Entries
5th Place - 50 Entries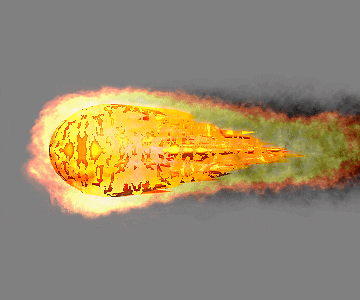 So...Who's in the frontline so far?
Here's the Top10 Leaderboard:
lisamgentile is been for a while at first and she seems stubborn about it, with 1800 Entries
joingail is tickle lisamgentile's feet with 1638 Entries
maddogmike and bizventures are thumb fighting with 1134 and 1085 Entries
scottrohn and jongolson are playing rock, paper scissors with 990 and 943 Entries
rdpart, dragonfly64 and MathiasBKlein are dancing for the chair, 861, 841 and 824 Entries
flaxz is right behind with 716 Entries
For more information and Leaderboards go inside CTP Blueprint
Hope you are enjoying it so far and if you need anything let me know!
May the Force of the Fireball be with YOU!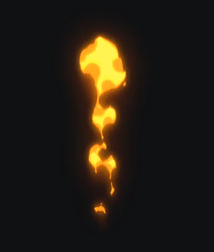 Happy Wednesday!
---