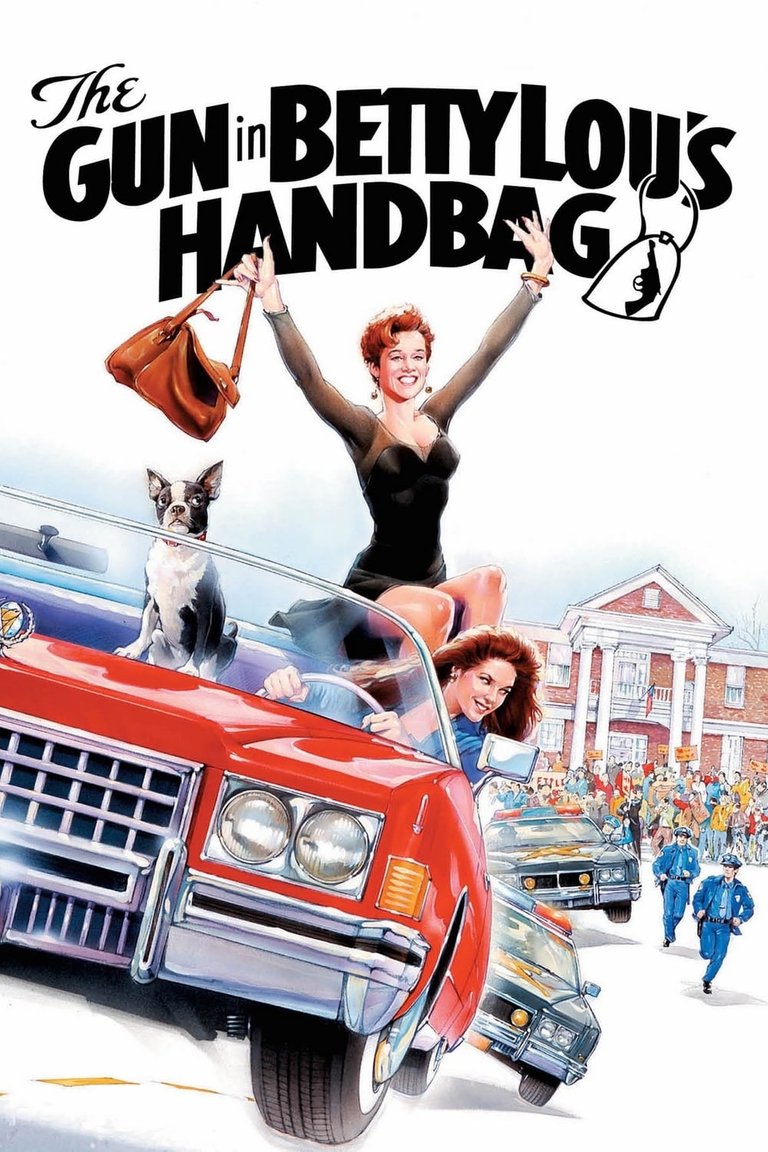 Some of the most successful titles in Allan Moyle's filmography were dealing with youth rebellion. Youths, of course, aren't the only part of society that can rebel against establishment. But when Moyle tried to apply same recipe to repressed housewives in his 1992 comedy The Gun in Betty Lou's Handbag, results were less than stellar.
Protagonist of the film is Betty Lou Perkins (played by Penelope Ann Miller), quiet little librarian in small Missouri town. Her husband Alex (played by Eric Thal) is a workaholic policeman who prefers investigating murders to marriage anniversary celebrations. After local used car dealer gets murdered, Betty Lou accidentally finds a murder weapon. At first she tries to do the right thing and report her find to police. But it seems that nobody takes her seriously or has time to notice her. Betty Lou is so frustrated that she fires gun in ladies' room and, after being arrested, admits the crime she didn't commit and makes up story about torrid love affair as a motive. Suddenly everything changes and Betty Lou becomes local celebrity. Bizarre story about quiet librarian committing crime of passion also brings attention of William "Billy" Beaudeen (played by William Forsythe), mobster who is really responsible for the murder.
Penelope Ann Miller, with her powerful combination of charm and comedic abilities, is the only reason why should anyone bother to watch The Gun in Betty Lou's Handbag. The film had promising idea about neglected wife who takes the most bizarre form of protest, but Grace Cary Bickley's script turned out not to have any shred of social criticism. It didn't have much humour either. Most of the dialogue is lame and the plot at times looks preposterous. Even worse is occasional use of violence too graphic for this sort of film. Ironically, the film that was supposed to be celebration of non-conformism actually turned out to be conformist in 1990s Hollywood sort of way.
RATING: 3/10 (+)
(Note: The text in its original form was posted in Usenet newsgroup rec.arts.films.reviews on July 26th 2004)
Blog in Croatian https://draxblog.com
Blog in English https://draxreview.wordpress.com/
Cent profile https://beta.cent.co/@drax
Minds profile https://www.minds.com/drax_rp_nc
Uptrennd profile https://www.uptrennd.com/user/MTYzNA
Noise Cash profile https://noise.cash/u/drax
Rising Star game: https://www.risingstargame.com?referrer=drax
BTC donations: 1EWxiMiP6iiG9rger3NuUSd6HByaxQWafG
ETH donations: 0xB305F144323b99e6f8b1d66f5D7DE78B498C32A7