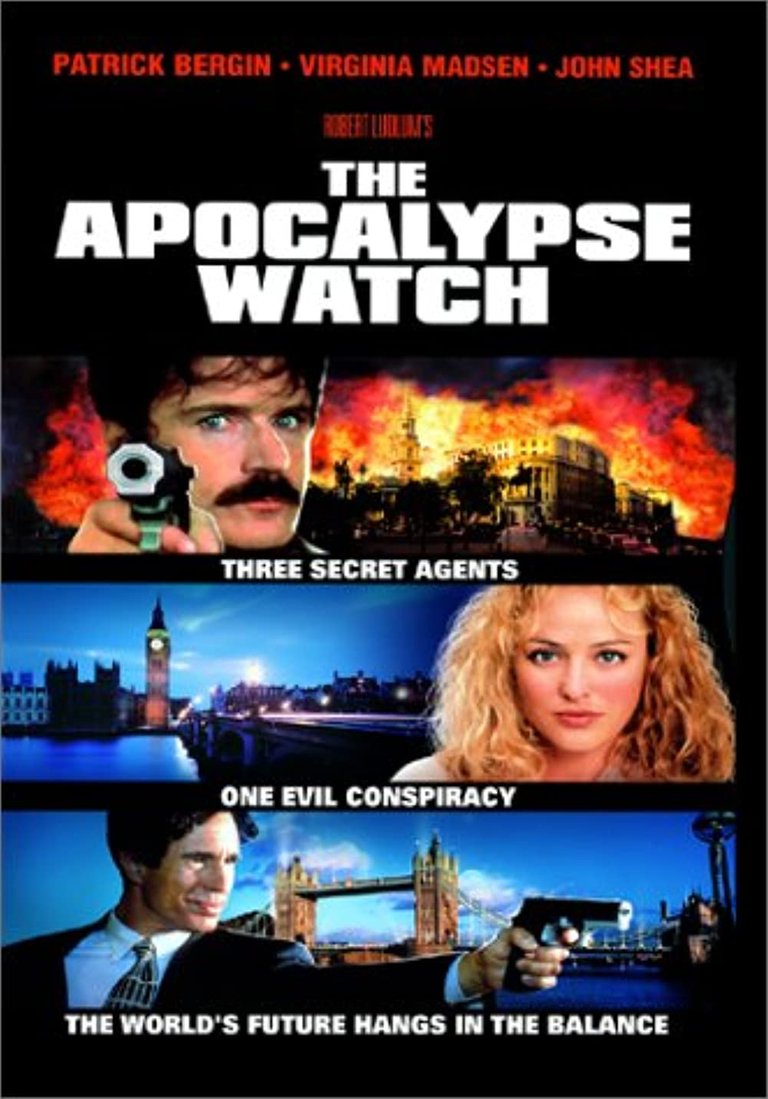 In 1970s and 1980s Robert Ludlum's novels were often described as "political pornography". Their complex plots described the worl where some of the more questionable and more mysterious aspects of political reality - secret societies, clandestine intelligence operations, international intrigues - got enhanced to ludicrous levels. Some of those plots, laced with huge amounts of sex and violence, were often seen as ridiculous. But these days some of them could be taken more seriously, like the one used for The Apocalypse Watch, novel turned into 1997 TV film directed by Kevin Connor.
The plot begins with various Western countries being struck by the series of spectacular terrorist actions. Popular outrage is used by far right politicians who try to win elections by promising iron hand as the solution of that problem. CIA and MI6 experts know better – the terrorist campaign is part of neo-Nazi plan to retake power through popular elections. Clues point towards corporation run by German businessman Ulrich von Schnabbe (played by Christopher Neame). CIA agent Harry Latham (played by John Shea) is sent to Europe to investigate under the guise of arms dealer. Latham's identity is uncovered but he manages to escape his captors. Soon after that he starts to behave strangely. His brother Drew (played by Patrick Bergin) and CIA agent Karin de Vries (played by Virginia Madsen) are determined to find the explanation for such behaviour.
Secret cabal of powerful and evil men who use terror in order to fool people into surrendering their democracy - in 1970s and 1980s such concept worthy of third grade political thrillers and today it is taken as a fact by billions of people, award-winning documentary film-makers and serious commentators. Recent events gave extra dimension to The Apocalypse Watch, yet the film remains as inept and unconvincing today as it was few years ago. Main problem is in neo Nazis as villains - one of the corniest cliches of political thriller genre. Another problem for this film is in its poor budget and even poorer script by John Goldsmith and Christopher Canaan. The plot unfolds too quickly, and some of the developments are implausible. On the other hand, this production benefits from European locations and always dependable British actors in supporting roles. The most notable is joint appearance of Michael Brandon and Glynis Barber, stars of 1980s TV show Dempsey and Makepeace. This makes The Apocalypse Watch into bearable TV film. Fans of the serious and exciting political thrillers should try something else, though.
RATING: 3/10 (+)
(Note: The text in its original form was posted in Usenet newsgroup rec.arts.films.reviews on July 27th 2004)
Blog in Croatian https://draxblog.com
Blog in English https://draxreview.wordpress.com/
Cent profile https://beta.cent.co/@drax
Minds profile https://www.minds.com/drax_rp_nc
Uptrennd profile https://www.uptrennd.com/user/MTYzNA
Noise Cash profile https://noise.cash/u/drax
Rising Star game: https://www.risingstargame.com?referrer=drax
BTC donations: 1EWxiMiP6iiG9rger3NuUSd6HByaxQWafG
ETH donations: 0xB305F144323b99e6f8b1d66f5D7DE78B498C32A7