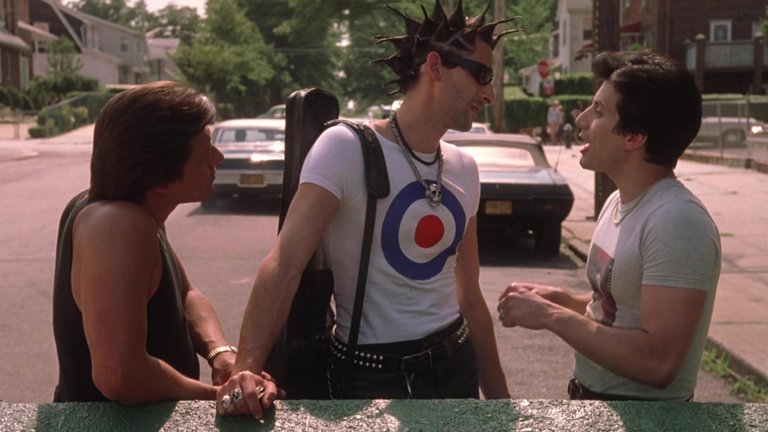 There are many ways to reconstruct history on film. Some film-makers try to give detailed and accurate depictions of the past events. Some film-makers use history only as background for fictional stories. Some film-makers try to make compromise between those two approaches. Spike Lee tried to make one such compromise in his 1999 drama Summer of Sam.
The film starts with the prologue by Jimmy Breslin, "New York Daily News" columnist who was personally involved in one of the darkest chapters of recent New York history. Breslin tells that New York in the Summer of 1977 used to be much uglier place to live than in late 1990s – high unemployment and raging inflation were accompanied by record high temperatures, power blackouts and rising crime rate. Modest, but very spectacular, contribution to the latter was provided by David Berkowitz (played by Michael Badalucci), serial killer who wandered through streets armed with .44 Magnum and killed few people before entering history books as "Son of Sam". While his murderous campaign goes on, other citizens of New York are preoccupied with other concerns. One of them is Vinnie (played by John Leguizamo), Italian American hairdresser from Bronx. He has it all - money, expensive car and reputation of a disco king. Vinnie's beautiful and loving wife Dionne (played by Mira Sorvino) doesn't show much enthusiasm for some unorthodox sexual practices so Vinnie has to seek those pleasures with other women. When he accidentally stumbles into "Son of Sam's" crime scene he begins to contemplate abandoning his philandering ways. In the meantime, Vinnie's best friend Richie (played by Adrien Brody) shocks neighbourhood by adopting punk hairstyle and fake British accent; his plan to buy luxurious electric guitar and start his own punk band is financed through dancing in gay bar, male prostitution and occasional shooting of porn films with his girlfriend Ruby (played by Jennifer Esposito). While all this goes on, NYPD is so desperate in its desire to catch the killer that it recruits Luigi (played by Ben Gazzara), local mafia boss. Luigi's thugs, organised into vigilante groups, begin to view any odd character as potential killer and Richie becomes most likely suspect.
The film's script, written by Victor Colicchio, Michael Imperioli and Spike Lee, had potential to explore many interesting topics and stories. It could have dealt with the David Berkowitz's killings, either by trying to show psychopathology behind it or by showing the way media created public hysteria because of them. It could have shown the way how bigotry and paranoia could lead to violence. It could have also been a nice opportunity to portray culture and social attitudes of 1970s urban America - so different from modern times. Summer of Sam tries all that, but fails. Having all those stories in a single feature film was the task beyond creative capabilities of even such talented film-maker like Spike Lee. David Berkowitz, instead of being mysterious bogeyman affecting protagonists' lives, is shown as pathetic man obsessed with talking dogs. Protagonists, on the other hand, are less characters and more collection of every 1970s nostalgia cliche available - Vinnie, as philandering disco king interested in group sex, is given its antipode in Richie who manages to be punk rocker, male prostitute and porn actor at the same time. All that is accompanied with plenty of baseball and other historical references hardly comprehensible to anyone who haven't lived or remembered 1970s New York.
On the other hand, Spike Lee manages to compensate lack of proper content with superb form. Despite disappointing plot and characters, Summer of Sam functions as a coherent whole, often making audience believe that they watch an epic film of great importance. Lee directs many scenes with great skill, especially in the scenes that show his ability to recreate 1970s. The acting is good and many talented performers like Leguizamo, Sorvino and Gazzara manage to breathe some life into their one-dimensional roles. Adrien Brody is especially effective, because he makes audience sympathise with the character who could otherwise end up like pathetic caricature. Although a failure, Summer of Sam is not only watchable but at times very entertaining reconstruction of history.
RATING: 5/10 (++)
(Note: The text in its original form was posted in Usenet newsgroup rec.arts.films.reviews on August 11th 2004)
Blog in Croatian https://draxblog.com
Blog in English https://draxreview.wordpress.com/
Cent profile https://beta.cent.co/@drax
Minds profile https://www.minds.com/drax_rp_nc
Uptrennd profile https://www.uptrennd.com/user/MTYzNA
Noise Cash profile https://noise.cash/u/drax
Rising Star game: https://www.risingstargame.com?referrer=drax
BTC donations: 1EWxiMiP6iiG9rger3NuUSd6HByaxQWafG
ETH donations: 0xB305F144323b99e6f8b1d66f5D7DE78B498C32A7