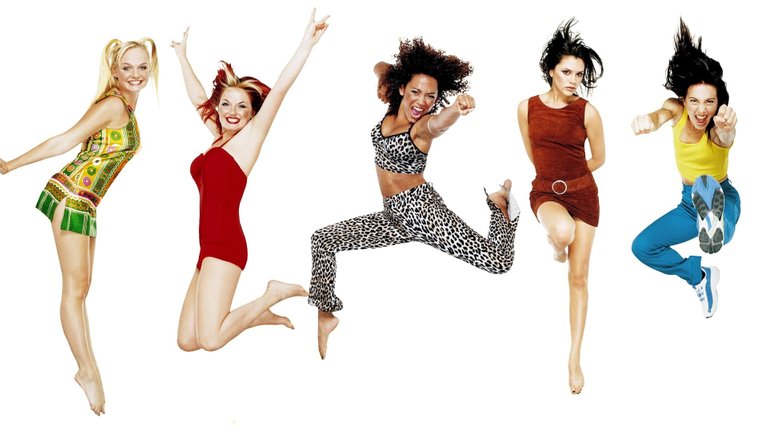 "Pop music phenomenon" is a pejorative term thanks to myriad of performers who reached global fame for reasons that had nothing to do with their musical talents. Best example of such "pop music phenomena" are Spice Girls, British pop group whose meteoric rise to the pop chart summits created utter dislike and enmity among music critics. This enmity was enhanced by film critics when Spice Girl tried to flaunt their domination over world's popular culture by having their own feature film - Spice World, 1997 comedy directed by Bob Spiers.
The film, which is partially inspired by Richard Lester's classic exploitation of Beatlemania in A Hard Day's Night, doesn't have a plot in conventional meaning of the word. What goes for plot consists of five members of Spice Girl - Posh Spice (Victoria Adams), Sporty Spice (Melanie Brown), Scary Spice (Melanie Chisholm), Baby Spice (Emma Bunton) and Ginger Spice (Geri Halliwell) – travelling to big concert in Albert Hall in huge double-decker bus. Along the way they have to deal with variety of bizarre characters, including their own neurotic manager Clifford (played by Richard E. Grant), as well as all the other problems global popularity can cause to members of pop band.
Spice World, made at times when Spice Girls began their inevitable decline, portrays entertainers not only aware, but also quite comfortable with vapidity of their act and more than ready to poke fun at it. This generally healthy attitude results in self-parody that benefits rather than suffers from girls' limited acting and other abilities. Director Bob Spiers, veteran of British television comedies, makes perfect balance between, at times boring, musical acts and brief but usually very entertaining scenes of pure comedy. Spice Girls are in their efforts helped with the small army of respected character actors in brief but effective cameos, of which Roger Moore is best as senile parody of Bond movies' villain. For those who don't expect much, Spice World is going to be entertaining little film for many, while some viewers would experience it as a reminder of the good old days before the likes of Britney Spears and Christina Aguillera began to dominate global music.
RATING: 5/10 (++)
(Note: The text in its original form was posted in Usenet newsgroup rec.arts.films.reviews on March 18th 2004)
Blog in Croatian https://draxblog.com
Blog in English https://draxreview.wordpress.com/
Cent profile https://beta.cent.co/@drax
Minds profile https://www.minds.com/drax_rp_nc
Uptrennd profile https://www.uptrennd.com/user/MTYzNA
Brave browser: https://brave.com/dra011
BTC donations: 1EWxiMiP6iiG9rger3NuUSd6HByaxQWafG
ETH donations: 0xB305F144323b99e6f8b1d66f5D7DE78B498C32A7