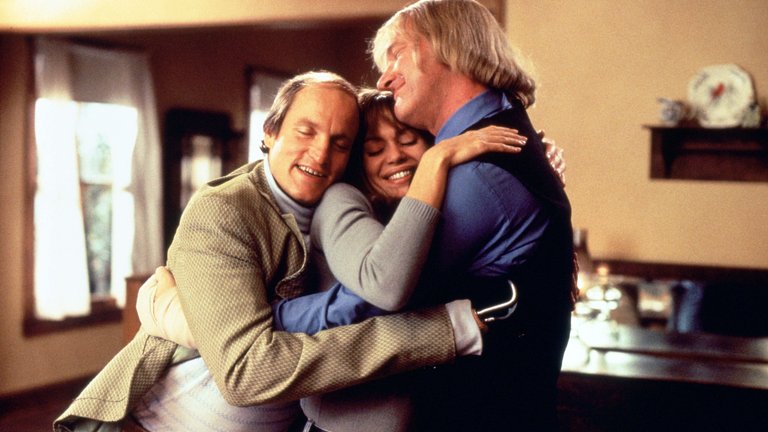 Bobby and Peter Farrelly are often accused of lowering the standards of Hollywood comedies with the utterly vulgar nature of their humour. Problem with Farrelly Brothers wasn't in vulgarity per se, but in that vulgarity turning into success at box-office, much to the utter horror of most film critics. Following the success of Dumb and Dumber, those critics have breathed temporary sigh of relief after Farrelly Brothers' 1996 commercially disappointing comedy Kingpin.
The protagonist of film is Roy Munson (played by Woody Harrelson), young man whose main talent is bowling. In 1979 his professional career is cut short after fatal encounter with Ernie McCracken (played by Bill Murray), another professional bowler, and hustling scheme going tragically bad. Abandoned by McCracken, Munson loses his hand and spends next seventeen years as pathetic drunk. Things change when he notices Ishmael (played by Randy Quaid), young Amish with genuine bowling talent. Seeing opportunity to reverse his fortunes, Munson becomes Ishmael's manager and two men begin long journey towards Reno and great bowling tournament with 1 million US$ prize. Along the way the duo is joined by beautiful Claudia (played by Vanessa Angel).
Kingpin in many ways follows formula of Dumb and Dumber - road film as an excuse for series of gags and plenty of humour based around various bodily fluids. Scriptwriters Barry Fanaro and Mort Nathan add some little bits of parody and in the first part of the film the formula works to a certain degree. In the second part of the film, with obligatory romantic subplot and inevitable showdown, Kingpin begins not only to slow down, but also becomes more serious - something like bowling version of Color of Money, the film it was supposed to spoof. The acting in film is very good, but two main actors - Harrelson and Quaid - are easily overshadowed by Bill Murray in his relatively brief appearances. All in all, Kingpin is watchable film, at least to those viewers who can take Farrelly Brothers' standards of humour, but it is far from being the effective "gross out" comedy.
RATING: 4/10 (+)
(Note: The text in its original form was posted in Usenet newsgroup rec.arts.films.reviews on March 15th 2004)
Blog in Croatian https://draxblog.com
Blog in English https://draxreview.wordpress.com/
Cent profile https://beta.cent.co/@drax
Minds profile https://www.minds.com/drax_rp_nc
Uptrennd profile https://www.uptrennd.com/user/MTYzNA
Brave browser: https://brave.com/dra011
BTC donations: 1EWxiMiP6iiG9rger3NuUSd6HByaxQWafG
ETH donations: 0xB305F144323b99e6f8b1d66f5D7DE78B498C32A7