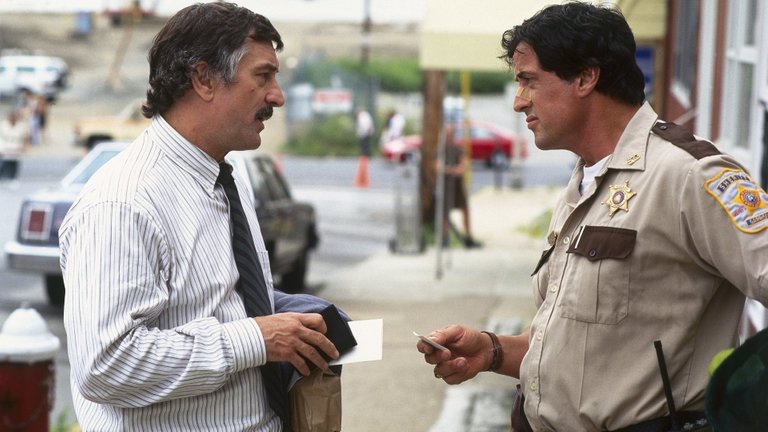 For most people Sylvester Stallone is nothing more than action star. Those who are familiar with his earlier works can probably remember instances when he tried and sometimes succeeded in presenting himself as a serious actor. This ambition never left Stallone, even in the later stages of his career. One of such attempts can be seen in Cop Land, 1997 thriller written and directed by James Mangold.
In this film Stallone plays protagonist who is far from being typical action hero. For Freddy Hefflin times when he tried to be hero ended long time ago - as a teenager he rescued local girl and became partially deaf in the process. This destroyed his long-time dream of becoming police officer, and he had to settle with position of sheriff in small, sleepy uneventful town of Garrison, New Jersey. Problem for Freddy is the fact that most of city's inhabitants happen to be policemen from neighbouring New York City, and some of them, including their unofficial leader Ray Donlon (played by Harvey Keitel), keep reminding Freddy of his life's biggest failure. Freddy reacts to that with quiet resignation, doing his menial police jobs and never asking how so many NYPD policemen managed to build so many nice homes with meagre police salaries. Everything changes when Murray Babitch (played by Michael Rappaport), young NYPD policeman and Donlon's protege, gets involved in accidental shooting of two black teenagers. In order to prevent Internal Affairs investigation, Donlon quickly arranges Babitch's fake suicide and hides young policeman in Garrison. Freddy is soon visited by Internal Affairs investigator Moe Tillden (played by Robert de Niro) who asks for Freddy's help in exposing Ray and his cabal of police corruption. Freddy is at first reluctant to play hero once more, but circumstances conspire to confront sheriff with his neighbours.
If the idea of Cop Land was to test Sylvester Stallone's true acting abilities, producers made the right choice by confronting action star not only with serious actors but also with real cream of the crop. Surrounded by the likes of de Niro, Keitel and many other great characters actors who could be stars in their own right, Stallone really had to invest all of his resource simply in order to stand up to their standards. He did precisely that, ironically, by "going de Niro" and making complete character transformation - he not only plays quiet, introspective, deaf and seemingly retarded character who evades any conflict; he actually gained 15 kilograms for the purpose of the role and made himself physically different from the characters he otherwise played. Result is truly impressive and shows that Stallone could have been much more respected actor than he is today.
The choice of plot for that particular task wasn't that fortunate, though. James Mangold uses complicated yet cliched plot of about New York police corruption, something Sydney Lumet could do in his sleep. Mangold combines many different stories, many subplots and many different characters, but relatively short running time of 104 minutes isn't enough to develop each of them properly. When the plot gets resolved with obligatory showdown, most viewers would be left unsatisfied. On the other hand, good acting and Stallone making pleasant surprise with the display of his long-forgotten abilities are reasons for Cop Land to be viewed as a generally successful film.
RATING: 6/10 (++)
(Note: The text in its original form was posted in Usenet newsgroup rec.arts.films.reviews on March 15th 2004)
Blog in Croatian https://draxblog.com
Blog in English https://draxreview.wordpress.com/
Cent profile https://beta.cent.co/@drax
Minds profile https://www.minds.com/drax_rp_nc
Uptrennd profile https://www.uptrennd.com/user/MTYzNA
Brave browser: https://brave.com/dra011
BTC donations: 1EWxiMiP6iiG9rger3NuUSd6HByaxQWafG
ETH donations: 0xB305F144323b99e6f8b1d66f5D7DE78B498C32A7