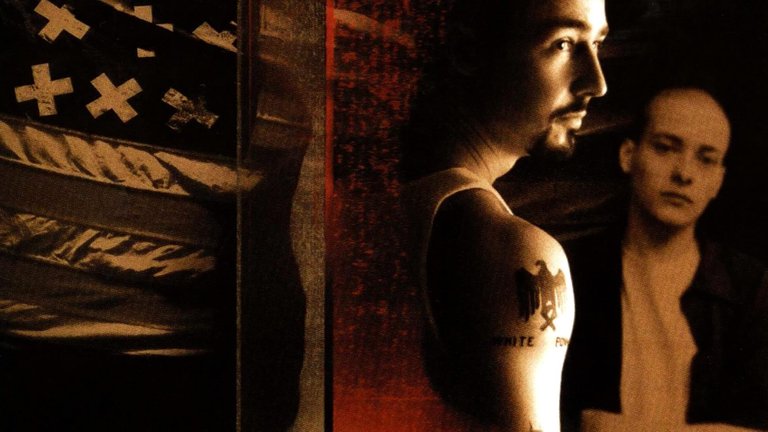 Sometimes films deserve extraordinary praise not because of their extraordinary quality but simply for tackling some difficult issues with extraordinary amounts of bravery. One of such brave films was American History X, 1998 drama directed by Tony Kaye.
The plot, based on the script by David McKenna, is set in Venice Beach, part of Los Angeles that used to be blue collar neighbourhood with predominantly white population. With arrival of blacks, Latinos and non-white immigrants things began to change and once peaceful neighbourhood became plagued with constant racial tension. Many of Venice Beach's impoverished, unemployed and angry white youths have their idol in Derek Vinyard (played by Edward Norton), once promising high school student who became neo-Nazi following the murder of his fireman father at the hands of black crack addicts. Derek further increased his reputation by brutally killing two black youths who tried to steal his car. Mr. Sweeney (played by Avery Brooks), black teacher and Derek's former mentor, is less concerned with Derek's release from prison than with Derek's younger brother Danny (played by Edward Furlong) who became, just like Derek, part of gang led by Cameron Alexander (played by Stacey Keach), local neo-Nazi guru. Sweeney tries to rescue Danny from following Derek's path and Derek himself would help him in that. Due to traumatic experiences behind prison walls, Derek decided to reconsider his views and abandon neo-Nazism.
1990s Hollywood tried to sell the vision of America as a society that, for the most part, transcended its violent history. Racism was portrayed more like an annoying relic of the past than something that could endanger American future. American History X took the different path - it showed that even in multi-cultural, multi-racial, enlightened and "politically correct" Clinton's America there were people and neighbourhoods still consumed by racial hatred. This film went even further and rejected conventional portrayal of racism and bigotry. Instead of focusing on the victims and preaching tolerance, American History X dealt with the causes of racism and bigotry and even flirted with presenting events from racists' point of view. The result is disturbing but very powerful and thought-provoking film.
Unlike most Hollywood films that usually portray racists and bigots as one-dimensional monsters or pathetic idiots, American History X shows that, just like in pre-WW2 Germany or other "enlightened" and "civilised" countries, certain set of circumstances can lead to intelligent people adopting evil ideologies. Edward Norton, who plays the protagonist, conveyed that through series of powerful scenes. His formidable physical presence and charismatic look (result of Norton's intense physical preparations for the role) are well matched with intelligence, eloquence and ability to spot adversary's psychological weaknesses. The film is most frightening in the scenes when Norton uses all that in order to bring other Venice Beach youths to neo-Nazi cause. His rants against blacks, immigrants and liberals make great deal of sense. Thankfully, the script remains very consistent in Derek's characterisation - the same intelligence that helped him become such frightening neo-Nazi is the reason why he would abandon neo-Nazism. Behind prison walls - in an environment where racial roles are reversed , where whites are at the bottom of social barrel and where neo-Nazis care more about drug dealing than about their ideological purity - he can't fail to see the error of his ways. Although script uses somewhat melodramatic plot elements - brutal gang rape and black jailbird with a heart of gold - as catalysts for such transformation, it looks very convincing.
Norton's performance is well matched by the rest of the cast. Edward Furlong is very convincing as a young man who took the wrong people to be his role models. Barely recognisable Stacey Keach is good as scruples neo-Nazi leader while Beverly d'Angelo provides very convincing portrayal of Derek's chronically ill mother. Avery Brooks also gives good performance - his charismatic presence is so effective that audience believes that such man, despite the colour of skin, could find respect even among racists. Probably most effective episode belongs to Eliot Gould in a brief appearance as Derek's would-be stepfather – Gould plays Jewish intellectual whose mild manners of limousine liberal aren't much of match for intensity of Derek's neo-Nazi beliefs.
Because of the bravery of its authors, American History X manages to overcome many of its flaws. Of those flaws most annoying is direction by Tony Kaye, British film-maker who couldn't resist temptation to show that he had built career on commercials and music videos. Many of the shots in the film are too "artsy" and the film is overlong. The film created some sort of controversy because of creative differences between Kaye and Norton, Norton's alleged re- directing of and Kaye's unsuccessful attempts to disown the film. But the worst part of the film is the ending, which is pathetic, cliched and utterly predictable. But the general impression of American History X is going to be more than positive. This is a powerful film that doesn't shy away from some disturbing truths and restores faith both in humanity and Hollywood's ability to tell unpleasant stories.
RATING: 7/10 (+++)
(Note: The text in its original form was posted in Usenet newsgroup rec.arts.films.reviews on July 30th 2004)
Blog in Croatian https://draxblog.com
Blog in English https://draxreview.wordpress.com/
Cent profile https://beta.cent.co/@drax
Minds profile https://www.minds.com/drax_rp_nc
Uptrennd profile https://www.uptrennd.com/user/MTYzNA
Noise Cash profile https://noise.cash/u/drax
Rising Star game: https://www.risingstargame.com?referrer=drax
BTC donations: 1EWxiMiP6iiG9rger3NuUSd6HByaxQWafG
ETH donations: 0xB305F144323b99e6f8b1d66f5D7DE78B498C32A7