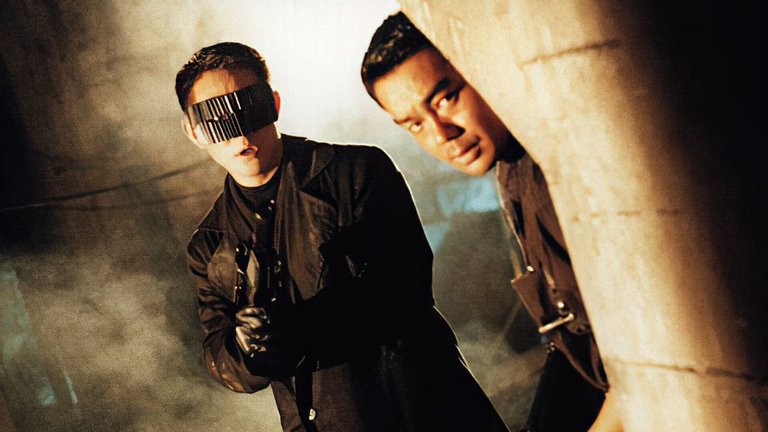 Hong Kong films were standard part of cinema theatres' repertoire in 1970s former Yugoslavia. In 1980s, like almost any non-Hollywood films, they all but disappeared. Return of Hong Kong films to Croatian cinemas happened in late 1990s, following the Tarantino-inspired craze for everything related to Hong Kong. The first among those titles was Black Mask, 1996 action film directed by Daniel Lee.
Protagonist of the film is Tsui Chick (played by Jet Li), mild-mannered geeky librarian burdened difficult and violent past. Some time ago he was part of 701, special unit of soldiers who had had their nerves removed in the effort to suppress pain and remorse. Tsui Chick has rebelled against his masters, deserted and tried to find a way to restore human emotions. Along the way he befriended Shek (played by Ching Wan Lau), police inspector who didn't have a clue about librarian's past. Tsui decides to help Shek when Hong Kong drug dealers start getting killed by a gang of particularly vicious assassins. Tsui sees that the killings are work of 701, led by evil Hung (played by Kong Lung). He decides to confront their former comrades and starts wearing the mask to protect his new identity, friends, including Tracy (played by Françoise Yip), fellow librarian who loves him.
Rather complicated plot of Black Mask, just like in many Hong Kong action films, doesn't make much of a sense. One-dimensional comic book characters also don't require much of the acting ability. But those aren't reasons why the audience would appreciate films like Black Mask. The most attractive aspect of the film is the series of incredibly elaborate and exciting action scenes, all staged by legendary martial arts co-ordinator Yuen Woo-ping (of Matrix fame). Jet Li, Hong Kong action star known for his great martial arts talent, shows that he is able to use firearms as well as his fists and legs. But the most entertaining scenes are those in which Jet Li's character gets involved in hand-to-hand combat. Director Daniel Lee shows many innovative ways to put various household appliances and other seemingly innocent object to murderous use. Black Mask, unlike Hollywood films of the same genre, doesn't shy away from graphic displays of gore and violence. Some of those scenes even border on perversion. The greatest problem for this film is awful dubbing and poor editing in the version for Western markets – many things in Black Mask simply don't make sense and the plot has large holes. Thankfully, the film is relatively short and action scenes are spectacular enough to distract audience's attention from such shortcomings. Because of that, Black Mask is a solid piece of entertainment.
RATING: 5/10 (++)
(Note: The text in its original form was posted in Usenet newsgroup rec.arts.films.reviews on August 12th 2004)
Blog in Croatian https://draxblog.com
Blog in English https://draxreview.wordpress.com/
Cent profile https://beta.cent.co/@drax
Minds profile https://www.minds.com/drax_rp_nc
Uptrennd profile https://www.uptrennd.com/user/MTYzNA
Noise Cash profile https://noise.cash/u/drax
Rising Star game: https://www.risingstargame.com?referrer=drax
BTC donations: 1EWxiMiP6iiG9rger3NuUSd6HByaxQWafG
ETH donations: 0xB305F144323b99e6f8b1d66f5D7DE78B498C32A7
Movie URL: https://www.themoviedb.org/movie/9460
Critic: AA