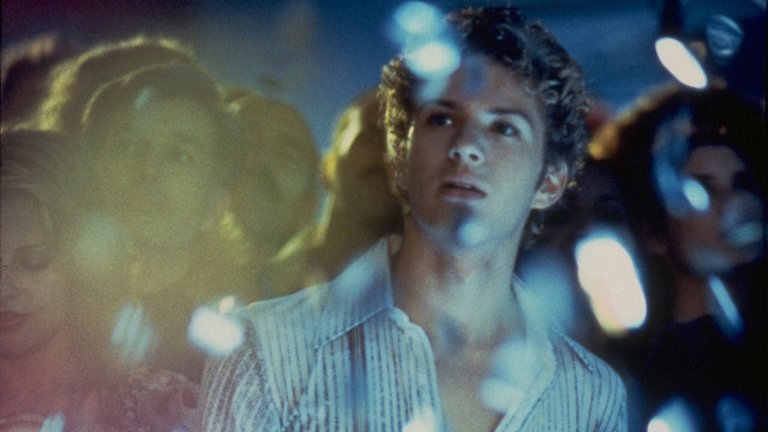 After certain number of years and with memories conveniently cleansed of unpleasant experiences, any era could look like Golden Age. For most people today 1970s are seen as times when cocaine used to be harmless recreational drug, when there weren't such things as AIDS and when people generally had more freedom and enjoyed better times than they enjoy now. Things like oil shocks and inflation are conveniently forgotten and sometimes people even allow themselves to think about Jimmy Carter as one of the most successful presidents in American history. In late 1990s Hollywood began to exploit this newly found fascination with 1970s Paradise Lost. One of such films was 54, 1998 drama written and directed by Mark Christopher.
Film's protagonist and narrator is Shane O'Shea (played by Ryan Philippe), 19-year old boy from New Jersey's blue collar family. Most of his life he dreamed of crossing the river and starting new, more glamorous life in New York. In 1979 this dream becomes close to reality in front of "Studio 54", New York's most popular and most glamorous night club. Steve Rubell (played by Mike Myers), legendary owner of "Studio 54", notices Shane's good looks and offers him a job of busboy. Shane is not very bright, but he is determined to become rich and famous so he gradually advances in "Studio 54" hierarchy. Along the way he befriends Greg (played by Breckin Meyer), busboy and part-time drug dealer, and his wife Anita (played by Salma Hayek), wardrobe girl who dreams of becoming disco diva. The only true love for Shane is Julie Black (played by Neve Campbell), girl who grew up in New Jersey and became soap opera star in New York. Shane sees her every night in "Studio 54" where she mingles with other the rich, powerful and famous people who enjoy alcohol, drugs, sex and anything else that legendary club has to offer.
"Studio 54" is today seen as the embodiment of 1970s hedonism. The extraordinary stories of its rise and fall, as well as the excesses associated with people who had frequented it, have become the stuff of legends. The legend of "Studio 54" was the material worthy of an epic film. Unfortunately, what Mark Christopher delivered looks more like an uninspired TV film. The cinematography is too dark and viewers won't notice any glitz and glamour of the world's most legendary discotheque. Another problem is in the script, which took selective approach to the story of "Studio 54" - while Steve Rubell appears as one of few historical characters, his main business partner Ian Schrager is missing from the picture. This is compensated by the fictional characters, which are all poorly written and played by mostly uninspired cast. Instead of exploring the cultural climate that allowed "Studio 54" to become a symbol of an era, this film uses the night club simply as background for cliched story about young people learning that love and family values are more important than money, power and sex. The only bright spot in the film is Mike Myers whose portrayal of Rubell proves that he could play dramatic roles. His efforts make this film watchable but they can't improve general impression of 54. 1970s were great times, but most viewers could hardly come to that conclusion based on this film.
RATING: 3/10 (+)
(Note: The text in its original form was posted in Usenet newsgroup rec.arts.films.reviews on July 30th 2004)
Blog in Croatian https://draxblog.com
Blog in English https://draxreview.wordpress.com/
Cent profile https://beta.cent.co/@drax
Minds profile https://www.minds.com/drax_rp_nc
Uptrennd profile https://www.uptrennd.com/user/MTYzNA
Noise Cash profile https://noise.cash/u/drax
Rising Star game: https://www.risingstargame.com?referrer=drax
BTC donations: 1EWxiMiP6iiG9rger3NuUSd6HByaxQWafG
ETH donations: 0xB305F144323b99e6f8b1d66f5D7DE78B498C32A7