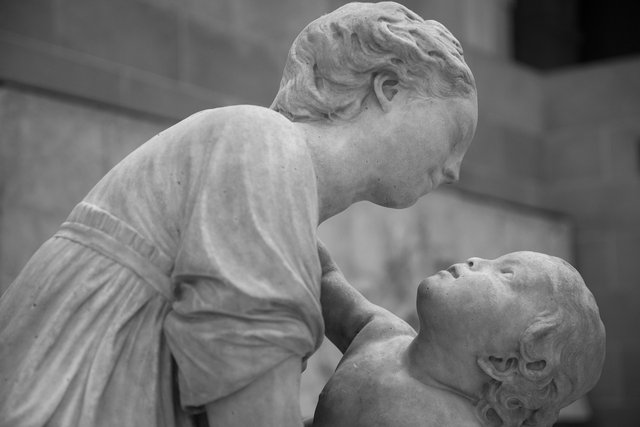 ---
I woke up to the dull thuds of rain drops hitting the thatched roof. The air was thick with smoke, making it difficult to breathe. I tried to move my arms, but they were too heavy. My eyes burned with tears as I drew clogged air into my weak lungs. I willed myself to not choke, but it was too late. The cough shook me fully out of unconsciousness. My head felt as though it didn't belong on my shoulders. I sensed a movement, right before I felt soft fingers on my forehead.
She's awake, I heard Mama say.
Are you sure? a familiar voice asked. It belonged to Aunty Nnenna, Mama's childhood friend.
Yes.
Mama was the only person who could tell when I was awake or asleep. Whether it was because she was my mother or because she paid close attention to me, I would never know. I liked to think it was because of the deep affection we had for each other.
The hard floor told me that we were in Ezemuo's shrine. I was now used to the coldness of the room, the damp, rotten smell had become a part of me. This room had been my second home since I was born, long before I had my first attack.
Mama, I murmured.
Don't move, Adanneya. You are fine now, she said, as she and took my hand and gently squeezed it. I sensed her smile.
I always imagined Mama to have large, bright and the most beautiful smile. Although I could not see them, I knew her eyes and smile are bright, because I always felt their light whenever she smiled.
Ezemuo's voice was soft as he sang, his voice rising and falling in rhythm. It was an old song, one I've heard many times before. He had been singing and chanting the same words since I was a child. I have always wondered if saying the same words over and over again would someday restore my sight. I wondered why Mama still brought me here, for his chants changed nothing. Rather, Ezemuo was known for his greed, a man who cared more about money than the lives of his patients. It was rumoured that he often lured young widows into his bed, but no one dared to speak up. People lived in fear of him.
The memory of how Mama sobbed was still fresh like it happened yesterday. Her body was warm as she rocked me back and forth on the wooden chair inside our hut eleven years ago. I was eight and we'd just returned, me still sightless, from another visit to the native doctor's shrine. I had sensed something was wrong when she left me alone in Ezemuos medicine room for several minutes, longer than she had ever done before, and when she returned, she picked me up and without a word, we left.
When I was older, I asked Mama what had happened that day but she refused to talk about it. But somehow, I knew, and I thought that if only I could see, I would have killed him for what he did.
Hearing his voice now, I prayed that this would be the last day Mama would bring me here. I prayed that this sickness plaguing me and causing Mama so much pain would go away. I knew that once again, his empty chants and medicine would do nothing. So I lay there on cold floor, with Mama holding my hand and prayed for her happiness and peace of mind.
--
I do not remember the first two years of my life, before the head injury that took away my eyesight. All I know is that I grew up seeing the light through my darkness. Mama always marvelled at how I seemed to know about everything happening around me.
One of those instances was the day our neighbours notorious son, Ndukaku, sneaked into our hut. Mama had left for the market earlier and wouldn't let me stay outside all by myself. I was arranging the bamboo sticks under my bed when I sensed a presence, followed by a strong stench and shuffling.
Ndukakus palm oil scent announced him. Masking my fear with false bravery, I asked, Why are you here Ndukaku? I know its you. I'm sure you saw Mama leave for market.
There was a brief silence. The shuffling continued. He was breathing heavily. He took a step towards me and stopped.
How did you know I'm here? Arent you supposed to be blind? he blurted.
Then he stormed out, leaving behind that lingering smell of bleached palm oil. Later, I overheard him saying to his friends, Forget Adanne. That girl is not blind at all. Did you know that she actually called me by name? You can't pull a fast one on her, trust me.
I don't believe it, one of them said.
I would rather stick to girls with eyes.
They all laughed. I shuddered. Maybe my inability to see wasn't a curse after all.
Few day after the incident, Mama hugged me and announced that we wouldn't be going to Ezemuo's shrine for treatment anymore. I was thrilled, as I'd never thought a day would come when she would finally understand that I was alright, with or without sight. But my happiness was short lived. I was fifteen and woke up every day with a smile, until the day I had my first attack.
I was outside the hut, separating palm kernels from their shells. It was the only chore Mama allowed me to do after so much argument. She would break the nuts and give me a small portion to sieve. Some days, I would eat half of it before I finish. I was busy with the nuts when I suddenly felt my eyes turning, like they were about to pop out of their sockets. A muscle jerked through my body and a faint feeling closed in on me. I instinctively grabbed the tray, spilling the nuts. The last thing I remembered was my body sliding to the floor.
When I came to, we were back in Ezemuo's shrine. Mama was squeezing my fingers and Aunty Nnenna was saying something in a low voice, something she didn't want me to hear. It took Mama five days to finally tell me what happened. According to her, I had an uncommon seizure that had me writhing on the ground and foaming through the mouth. Mama became so quiet in the days that followed that I feared she might get sick.
I'm fine, Mama, I said, time and again.
She would embrace me and say she wasn't worried, but there was something in her voice, something broken. The attack came back two weeks after, and it continued that way.
--
Ezemuo was still chanting, his voice louder as he approached the hut. The rain was falling heavily now. Thunder rumbled in the sky, as though in accompaniment. I shivered and sat up on the dirt mound that served as a bed.
Come with me to my chamber, Ezemuo said to Mama from the doorway.
I tensed and held her hands, refusing to let go.
Adanneya, I'll be fine, she patted my cheek. Your Aunty Nnenna is here. I'll be back as soon as possible.
No, Mama. I'm not a child anymore. I know what's going to happen in there. This is too much of a sacrifice for you to continue making for me. It wont change anything. It never did, I pleaded.
It will this time. I believe it will.
Those were her last words and that also was the last time she ever held me, the last time I heard her voice or felt her warm smile. As I sat, listening to sounds the shovels made as they scooped and threw sand into Mama's grave, Aunty Nnenna kept telling me that Mama had given up her life for me. But I knew better. I knew that Ezemuo took advantage of her vulnerability. I blamed her for being so weak and I cursed Ezemuo for everything. For the first time in my life, I felt true darkness.

---
This, I must say, is the most complicated story I've ever written. I have no idea how I managed to do it. I detached a lot. If you're familiar with my writing, you might have noticed that the sentence structure was a little different. Do tell me what you think.