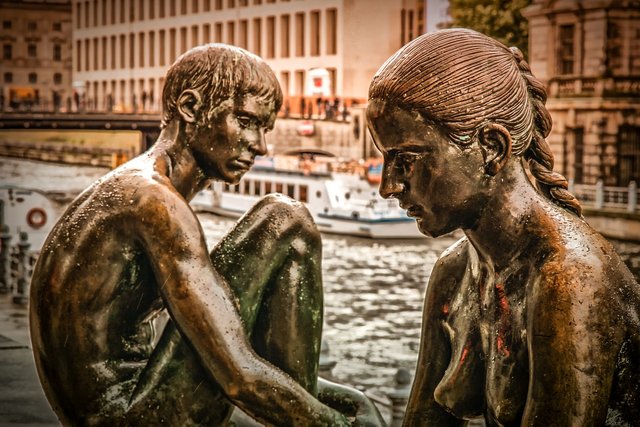 ---
It began on a Sunday. Tolu was ten years old and had just returned from the church with his mother. He hated going every week but he didn't have a choice. His clothes were picked out for him every Saturday evening. It didn't matter if he liked them or not, which he didn't ninety percent of the time. All he had to do was put them on and climb obediently into the car every Sunday morning.
Today was no different. He disliked the button down shirt and jeans. Don't get him wrong. He loved it on a good day, like when he had to go to special classes during the Easter or Christmas breaks. His mother let him wear them without having to stuff the end into the jeans. He would put his hands in his pockets when talking to pretty girls like Uju. Especially Uju. Today however, he wasn't thinking of her and he hated wearing it. He would rather wear his knitted shirt but his mother would have none of it. What could he do? He was ten after all.
The front door was open when they got home. He saw his mother frown and mutter before going towards it. Her hands were shaking and she didn't take his like she always did. He followed. He heard a crash and his mother's sobs before he got to the door. He recognised it now, the choking sounds struggling to break free. He stood listening, not sure whether to go in. His friend Jude said his mother make similar sounds. He had narrated how he looked into his parent's room through the keyhole and how his father was laughing while making his mother sob. Difference was, Jude's mother always came out with a smile on her lips. The few times Tolu had seen his mother come out, there were tears in her eyes and colours on her face. He never understood why she had to put ice on it. He also never got the courage to look through the keyhole like Jude.
His thoughts were interrupted when his father stormed out. On his face was a kind of rage Tolu had never seen there before. He recognised it as well, the rage. Bimbo's father wore the same look the day he threw Bimbo and her mother out of the house. They lived down the street.
His father barely noticed him as he walked past. Tolu ran into the house. His mother was sitting on the floor, one leg under a low stool, the other folded under her, sobbing into the couch. She buried her face deeper when she saw him. The figurines on the étagère were broken. Pieces of the glass stuck into the foot under the stool. She used to clean the figurines after each coloured face. It didn't matter that they were free of dust. He would watch her fingers tremble as she wiped and wiped.
Tolu held his mother's hands while her body shook, and never objected when she hugged him so fiercely he feared she might break a bone. He stayed still and let her soak his shirt with her tears. It was a Sunday and this time, he understood perfectly what happened. He now knew that what Jude told him was entirely different.
--
"Where's she?"
He said nothing. He just sat there holding a gun, staring at his drunk father. It was normal now, like the way you wake in the morning and think about coffee or breakfast. He had watched things change quickly after that Sunday. They no longer hid in the room when he hit her. They no longer cared the neighbours would hear. He had felt their stares the first week, the neighbours. He still did, especially in the morning when everyone was leaving for work and he was headed to school. He didn't need to hear their whispers to understand what was being said. Once, he had dragged her down the stairs. He hadn't started drinking then so Tolu knew he did it on purpose. When the police came, she told them she fell. They believed her. His father was a cop too. He wore the badge with pride.
But that changed when he started using and it was found in his blood. He was discharged from duty then. That was when the drinking started. That was when he beatings got worse. It was all her fault, he always said.
"Where did you get that?" he gestured absently at the gun.
Still nothing. He had seen his father open the safe every night since he was a boy, had watched as he typed in the code before dumping the guns inside. He never paid attention at first. Not when he didn't understand. But he had had years to wait and study, had had time to learn. Bypassing the codes was easy. When he came home earlier and found his mother curled into a ball, again, he had known it was time. She didn't hear him as he picked her up and half-dragged, half-carried her to the car. The nurses had shut the door to his face and the doctors wouldn't talk to him. Five hours of surgery, they had said. He fought back tears as he remembered.
"Where's she, you little brat?"
He stared into his father's eyes as he staggered towards him. He closed his eyes briefly, opened them and squeezed. Everything exploded. His scream was high and long as he fell. The gun dropped from trembling fingers. Tolu didn't remember everything that happened afterwards. He didn't notice his soaked clothes as the police took his father's body away. He didn't understand why they took him gently to the car instead of cuffing him. He had turned sixteen the previous month and he knew what it meant, not that he cared. For the first time in his life, his head was clear and the only thing he wanted to do at that moment was talk to his mother.

---