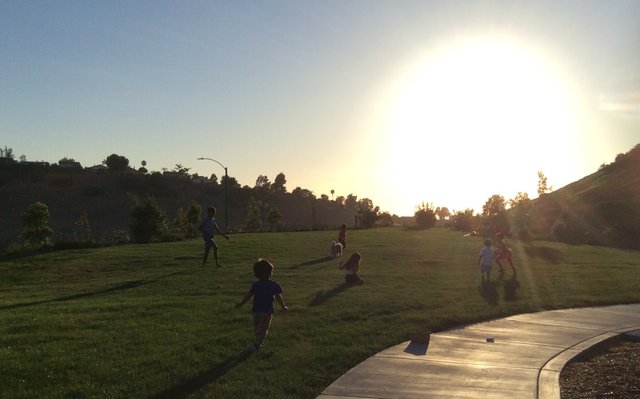 A walk to the park to play with the dog. It was a favorite memory watching my nieces and nephews play.
It felt like the sun was watching us. Like a friend leaning over from the edge of the galaxy, saying hello while it shined upon us. It wasn't just beautiful; it also felt personal. The moment moved me. I was ecstatic, enjoying being outside with my family on a stunning day. I captured a shot of what felt like God's smile to me.
The bigger picture was; the happy laughter that running on grass inspires, watching the older kids playing with the younger ones patiently kind, and seeing Zelda be ever so gentle when a toddler took her leash to walk her.
It was a unique day. Blissful days are not rare though. Sometimes I catch a slice of joy on an otherwise terrible day and perhaps that's my way of claiming the day and refusing a victory to the dark side.
Living with confidence for the future isn't easy when doom and gloom fills the news. SXSW cancelled. Coachella cancelled. E3 cancelled. It didn't help that it was also a cold and rainy day.
I spent an hour going over my list of things I was grateful for. I had needles all over me. This is my ritual while at the acupuncturist's office; use the stillness to send my thanks to the universe and share my concerns. I've been doing a lot of cleaning, updating, and organizing at home that I finally feel peace is restored. The place has a happy hum.
Hello God. I'm soo happy having the apartment to myself. Can I request for a windfall? A graceful landing of money? I would be happy having new students. Fun opportunities. I'm looking for your smile in the space of uncertainty.
And from the edge of the galaxy, God's smile came on a rainy day. An email from someone I didn't expect to hear from again. They were settling a debt they owed me that I had forgotten.
Wow.
Look for God's smile EVEN on rainy days.
JNET
Posted using Partiko iOS