So yesterday I broke with my decade old Xmas tradition of spending Xmas day entirely on my own, interrupted only by the occasional WhatsApp message and had a few afternoon Xmas drinks with my friend and landlady and her partner, which was nice.
Honestly, that's the first time in a decade I've actually spoken to people on Christmas Day, and it was most pleasant - over drinks and a baked Cheese, which was an intended Xmas present for someone else, but undeliverable back to the UK due this crazy covid situation.
But you know, someone else's loss is our gain I guess!
Just chilling with the Chickens this morning, or maybe 'with' is the wrong word - I'm drinking coffee and they're doing what Chickens do, which is forage for food, which is basically the ONLY thing chickens do besides sitting still and laying eggs.
I took an XMAS selfie, you can just see one of the Chickens behind me, the rest of them moved just before I took the shot, that's something else Chickens are good at - being just a little bit annoying.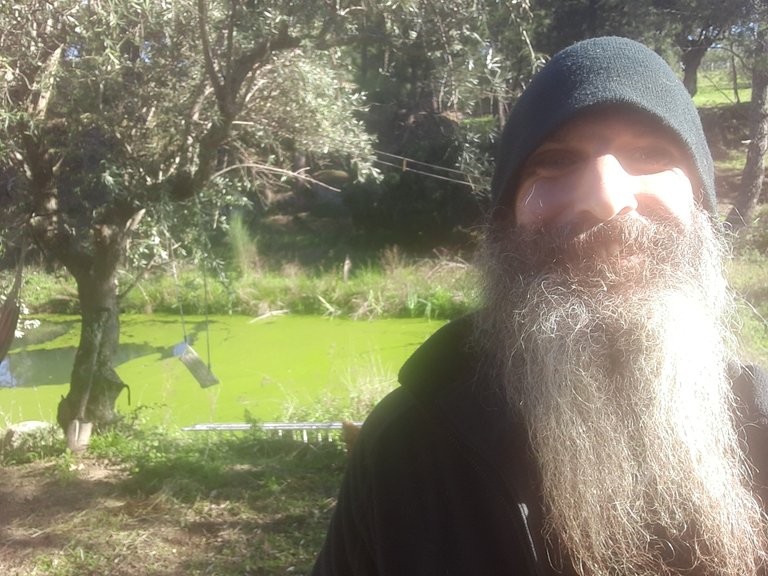 It's a beautiful sunny day, really BRIGHT! As it was yesterday.
Going to head up the house for a baked Ham later - a few people are coming over for a late dinner which will be nice - a few beers and wine too no doubt!
Nothing quite like the combination of Boxing Day and Saturday to put you in a 'blraarurghhh fuck it I'll do whatever mood'.
Everyone needs a break sometime after all.
Bit annoyed that I can't run ATM, my groin/ lower stomach (what I want to call the hernia alert area) is telling me to rest for a few days - what's annoying about it is that I only did a regular (rather than mountainous) run a couple of days ago and that seems to have been the culprit - I dunno, I must be getting old!
Boxing days' also a good one for reflecting - and I'm wondering whether I'm going to be able to keep up the running once my land kicks in - that's going to be a lot of physical work - I can't imagine building and digging every day is going to go well with an intensive running routine.
I've also been trying to plan out some more stuff I want to write on Early Retirement, but it's just not forthcoming - I've got some ideas floating around in my head, they've been in there for months, but I just can't seem to pull them out in an orderly manner, I'm sure I'll get there, but it may be a while yet.
Thankfully there's plenty of other shit I can write about in the meantime!
I think I'm going to spend tomorrow treating myself to writing a MASSIVE New Year's to do list. I really like making lists. What won't be so much fun is starting working through it on the Monday!
Merry Christmas, if slightly belatedly!