I'm already on my way back from London.
Time sure flies when you are having fun.
These weekends are amazing too recharge.
It's done me loads of good.
@ezzy was kind enough to join me for the Metro ride to the airport.
It was a good thing he was there, the Jubilee line (Metro) had some issues and we had to make some changeovers along the way.
When stressing for the airport it's nice to have someone that knows the way around that's for sure!
I have arrived just fine now with more than enough time to buy and enjoy a large coffee and enjoy some Steem before the plane leaves.
---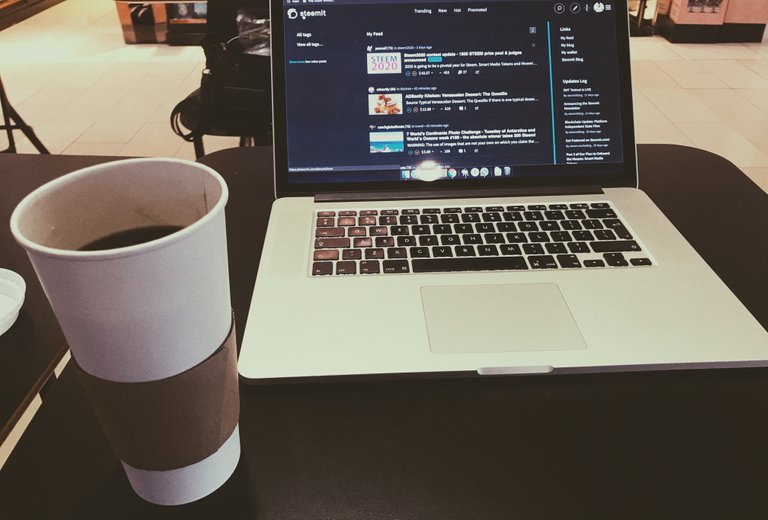 Large coffees are huge here btw, much better than in the Netherlands.
---
The first thing on the agenda when I come back is spending time on @pennsif's Steem2020 contest (it's currently featured).
from the post:
---
In summary, to enter all you have to do is make a post or video with your plan of action for Steem to grow big in 2020.
---
He asked me to be a judge before my trip and I said yes.
Talking and thinking about the future of Steem is one of the things I like to do a lot as you might know so it will be cool to see what others have to say about it!
The prize pool is not too shabby either at 1500 STEEM!
Check the contest out HERE and I'm looking forward to the entries!
What I have learned from this trip is that I do need to find a better balance between my on and off time of Steem.
This has nothing to do with the potential Steem has or my own belief in it.
It's more me being a bit too mental about Steem (I guess it's comparable to an irrational fear of missing something cool as a constant thing in the background).
My own vision for the future of Steem is still as bright as ever and I'm looking forward to a new more balanced week!
Good luck in the contest!