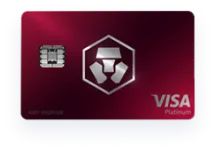 # Ruby Steel
I am about to order this card, the benefits suit me and the card is basically free, you just need to invest $400 in their currency(CRO), investing in CRO will also give you 6% interest which is also a good bonus. The card has many benefits including 2% cashback, monthly Spotify reimbursement and it has $400 free ATM Withdrawal per month. I personally think the coin CRO will also go up in the near future like BNB did, maybe not at that level but something like that.
## Other cards and benefits
On page 2 you will see all of their cards with their benefits, as you can see the better card has more benefits but also forces you to stake more money. The card you choose is dependant on how you spend money if you feel like you could do something better with the money then be free to just get the free one that has 1% cashback.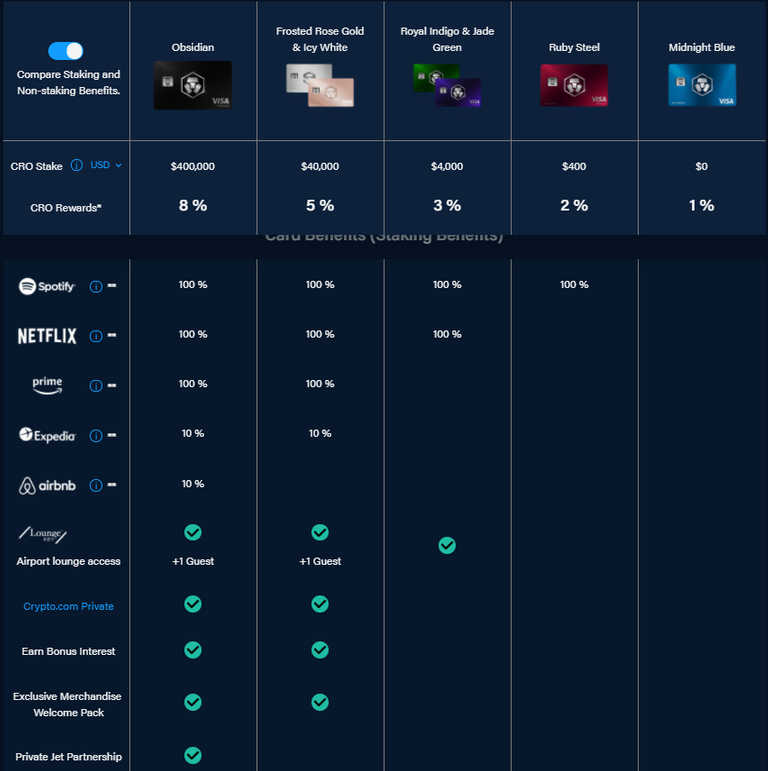 Shipping
This is in no way the best card out there, but one of the best crypto cards I could find that also ships to basically every European country like Estonia where cool stuff like this is usually not included. If you have the extra money I would totally get the card or a better version of this.
Cons
What I don't like about some of the cards is the appearance of in my opinion the only good-looking ones are the Obsidian, Frosted Rose Gold, and Icy White ones. I also don't like how the card delivery time is so random, at worst it could take you 3 months to be accepted and get the card delivered or it can take 7 days for everything. I think the more expensive cards take less time since they have less demand than the cheaper ones like Ruby Steel and Midnight Blue.
Pros
The card is made from high-quality metal that will not get scratches on them or will not break like normal low-quality plastic cards. The other thing is the ease of use, the card has basically no card info on the card itself instead all of the info is on your phone on the Crypto.com app. Obviously, the third pros are the benefits which I talked about before but you usually don't get benefits like cashback or airport benefits from a debit card, which I like since I don't really like the idea of credit cards. You can upgrade the card anytime you like, you have 2 options, you can keep the old card but upgrade it for free and get the benefits of the new card or you can pay $50 to get a totally new card shipped to you. I personally would get a new card for $50, because I think the more expensive ones look better.
PS This is a visa debit card, not a credit card.
I'll also try to post fewer shitposts from this day on.