When we talk about countries, we are certainly talking about the geographical location of a country. Which includes the border of a country. Whether it's sea, land and air. Of course, there are countries that have vast land and there are countries that have miles of sea boundaries. Everything is conditioned in a strong security defense system. Therefore, sea boundary regulations are one of the most important sectors for a country's sustainability.
In accordance with the statement above, @xpilar expresses it through beautiful digital artwork.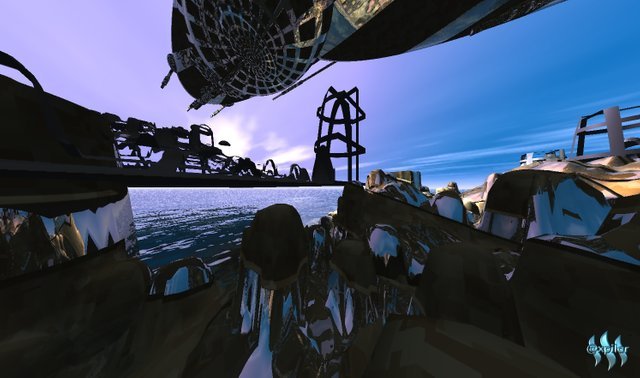 Image from @xpilar
Based on the picture above, I want to interpret the concept of sea defense only. Why? With consideration, instead of taking a broader problem but not revealed properly. Therefore, I emphasize sea defense strategies, and concepts related to maritime strategies, related to overall strategies for achieving victory at sea. This makes sense in my mind about images.
As can be seen in the picture that a strong sea security order will further condition a country. However, a weak sea defense will cause the destruction of the country. With a strong sea security defense, the enemy will not be able to attack directly even through the air.
This dominance can apply to areas of water or extend far into the ocean. Which means, this country has a sea fleet that is on par with air superiority, I think.
Maybe, we can see it once again in the @xpilar digital art image above to reinforce the concept.
Of course, strong sea security can ensure that ships are free to move according to their vision and mission. It is not the purpose of the sea fleet to keep its country free from enemy attacks, to guarantee freedom from trade, integrity, and so on. I think this goal can only be achieved with a strong sea defense.
Basically, in my opinion; Naval fleet tactics is one strategy to attract and defeat enemies in sea battles. Usually, this tactic has a strong push on a commander who makes movements in battle. This strategy as a whole is to achieve victory from battle. Therefore, it is important that the defense and security sector must always be vigilant to save the country from threats and attacks from various parties, both foreign and domestic, I think.
Best Regards,
Pessal



Vital Records:
That everything I explained above, is inseparable from my opinion in interpreting the images made by @xpilar. I realize that the picture can be seen from any side as long as you can interpret it. And according to him, a good work of art is a work of art that can be seen from any side. And that, I found in digital art created by @xpilar.
Thank you very much, @xpilar!