Mais uma quest diaria de SteemMonsters bastante dificil mas que foi concluida com sucesso!
Tinha como quest vencer 5 batalhas com o splinter Death, que por acaso não tenho evoluido, tirando algumas cartas...
Foi dificil e fartei-me de levar porrada mas consegui terminar! Como prémio tive estas cartas: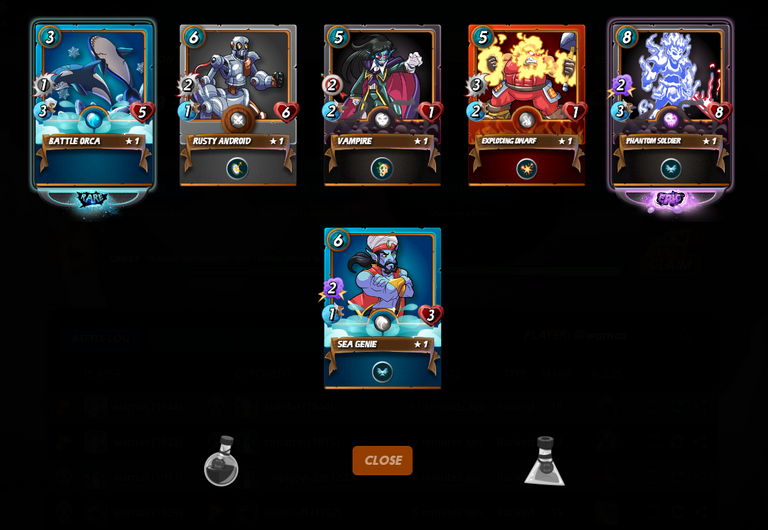 Tirando a Battle Orca e o Phantom Soldier, fiz burn a tudo... Ganhei alguns DEC e ainda fiz upgrade ao Phantom Soldier para nivel 3... Pena que não vou conseguir usar pois o meu summoner Death está a nivel 1 apenas 😫
Para a quest diaria de hoje tenho que vencer 3 batalhas sem cartas neutrais. Vai ser rapida...
Depois publico as rewards de hoje.... Espero que sejam pelo menos razoaveis senão nem me vou dar ao trabalho...
Para terminar, fiz algumas compras no mercado e melhorei bastante o splinter Water! Fiz tambem upgrade ao Ruler of the Seas para nivel 2! Está brutal!! Tenho ganho muitas batalhas graças a ele!
Esta season vou tentar chegar à liga GOLD II, pois já consegui atinguir a GOLD III e com winning spree!! 😎



Já conheces o telegram do @SteemitPortugal? Junta-te à comunidade Portuguesa no Steem!
Agora também temos comunidade no Steemit! Subscreve aqui!