AUTUMN BUDDHA BOWL 🥑🍂🥑

Hello my Dearest Foodies,
Happy Monday! I saw our FAVM competition is flooded by lots of impressive entries, that I already started curating. I will make an official announcement next Monday again, however, I have an excellent news that I must share with you just briefly right now.
Yesterday, I was nominated to be a tipu curator, which is amazing, because I can choose 3 entries per day to be upvoted. So lets see how it's going to workout and as I said, I will make an official announcement about it next week.
In the meantime, enjoy the competition and check out this hearty yet healthy bowl for cooler season.
I wish you a wonderful week 🍂😊🍂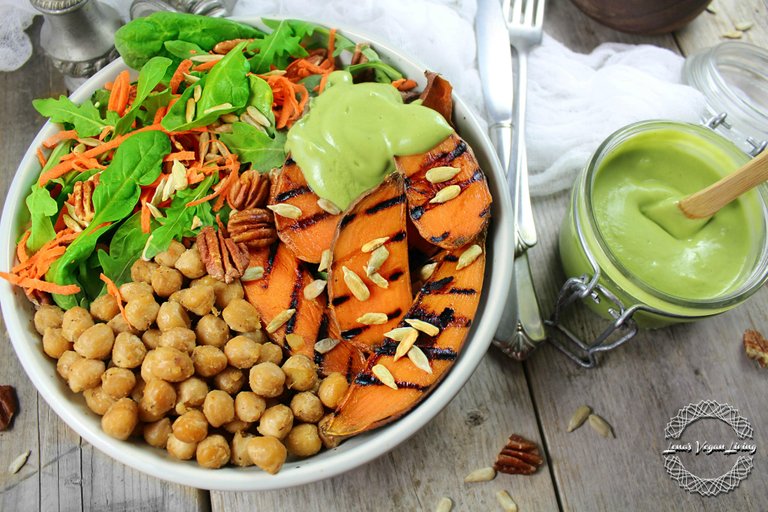 AUTUMN BUDDHA BOWL
Grilled Mini Sweet Potatoes with Roasted Chickpeas and Avo-Mayo
Vegan – Gluten Free
Author – Lena's Vegan Living
INGREDIENTS
• Mini sweet potatoes 6
• Canned chickpeas 540ml (drained and rinsed)
• Apple cider vinegar 1tbs
• Low sodium Tamari 1tbs
• Smoke liquid 1tsp
• Grape seed oil 1tbs (or oil of your choice)
• Garlic powder to taste
• Black pepper to taste
• Mixed leafy greens
• Shredded carrot
• Roasted sunflower seeds
• Roasted pecans
• Parchment paper
PROCESS
• Preheat the oven to 400F.
• Wash mini sweet potatoes and spread them baking sheet.
• Pierce each with knife and bake for 40min.
• In a bowl, mix chickpeas with 2 tsp oil, apple cider, tamari, smoke liquid and garlic powder.
• Spread on a baking sheet lined with parchment paper and bake for 30min.
• When ready, let the potatoes cool for 10min.
• Heat up your grill or grilling pan.
• Cut potatoes in half, lightly brush with oil and add salt.
• Place on the grill for couple minutes.
• When ready, arrange your bowl or bowls and serve with AVO – MAYO dressing.
AVO – MAYO Dressing
• Cashews ¼ cup (soaked foe 4 hour and rinsed)
• Avocado ½
• Lemon juice 1tbs
• Organic yellow mustard 2tsp (or mustard of your choice)
• Nutritional yeast 1 tbs
• Garlic powder to taste
• Black pepper to taste
• Himalayan pink salt to taste
• Water ½ cup
Blend all in a blender until smooth
THANK YOU FOR VISITING & BON APPETIT
FOR RECIPES PLEASE VISIT MY Lena's Vegan Living Blog

|

---
---