Hello my Dearest Foodies,
As some of you may remember, I shared post about our apple picking trip we did earlier this month. Although I didn't pick huge amount of apples I still had some left in the fringe. I only made RUSTIC APPLE GALTTE so far and I ate a few, there for I though I should make something yummy festive before they are all gone.
After some serious thinking, I decide to do a little experiment. And you know me and how much I enjoy doing than, although you don't know how many times my experiments don't work, lol. For example, I was not able to make vegan refined sugar free PAVLOVA and MACARONS yet! I tried 3 times!!! LOL!!! And Xylitol is not exactly a cheep ingredient to experiment with, quite the opposite. Oh well, maybe it works only with regular sugar, which is extremely unhealthy, so maybe I will never make it. But I am not giving up yet, so will see.
Anyway, lets get back to our CINNAMON ROLLS that worked quite well, even though I never made them before. Besides, they are not commonly made with apple filling. However, I think it's a great idea, because they are delicious. Just make sure you also make that SPICED CARAMEL and CAsHEW ICING! If you try it, you will fall in love 🍎😍🍎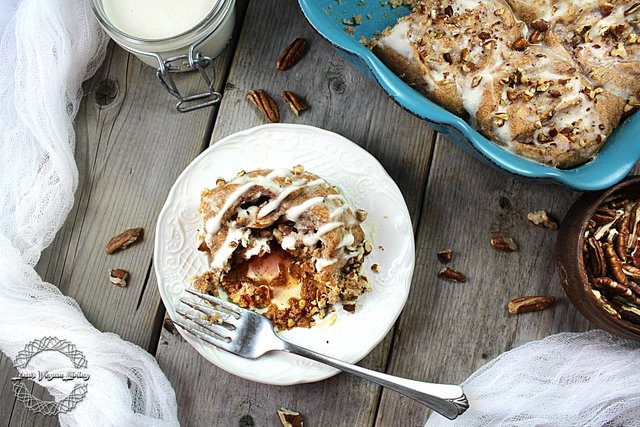 APPLE CINNAMON ROLLS
Spelt Cinnamon Rolls filled with Apples, Drizzled with with spiced Caramel & Cashew Icing
Vegan – Refined Sugar Free
Author: Lena's Vegan Living
INGREDIENTS for 8 rolls
• Apples 2 medium size
• Apple pie spice 2tsp (store bought or homemade)
• Whole grain spelt flour 3 cups
• Almond milk 1 cup (unsweetened)
• Vegan butter 1/4cup
• Active yeast 1 1/4tsp
• Xylitol/ Birch sweetener ¼ cup
• Himalayan pink salt ¼ tsp
• Baking pan 8 X 8inch (20 X 20cm)
PROCESS
• Peal and wash your apples, then cut in half.
• Slice each half with knife or mandoline slicer, begging from the edge towards the middle. Flip to other side and discard the centre. Repeat until both apples are sliced.
• Mix your slices in a bowl with 2tsp apple spice and 2 tbs of Xylitol, cover with lid and store in the refrigerator.
• In a small pot, heat up the milk with 3 tbs of butter, until the butter melts. Make sure it doesn't boil.
• Transfer into a bowl and wait few minutes to cool down.
• When lukewarm, sprinkle with yeast and set aside for 10min for the yeast to activate.
• Mix in the remaining Xylitol and gradually add the flour, ½ cup at the time while continually mixing with wooden spoon and eventually with your hands.
• When the dough becomes ready, transfer it on lightly floured surface and kneed for 3 to 5min until smooth.
• Create a ball and transfer into a lightly greased bowl. Seal with plastic wrap and set aside for 1 hour.
• When the dough is double in size, melt the remaining butter.
• On a lightly floured surface roll the dough in rectangle, about ½ inch (1cm) thick.
• Brush with melted butter and apply sliced apples evenly all the way to the edges.
• When ready, tightly roll the dough into a log.
• Using sharp a knife, cut it in half, then cut the halves into half. Repeat, until you get 8 equal pieces, about 1 1/2inch thick (3cm).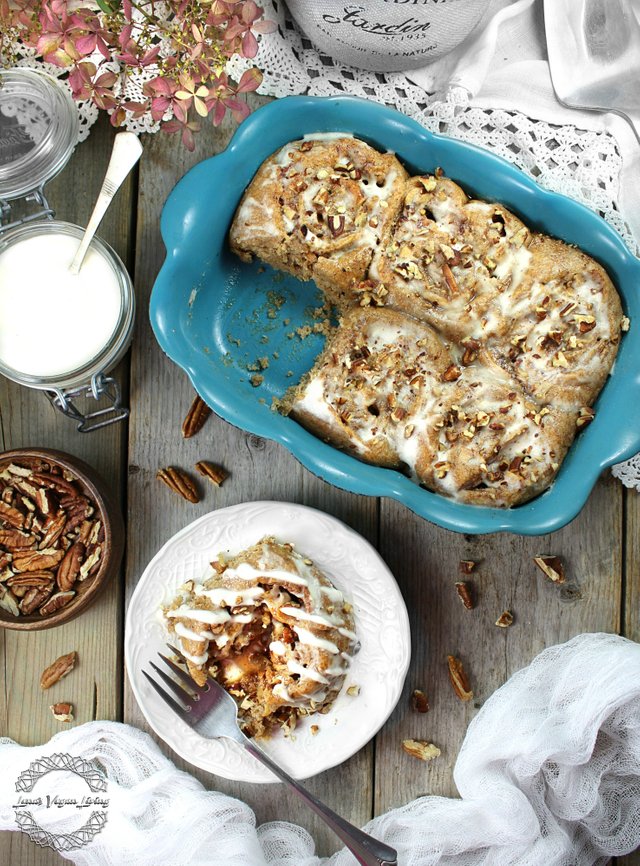 CASHEW ICING
• Cashews 1 cup (presoaked for 4 to 6 hours)
• Canned coconut cream 1/4 cup of the thick part, plus all the coconut water.
• Xylitol – Bitch sugar 1/4 cup
• Vanilla extract 1 tsp
• Lemon juice ¼ cup
Blend all in the blender until smooth. If too thick, you may add 1 or 2 tbs of filtered water as well. But be careful, add only 1 tbs at the time, until you get the desired thickness.
Store in a refrigerator or serve right away.
SPICED CARAMEL
• Maple Syrup 1/2 cup
• Lemon juice 2tbs
• Cinnamon Spice 1 tsp
• Himalayan pink salt ¼ tsp
PROCESS
• In a small pot, bring maple syrup to boil, add rest of the ingredients and stir well.
• Reduce the heat and let it simmer for 5min.
• Take it off the heat and transfer into small dish. Let it cool down for 10min.
APPLE PIE SPICE
• Ground cinnamon 4tsp
• Ground nutmeg 1 ½ tsp
• Ground allspice ½ tsp
• Ground ginger 1tsp
• Ground cardamom 1 ½ tsp
Mix well and keep in a sealed jar.
You can also buy one that is already mixed.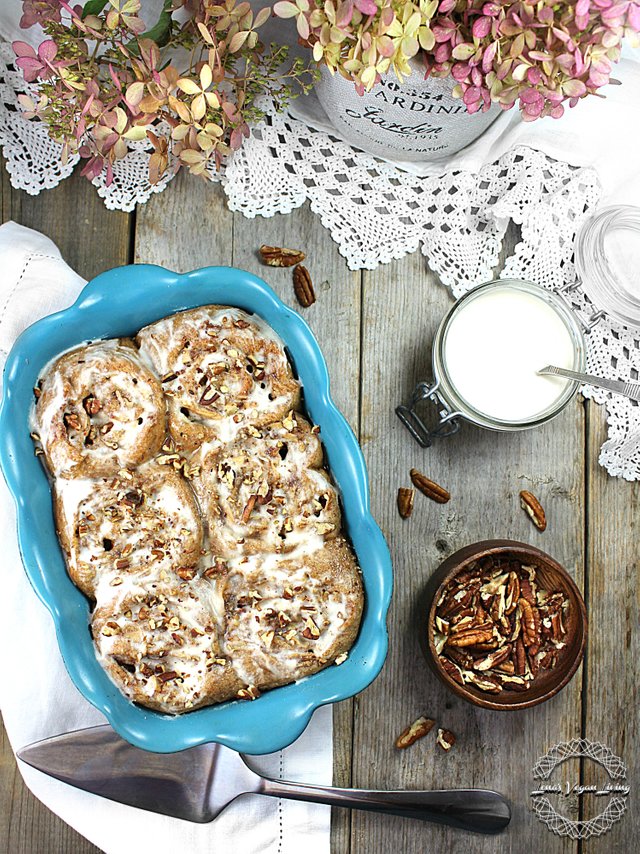 THANK YOU FOR VISITING & BON APPETIT
FOR RECIPES PLEASE VISIT MY Lena's Vegan Living Blog


|