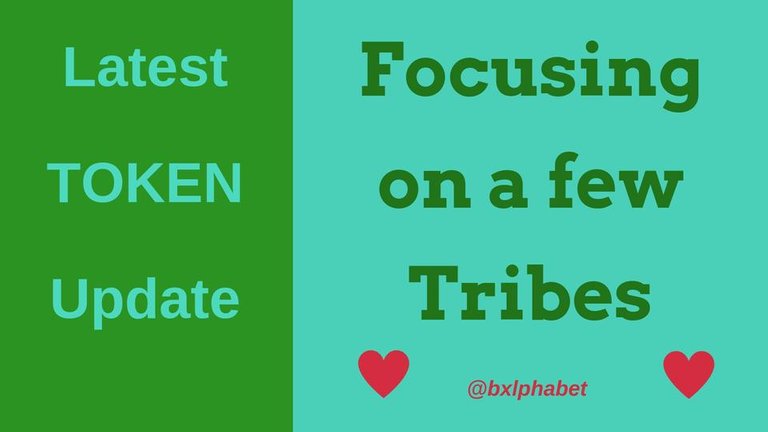 The tokens are still flying into my wallets. Each of my blogs has a few more types since I last looked about 3 weeks ago and many of the ones I already had have grown in size. Here are the most recent token balances I have as shown on my @steempeak wallet screens:
@fitinfun has 49 Token types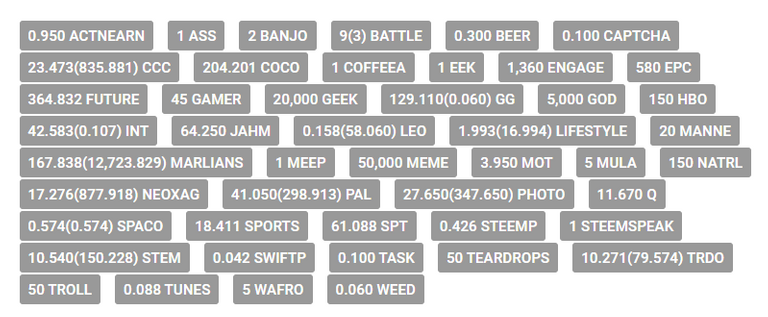 @fitinfunfood has 35 Token types
@bxlphabet has 42 Token types
All of these have come to me by blogging on STEEM and using the tags.
OR
They have come by airdrops and rewards for challenges where people offer them if you do something they asked for on their post.
OR
I have no idea. I just got them somehow.
The only one I purchased was the 1 PLKN on my @bxlphabet blog. This was due to a challenge I entered. They were offering more PLKN, but only if you had one already. So I bought one after liquidating a few BEER tokens on @steem-engine. Hopefully more PLKN will come in a few days or so.
I have been claiming tokens with the services of steemworld by @steemchiller every few days. This was a tip I got from one of my dPolls when I asked how other STEEMers were claiming them.
Most of the people recommended steemworld. I am a fan now too. It's very quick and easy and all the tokens get claimed at once.
Though I could stake at steemworld too, I am not yet doing that. I am still using steem-engine since I want to see the detail screen for each coin to remind me what these tokens are all about before I stake or not.
I am still in a bit of a fog here, but maybe it is getting clearer. Here are the next steps I will take:
Where do I have big stakes?
I'm using this very helpful older post by @holger80 to see the levels my coins have got me to:
https://steempeak.com/tribe/@holger80/what-is-the-amount-of-staked-tokens-to-became-a-minnow-dolphin-orca-or-whale-for-a-scot-tribe-2019-09-11
Based on the information in this post, I can find out if I am a minnow, dolphin, orca, or whale for a lot of different coins. I am doing pretty well in some of them, and all without investment, other than time.
These are the tokens I am focusing on now.
LEO - Steem leo
I recently found out about an engagement challenge by @themarkymark. In it, he asks us to spend the next 30 days commenting in places where we normally would not to see what happens by this action. He's wondering if we will make new friends and STEEM connections and what positive things might come out of this adventure.
I will be making a more detailed post about this in the next day or two, but I am in!
The choice I have made for the engagement challenge is to focus on posts from
and tagged with steemleo, investing, bitcoin and the like.
This is an area I never look at and a big hole in my knowledge. I'm already close to a LEO dolphin status on all three of my blogs So lets see how I do with this new task :)
CCC Creative Coin
All 3 of my blogs are dolphins on CCC. This blog has the least since I mostly do dPolls, games, dApp reviews, and token info on my posts here. But the other two blogs are more into the creative side of things and so they get more of the tokens.
LIFESTYLE Lifestyle
Once again, my other two blogs are doing better here and I am minnows on all of them. But I am easing up toward dolphin status on the other two and will soon be there.
The main reasons I have an interest in this token are:
I got a nice comment from @johnhtims on one of my posts saying this is a tag he curates. When anyone talks to me about anything, I am thrilled. So let's see where this goes.

I like the name of "lifestyle" in terms of drawing content creators to STEEM. I feel like this will be interesting to many people who already blog elsewhere.
MARLIANS Marlians
I am a Whale on Marlians with my @fitinfun blog and an orca with the other two. I like the inclusiveness and I hope to help this tribe grow further. As always with anything Terry @surpassinggoogle does, it is all about empowering the little guy, and I am all for that.
A lot of what is going on here is video related. My bad wifi situation does not allow for that, but if you like video – check this tribe out for contests.
NEOXAG Neoxian City
All three of my blogs are dolphins here, and I am so impressed with the organization and initiatives going on. Contests are a main interest for me on all my blogs, and they have them here. I want to focus more on this tribe. I'm going to have to make it a project since they have so much happening.
Next steps
Staking Coins
In the next day or two I will go to steem-engine and stake coins for these tribes and maybe more. I will probably post about that since I am in confusion regarding best practices.

LEO and the Engagement Challenge
As I stated there will be a post to come about my plans for this challenge. I will try to stay organized for this event and learn something! Hopefully I will have wonderful results after 30 days and be a crypto-wizard.

Blogging with tags
I have gotten most of my tokens by blogging and will not stop. Of course STEEM is my main focus for growing my blogs, but ignoring these new options would be foolish.
Be sure to use appropriate tags on your post where you can. If you are posting in a place that only allows 5 tags, you can edit in steempeak and get 10 or busy and get 12 now. This is a whole new step in my STEEM posting, but very well worth it so far.
It's kind of a hold on to your hat type place now at NewSTEEM. I hope I m juggling the right balls.