Ya está aquí el último mes de los calores. Aunque haya hecho calor nunca va mal para escuchar buena música y eso es lo que voy a reflejar en este post.
Como en anteriores ocasiones repasamos los meses anteriores:
https://steemit.com/esteem/@assus/julio-a-base-rock-esperamos-el-frio-0e416e384c472
https://steemit.com/esteem/@assus/junio-si-nos-escuchas-rock-es-un-infortunio-c313472c1b77f
https://steemit.com/esteem/@assus/mayo-metalico-como-el-rayo-c0110d4168003
https://steemit.com/esteem/@assus/en-abril-buena-musica-hasta-estar-febril-aa1e1c29f41bf
https://steemit.com/esteem/@assus/marzo-cana-mas-dura-que-el-cuarzo-66bb89f468847
https://steemit.com/talentclub/@assus/febrero-mas-canero
https://steemit.com/esteem/@assus/enero-rockero-0105b995614b6
No me enrollo más y vamos con el mes de los tomates (por lo menos en el hemisferio Norte):
Agosto, grandes dosis de rock y buen mosto🤘
Esta vez si que he escuchado algo más de música que en mes anteriores y eso que aún no he vuelto a trabajar y por lo tanto aún no estoy escuchando música diaria en el coche. Estos son los discos degustados del mes: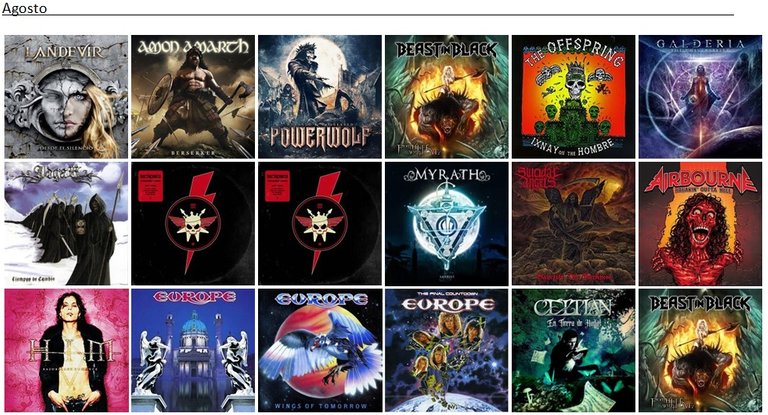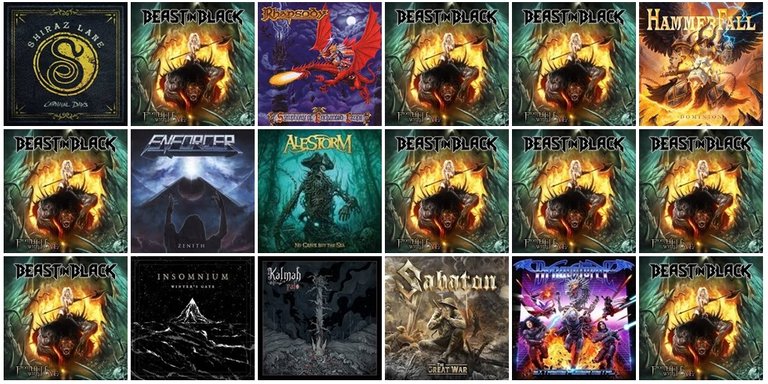 Disco destacado:
Es fácil saber el disco destacado. Lo compré original y le he dado bastante ferrete: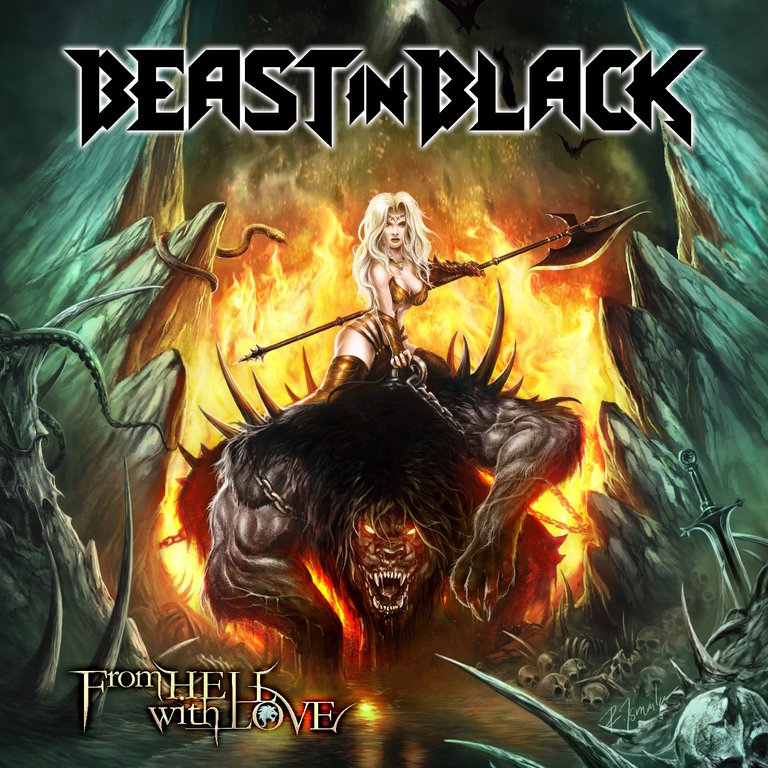 Fuente
Todo una acierto haber pillado este nuevo CD de los fineses. Un maravilla.
Teclados y sintetizador cobran gran protagonismo pero.. de que manera, cuasi perfecta. No dejamos de lado los riffs de guitarra y las pegadizas melodías todo eso junto mezclado de una manera brillante hacen que despunte este "From Hell With Love".
Sobresaliente la voz de Yannis Papadopoulos. Su nivel es altísimo.
En definitiva es un disco muy completo y las únicas pegan que tendrían serían los últimos temas, no tienen tanta calidad y quizás que la batería tuviera un poco más de protagonismo. Aún así, magnífica elección,
---
Temas destacados:
RHAPSODY - Wisdom Of Teh Kings . Álbum: Symphony Of Enchanted Lands
---
UNLEASH THE ARCHERS - Awakening . Álbum: Apex
Que vaya muy bien. No olvidéis hacer resonar vuestros tímpanos con caña de la buena.
Hala a cuidarse.

---
---