Youtube Video Link
Good day everyone, I feel bad that I wasn't able to create this post same day as I posted the game 1. I'm quite busy and wasn't able to get enough time to watch the game 2 until today. This is the 2nd game of Sandbox vs Hanwha Life Esports in the League of Legends Champions Korea Summer Split 2019.
Let's get down with each team's pick. Let's start with HLE, they got Ryze for top lane, Gragas for jungle, Yasuo for mid and the duo Xayah and Rakan. Sandbox will try to counter with Sylas for top lane, Rek'sai for the jungle, Akali in the mid lane, Varus - Tahm Kench combo at the bot lane. As what I always do, before the game starts, I'm guessing who will have a better chance of winning the match and this time, I think Sandbox has the upper hand and might secure their 2nd win over HLE but let's find out.
Nothing unusual during the first 2 minutes of the game. Each team tried to secure their jungle and get's into their respective position. Each team has been taking as much minions as possible however Ryze was able to secure the first blood with the help of Gragas in the top lane and was well executed that Sylas wasn't able to take time to react.
On the other hand, Rek'sai was able to secure the team's first Ocean drake. With 1 kill on advantage, HLE thought that they will be able to get their hands to the Rift Herald but it was wonderfully stolen by Sylas. This is the part wherein Sandbox was able to gain their momentum for not just they were able to slain Rift Herald, Sandbox was also able to take down champs which brings the numbers 2 kills vs 5 in favor of Sandbox.
That clash on the river seems to have poor coordination in HLE's part. Initially it was a 4 v 3 fight yet HLE wasn't even able to secure a kill and ends up loosing all 5 members which gives Sandbox a greater advantage in the match. After this HLE's dilemma started. Although HLE is trying to catch up in terms of number of kills, Sandbox was able to secure not just 2 but 4 drakes prior to them taking Baron Nashor.
This is just my opinion but I think HLE's way of playing seems to be at the levels of those I used to play in Platinum rank. Yes I admit that they've been utilizing control wards well and excellent however it seems that they're also just giving it away to the opponent. No one seems to care about the control wards that they're just letting it be destroyed. Also one thing I've noticed is that HLE is playing defensively throughout the match.
HLE has a wonderful line up which can have an amazing combo starting with Ryze's ult to take proper position, Gragas' ult to zone an enemy, Rakan's grand entrance combined with Yasuo's ult and for additional damage they have Xayah. I haven't saw this executed in the game. Although there's indeed one play that I got amazed with how nicely it was executed by HLE, it was when Rakan, Gragas and Yasuo slaughter Rek'sai in the river, that was just amazing.
Well to sum it up, my bet this time is right, Sandbox undisputedly won this match and below is the postgame breakdown.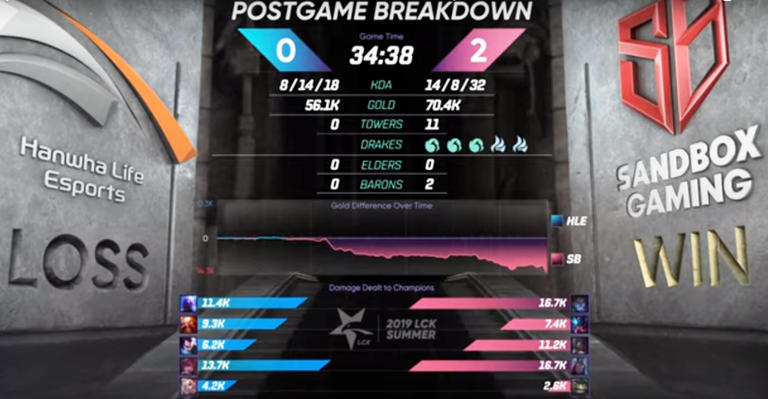 Image was taken via screenshot in the video above
Disclaimer: I do not own this video and I'm just merely sharing it to this platform.